The Campaign |

reviews, news & interviews
The Campaign
The Campaign
Satire on American electoral politics is last past the post
Thursday, 27 September 2012
Laugh? You'll dial the Samaritans. Will Ferrell and Zach Galifianakis in 'The Campaign'
Mostly thanks to Armando Iannucci, we are currently spoilt for political satire. Between the two of them Veep and The Thick of It have Westminster and Washington running for cover: to use that gratingly pious phrase, they speak truth to power. One behemoth that Iannucci has yet to bring down is the befuddling, clusterfucked idiocy of the American electoral machine.
Its cynicism has lately been exposed in George Clooney's
The Ides of March
, but that was about a candidate for the Democrat presidential nomination who was too good to be true. What of Republicans lower down the pecking order?
Step forward Zach Galifianakis and Will Ferrell, stars and indeed producers of The Campaign, a topical comedy about the race for one of the congressional seats in North Carolina. Ferrell plays Cam Brady, a permatanned numbnut serial tupster whose four previous tilts at office have gone unopposed. All he has to do is turn up at a rally and holler his mantra, "America! Freedom! Jesus!" and he's all set for another shoo-in.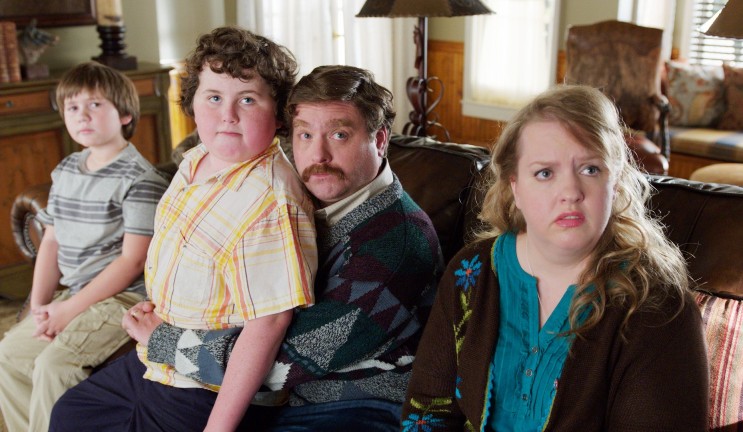 But sinister backers are plotting to sell the state down the road to Chinese industry, and they need a pliant yes-man on Capitol Hill. In Galifianakis's dumpy small-town tour guide Marty Huggins (pictured right with family), they have just the stooge. With a hard-as-nine-inch-nails campaign manager rebranding his entire existence - from his cableknits and his wife's hairdo to his choice of pet pooch and the camp southern-belle inflections of his voice – Huggins is soon leading in the polls and Brady has to start aiming his blows a little lower than even he is used to: it starts when he links Huggins' moustache to Bin Laden and fetches up with Brady balling his opponent's wife and releasing the video as a campaign commercial.
There is a devastating comedy to be written about the way the American electorate has split like a coconut since the last presidential election. The Campaign is not that film. Ferrell's presence as the expensively coiffured sex pest is warning enough of just how blunt a mallet is being deployed, and aside from The Hangover, Galifianakis hardly brings form as a comedic sophistiqué. Knitting it all together behind the camera is Jay Roach (Austin Powers x 3, Meet the Parents/Fockers and, most egregiously, Dinner for Schmucks). The result is a soul-destroying mess. Laugh? You'll dial the Samaritans.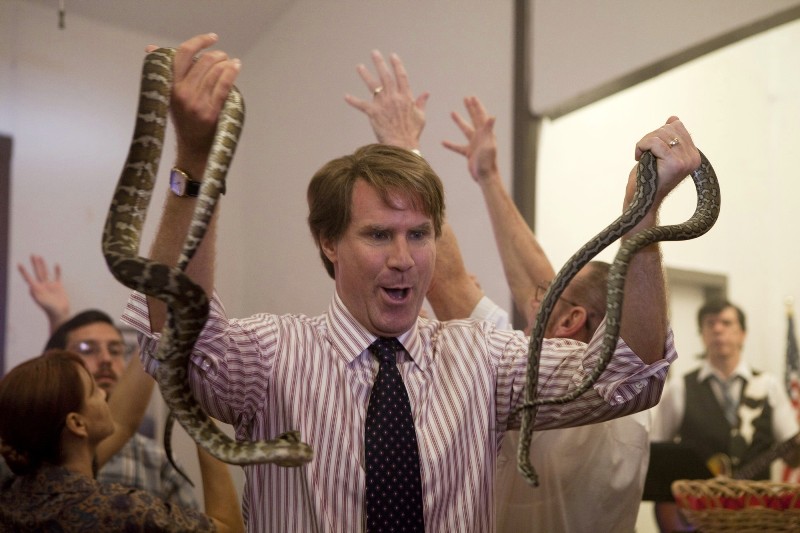 Of course it could be that the vote-chasing Republican party is beyond satire. Tom Lehrer famously threw in the towel when Kissinger won the Nobel Peace Prize for carpet-bombing Cambodia. The party that spawned the Tea Party (which gets no name-check here) may have put itself beyond the range of even the sharpest marksmen. The humour very occasionally sparks up: an Asian housekeeper is hired to talk in the accent of black southern mammy; Ferrell's forearm swells to the size of a prize yam when bitten by a snake in a church full of fervent Christian voters. But over and over and over again, Roach steers a script which has no coherent strategy of its own. Ferrell is furtively snapped standing next to a vamp in a top so low-cut half a nipple is on show, but once set up, there's no plot pay-off. The problem isn't actually the crudeness of the gags. It's the fact that they are strung together with all the attention to narrative structure of one of those lavatory books about penises. At the end, the script even has the audacity to ditch the grossout and turn righteous.
"Are you kidding me?" says Brady's campaign manager as the incumbent announces another hare-brained tactical wheeze (Jason Sudeikis, one of many woefully underused comedians: see also Dan Ackroyd and John Lithgow) . When even the script is incredulous at its own jokes, you know the whole enterprise is running on empty. There's one scene in which Ferrell, fighting with his rival for the right to kiss a baby, accidentally punches it instead. See The Campaign and you'll know how that baby feels.