Dance First - the travails of Samuel Beckett |

reviews, news & interviews
Dance First - the travails of Samuel Beckett
Dance First - the travails of Samuel Beckett
Tasteful biopic of the Irish writer errs in neglecting his work
Saturday, 04 November 2023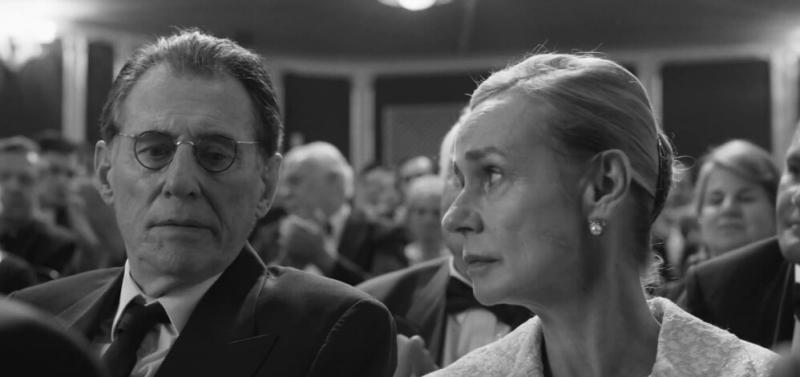 The face of regret: Gabriel Byrne and Sandrine Bonnaire in 'Dance First'
Dance First takes its title from a line in Samuel Beckett's most famous work Waiting for Godot. "Perhaps he could dance first and think afterwards," says the tramp Estragon of Pozzo's slave Lucky, who then proceeds to do both in a typically absurd Beckettian way.
The Irish writer's bleak worldview often manifested itself in slapstick comedy and nonsense, but you wouldn't know it from James Marsh's tasteful film, another biopic following his The Theory of Everything (2014) about Stephen Hawking, and the less successful portrait of round-the-world yachtsman Donald Crowhurst, The Mercy (2017).
Beckett's work is mostly about inaction. "Nothing happens – it's a masterpiece," marvels a BBC producer. However, writing as an occupation isn't very cinematic so Marsh recasts the magician of minimalism as a man of action, a lover and a fighter in the French Resistance, while mostly ignoring the act of composition and saying nothing about the work itself.
The movie opens in Stockholm where a formally dressed Beckett (Gabriel Byrne) is being awarded the Nobel Prize for Literature in 1969. "Quel catastrophe!" he mumbles to his wife Suzanne (Sandrine Bonnaire), though that comment was actually hers, and Beckett didn't attend the ceremony anyway.
Is this poetic licence or surrealism? What happens next is definitely avant-garde but perhaps not in a Beckettian way. Instead of making a speech, the prizewinner snatches the cheque out of the King of Sweden's hand and then, Quasimodo-like, climbs a ladder up the walls of the stage before exiting through the lighting rig into what appears to be an abandoned quarry where he sits down with his doppelganger (also played by Byrne) to discuss how to spend the money. "You know this is going to be a journey through your shame?" says the Other Beckett, who is dressed in the writer's signature tweed jacket and polo neck sweater.
Rather like Marsh's Oscar-winning documentary Man on a Wire (2008), which he shot in similarly atmospheric black-and-white, Dance First moves forward via a series of flashbacks, tracing the origins of Beckett's trademark despair. Young Samuel's symbolic "Rosebud" moment is a kite-flying trip to the Dublin countryside with his father (Barry O'Connor). However, his middle-class Protestant childhood is otherwise clouded by a domineering mother May (Lisa Dwyer Hogg), from whom he eventually escapes to France.
In Paris, the apprentice writer (now played by Fionn O'Shea, pictured below) has some intellectual banter with a twinkle-eyed, predatory James Joyce (Aidan Gillen) and his sharp-tongued wife Nora Barnacle (Bronagh Gallagher) while inadvertently courting their half-mad daughter Lucia (Gráinne Good). The imbroglio with the Joyce family, which ends in disappointment and rejection, is the best thing about the movie and might even hold the key to Beckett's artistic minimalism.
Shortly before his wartime heroics ("like a boy scout with a toy gun, in the wet grass, waiting for Nazis") Beckett gets stabbed by a pimp. While convalescing in hospital, he meets his future wife, Suzanne Deschevaux-Dumesnil, played as a young woman by Léonie Lojkine. Her besotted devotion hardens into embitterment by the time Bonnaire takes over. Robert Aramayo also has a walk-on role as Beckett's Jewish friend Alfy Péron, who was deported to a concentration camp, leaving the writer with a burden of guilt that isn't really explained by the film.
Back in Paris after the war, Suzanne becomes a part-time literary agent, maximising Beckett's royalties. "You must keep writing in French, Sam, we'll get paid twice," she says as she packs him off to London for an interview with a BBC producer, Barbara Bray (Maxine Peake), who soon becomes his lover.
Tension between husband and wife over his affair with Bray is often seen to be the key to Beckett's 1961 play entitled Play, and we get a brief glimpse of its UK premiere, at which the two women in his life come awkwardly face to face for the only time.
Byrne gives a thoughtful performance as a successful writer clinging desperately to his own imperative of failure so memorably expressed in the 1983 novella Worstward Ho: "Ever tried. Ever failed. No matter. Try again. Fail again. Fail better."
Scottish screenwriter Neil Forsyth doesn't actually use that line but he gives Bonnaire a wonderful speech at the Play premiere: "You and I, Sam, we are not made for victory. We need to fight. So let us retreat from victory. Please don't let us win." His terse dialogue is also enhanced by the elegant chiaroscuro of Antonio Paladino's cinematography.
It switches to faded colour for a joyless last chapter in which the elderly couple bicker in their stark Paris apartment. "You know there's nothing interesting about joy," the dying writer tells his turtle-necked alter ego. In fact, Beckett was unexpectedly amiable as a person. Nevertheless the film's doleful worldview is quite persuasive.
The real problem with Dance First is a work-shaped hole at the centre of the movie where Beckett's novels and plays should be. The absence is understandable perhaps. Biopics of writers are doomed to fail and not always to fail better. Even so, it's a pity that Marsh and Forsyth have avoided any serious engagement with the literature at the heart of this particular life.