Waiting for Godot, Barbican |

reviews, news & interviews
Waiting for Godot, Barbican
Waiting for Godot, Barbican
Sydney Theatre Company offers a stylish and humane take on Beckett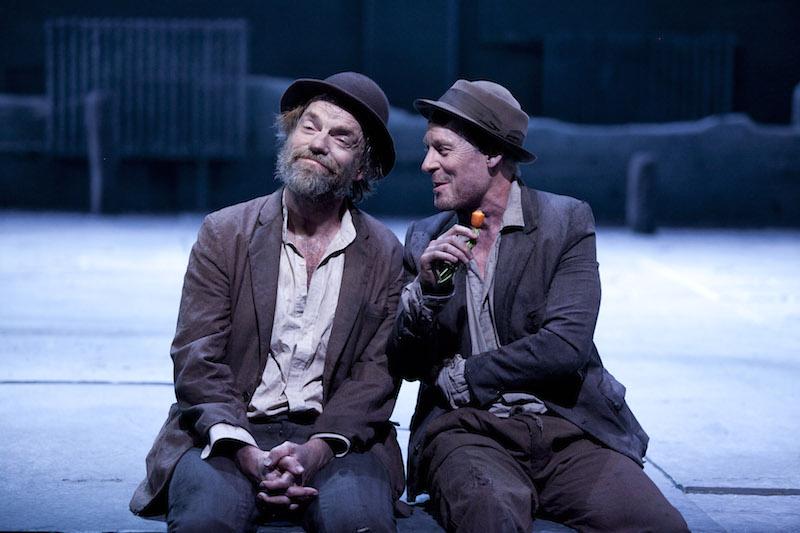 Hugo Weaving and Richard Roxburgh play the waiting game
In a peculiarly Beckettian development, the creative team of this Sydney Theatre Company production spent several weeks of rehearsal waiting not for Godot, but for their director.
Tamás Ascher – who spotted the casting potential of
Uncle Vanya
co-stars Hugo Weaving and Richard Roxburgh for the 1953 absurdist classic in which nothing happens, twice – was eventually forced to withdraw, leaving company director Andrew Upton to work within the set already developed by Ascher and designer Zsolt Khell.
That striking monochromatic set places the action in a post-apocalyptic wasteland, blasted tree stumps jutting like gravestones and the lone tree eerily monumental, looming over the performers as it reaches into the unknown. The backdrop is a starkly disused building, blackened and abandoned to decay – a ghostly echo of the theatre's foundation. Though studiously equivocal, the overriding impression is of an urban locale, rather than Beckett's country road, of something unnaturally created returned to – or ominously overtaken by – nature.
The reverberating devastation articulated by Khell's design isn't entirely in harmony with the tone of Upton's production, whose stars produce a relatively sunny, laconic form of fatalism. Weaving and Roxburgh (pictured right with Luke Mullins) join the pantheon of great double acts inhabiting these roles, and, like recent occupants Patrick Stewart and Ian McKellen, stress the vaudevillian nature of the clowning duo. There's an affectionate intimacy to their interactions: Weaving's elegant Vladimir catching the hem of rash Estragon's coat in a practised gesture, like a parent holding back a child from danger; Estragon accidentally mounting him when grappling with Lucky. They share a playful patter that speaks of long experience, exchanging words out of habit rather than to communicate.
Yet the warmth elides some of the distinctions between the two, making them more of a unit than a study in co-dependent contrasts, and occasionally renders this once famously subversive piece rather too comfortable. Thankfully, the symbiotic supporting pair, characterised by an otherworldly physicality, offers a memorably dark mirror; from their arrival onwards, the play's desperate horror and loneliness become easier to locate. Philip Quast's bullish Pozzo enters bent backwards almost at right angles as he leads with his expansive midsection, booming voice an overt overcompensation while playing the role of dominant partner. At the other end of the rope, Mullins' skeletal Lucky judders with each ragged breath, his resting pose a gravity-defying lean, and his commanded movements infinitely strange: cartoonish scuttle on tiptoes, fluttering hands, wild gesticulation as though revving a chainsaw. His bravura monologue is precisely modulated and chillingly dehumanised.
Nick Schlieper's remorseless lighting is used to great effect, switching instantaneously from harsh steel to engulfing inky blue when night falls. Upton's production as a whole stops short of plunging us into the abyss, but it does draw a beautifully humane portrait of the connection and comic diversion we crave to keep darkness at bay.
The symbiotic supporting pair, characterised by an otherworldly physicality, offers a memorably dark mirror
rating
Share this article