Dial M for Murder 3D |

reviews, news & interviews
Dial M for Murder 3D
Dial M for Murder 3D
Restoration of less-than classic Hitchcock brings a new atmosphere
Behind you: Lesgate (Anthony Dawson) attempts to dispatch Margot Wendice (Grace Kelly)
Newly restored versions of old films in cinemas are commonplace. This revival of Alfred Hitchcock's Dial M for Murder is set apart due to it being in 3D, as it was originally intended to be seen. But unless you were able to catch it in the few American cinemas where it screened after its May 1954 New York premiere, the original has proved elusive, although 3D versions have surfaced intermittently.
It was seen by audiences in red-and-green specs in 1980, in a form which did the rounds for a couple of years afterwards. There was another attempt to bring it back to life in 2004. Then, last summer, a new 3D restoration was screened at London's BFI Southbank. A Blu-ray disc release followed. Now, it's coming to more cinemas. Like the film's Margot Wendice (Grace Kelly), who escapes being murdered and executed, the 3D Dial M for Murder just can't be dispatched.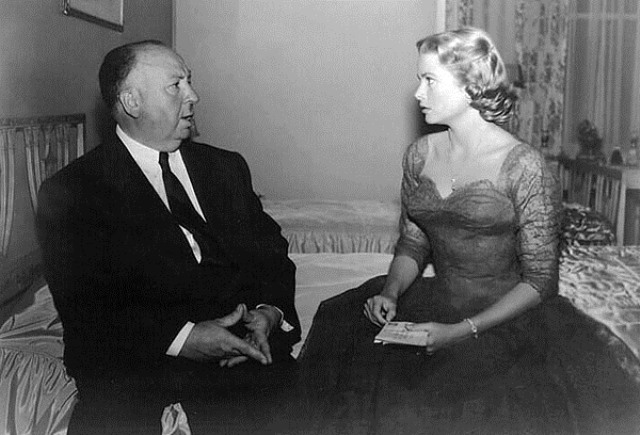 The fundamental question is whether seeing Dial M for Murder in 3D adds anything to the experience. It's not one of Hitchcock's best films, made in a period when the director was pumping them out. Although completed in 1953 and primed for release, its path into cinemas was delayed as the play it drew from had to finish its Broadway run. In the end, it opened between the dark I Confess and the celebrated Rear Window, which premiered only three months after Dial M for Murder. (pictured right: Alfred Hitchcock on set with Grace Kelly)
Although Kelly was in both Rear Window and Dial M for Murder, they're very different films. Rear Window is tense and atmospheric, with strongly drawn characters. Dial M for Murder is talky and stagey, with lengthy expositions and explanations. It was adapted for the screen by its playwright, Frederick Knott, who seemingly paid little heed to opening the play out for its filming. Hitchcock added a couple of other settings, but settled for mostly using a one-room location. It was his only 3D film, which may have impacted on the choice to be so frugal with the mise-en-scène, such as it is.
Despite being a noir-influenced murder escapade, viewers are offered little which jolts. Margot Wendice being attacked by the be-gloved, rat-like Captain Lesgate (Anthony Dawson) is, in terms of its vitality, the film's highpoint. Otherwise, Margot's evil husband Tony, who has employed Lesgate to murder her, is the most striking feature. Ray Milland (pictured below left) portrays him as robotic, detached and cold. His slurred, smirking delivery renders him all the more unreal. As Margot's American lover Robert Cummings, Mark Halliday plays it as a stock smoothie, albeit with a cunning, sleuthing edge. The 105 minutes running time is too much for this slight confection. Even so, it inspired remakes, notably 1998's A Perfect Murder.
Even if it were 2D, the restoration is amazing. The individual waves of Kelly's hair flow like frosted curls of ice cream. Milland has the look of a waxwork, which must have been deliberate. Objects sit sharply against where they are placed – a book of bank statements leaps from its background. Colours are either drab or garish. Kelly's dress in the opening scenes is like a red light in a coal hole.
Seeing the film in 3D brings home how Hitchcock used the limited staging to enhance what he had to hand. He employed furniture and a row of bottles as barriers beyond which the characters jaw away. The viewer is forced to be separate from what is unfolding, rather than being drawn in. The camera is placed low like an audience before a stage, adding to the claustrophobia of the one-room setting. One moment – involving a telephone – is designed solely for the 3D experience. The attempted murder of Kelly becomes more brutal and feels lengthier than it used to. Unfortunately, the downside of the restoration and 3D comes with the few outdoor scenes, where back projections look awkward.
If there is a choice about which Dial M for Murder to see, choose this one. Not only is there added depth, it has a newly enhanced atmosphere.
Watch the trailer for Dial M For Murder 3D

The individual waves of Kelly's hair flow like frosted curls of ice cream
rating
Explore topics
Share this article