Diplomacy |

reviews, news & interviews
Diplomacy
Diplomacy
Eleventh-hour brinkmanship saves Paris in ultra-tense World War II drama
When Paris trembled: the immovable general (Niels Arestrup) and the irresistible consul (André Dussollier)
More frequently and accessibly than his fellow veteran directors of the New German Cinema, Volker Schlöndorff has captured the pandemonium wrought by Nazism – in in his Palme d'Or-sharing masterpiece The Tin Drum (1979), its quasi-sequel The Ogre (1996), and The Ninth Day (2004).
More frequently and accessibly than his fellow veteran directors of the New German Cinema, Volker Schlöndorff has captured the pandemonium wrought by Nazism – in in his Palme d'Or-sharing masterpiece The Tin Drum (1979), its quasi-sequel The Ogre (1996), and The Ninth Day (2004). Though Diplomacy, his latest World War II drama, threatens an unimaginable Götterdämmerung that never came to pass – Hitler's willed devastation of Paris and its population – the tension it generates is undiluted.
A movie dominated by talk in a hotel room, it creates indelible mental pictures of rubble mounds and twisted iron girders replacing the Eiffel Tower, the Louvre, the Opera, Notre Dame, the Arc de Triomphe, the Palais du Luxembourg, and Paris's stations – and of thousands of bodies floating on a bridgeless Seine transformed into a city-wide lake.

Diplomacy was adapted by Schlöndorff and Cyril Gely from the latter's hit play. It focuses on a conversation between the Wehrmacht general Dietrich von Choltitz (Niels Arestrup), Hitler's military governor of Paris, and the Swedish consul Raoul Nordling (André Dussollier) in the hours before dawn on 25 August, 1944, the day Paris was liberated by the French Resistance, Free French forces, and the US Third Army under Patton.

Sixteen days before, Choltitz had taken up his new post with an order from the Führer to level Paris rather than relinquish it intact to the Allies. Having previously battered Rotterdam and conducted a scorched earth policy on the Russian Front, he duly charged Paris's monuments and bridges with cheddite and U-boat missiles. Why he stepped back from the brink is unknown, though he wrote in his memoir that he disobeyed Hitler because he thought him insane and that destroying Paris served no strategic purpose. He may have feared a French assassin's bullet more than Hitler – and there were his three children and posterity to consider.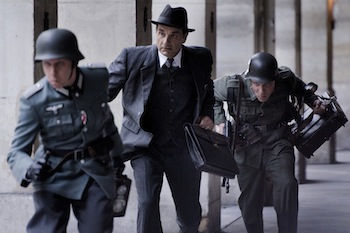 A go-between for the Resistance, the lifelong Parisian Nordling met several times with Choltitz to negotiate the release of political prisoners and is generally regarded as the saviour of Paris. As well as his last-ditch mission in the play and film, Cely invented the dialogue, as Gore Vidal and Francis Ford Coppola invented that spoken by Orson Welles (as Nordling) and Gert Fröbe (as Choltitz) in René Clément's more expansive – and less nuanced – Is Paris Burning? (1966). Pictured above: A Paris engineer (Jean-Marc Roulot) who may or may not be collaborating gets a Wehrmacht escort.

An elegant humanist Mephistopheles, Dussollier's Nordling materialises from a secret staircase leading to Choltitz's Hôtel Meurice room and immediately tells the German a tale about it being climbed by Napoleon III when he visited his English mistress Miss Howard there. But neither snippets of Paris folklore nor eulogies to its cultural glory can seduce the obdurate general from obeying orders, even if they're absurd. Sophistry having failed – including his Baedeker line, "Your hotel is admirably located in the heart of the capital" – Nordling appeals to Choltitz's conscience, his sense of reason given that Hitler can no longer win the war, the illegality of blowing up Paris, and the likelihood that it would cause Germany to be regarded as a pariah in Europe thereafter. A biblical engraving in the apartment prompts Nordling to liken Abraham's sacrificing of his son Isaac to God to Choltitz sacrificing Paris to Hitler, but Choltitz, conditioned by the anti-Semitism of the Third Reich, scoffs that Abraham was a Jew.

Imperceptibly, Nordling is wearing Choltitz down. Called away to assign two gangster-like junior officers to a reconnaissance unit, the general is disgusted to learn they've been sent by Himmler to steal the Bayeux Tapestry, some Rubens paintings, and two Caravaggios. When he returns to Nordling, he reveals that he rationalised his military code of honour disingenuously. Like Schlöndorff's crisis-of-faith film The Ninth Day, partially set at the Dachau extermination camp, and his Beirut war journalism drama Circle of Deceit (1981), Diplomacy presents a moral quandary.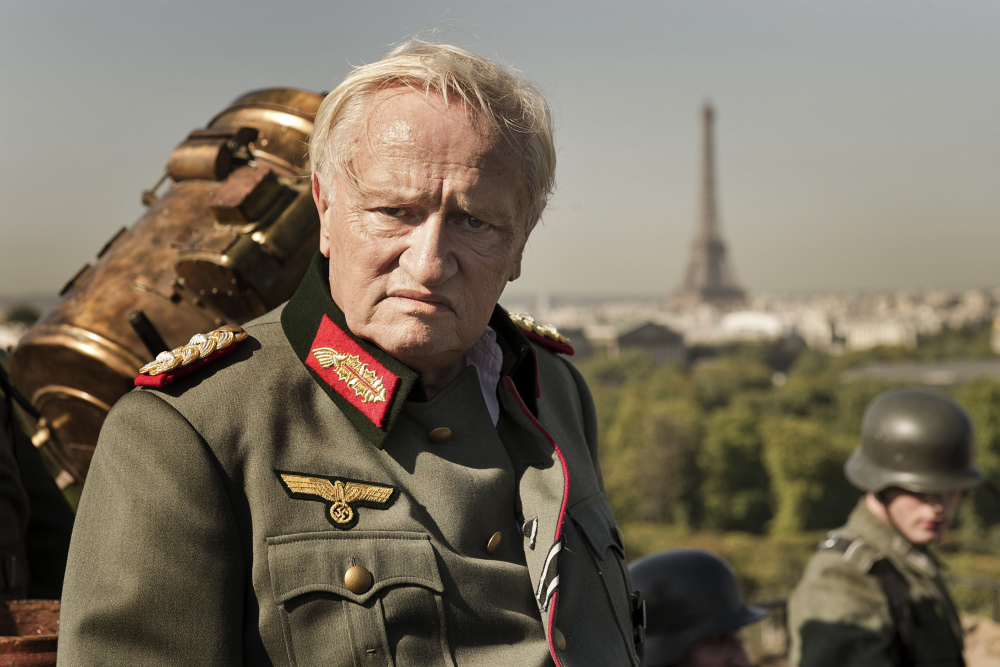 After the 20 July Plot to assassinate him, Hitler ratcheted up state terror by introducing a law that would visit a punishment worse than death on transgressors. Preserving Paris would mark Choltitz for this fate. Learning of his dilemma, Nordling shows him sympathy he probably doesn't feel (the consul is a consummate actor). The husband of a Jewish woman (he says), he knows that it was Choltitz who ordered the liquidation of Sebastopol's Jews.

Choltitz was 49 and Nordling 62 when they met – Arestrup (pictured above, with the Eiffel Tower in the distance) and Dussollier (who created their roles on stage in 2011) were 64 and 67 respectively when the film was premiered at the Berlinale in February. Both are more silvery-haired than the real men were in 1944, if photos are to be trusted, but the spectacle of mortals required to take on the mantle of Olympian Gods playing a form of chess – a notion unnecessarily literalised in the film – would have been diminished by the casting of younger actors. As it is, the stars are magnificent, Dussollier's tinder rubbing against Arestrup's flint.

The opulent room where they duel, mostly with courtesy, is darkly lit and claustrophobic despite its size. When, early on, Choltitz discusses the program of destruction with his angry second-in-command (Burghart Klaussner), a callow lieutenant (Robert Stadlober), and a wary Paris engineer (Jean-Marc Roulot), they are photographed by Michel Amathieu in a mirror's reflection, from behind an angle-poise lamp, possibly from within a clock. It's explained toward the end why these unsettling perspectives are as crucial to this gripping evocation of Paris's eleventh-hour survival as Napoleon III's supposed taste for voyeurism.