Dumb and Dumber To |

reviews, news & interviews
Dumb and Dumber To
Dumb and Dumber To
Hit and miss comedy sequel from the Farrelly Brothers
Thursday, 18 December 2014
Jim Carrey and Jeff Daniels as Harry and Lloyd
"Comedy is all about timing" quips Lloyd Christmas at one point, something this sequel to the Farrelly Brothers' crass, gross-out comedy from 1994 very knowingly mocks. Those who hold a fondness for Lloyd and Harry's shtick may be amused by the huge number of in-jokes and the silly slapstick, but overall this instalment is more filler than killer and relies way too heavily on nostalgia.
As part of a huge prank to fool his best friend Harry (Jeff Daniels), Lloyd (Jim Carrey) has been pretending to be in a catatonic state for 20 years. That is, until Harry reveals he needs a kidney transplant to save his life. The pair pay a visit to an old flame, Fraida Felcher (Kathleen Turner), who sends them on a road trip to find Harry's daughter Penny (Rachel Melvin, pictured below right) to provide a donor.
Carrey can practically do this type of slapstick in his sleep now, so it's refreshing to see him pass the baton along to Melvin to show off her skills. She turns in an endearing, goofy performance and adds a clueless sweetness missing from the male duo dynamic. The finale, set amusingly at a KEN talk, sees her teaming up with Turner to entertaining ends. Despite the nasty introduction to Turner including a joke at her expense, it's actually heartening to see her embracing this silly role with aplomb.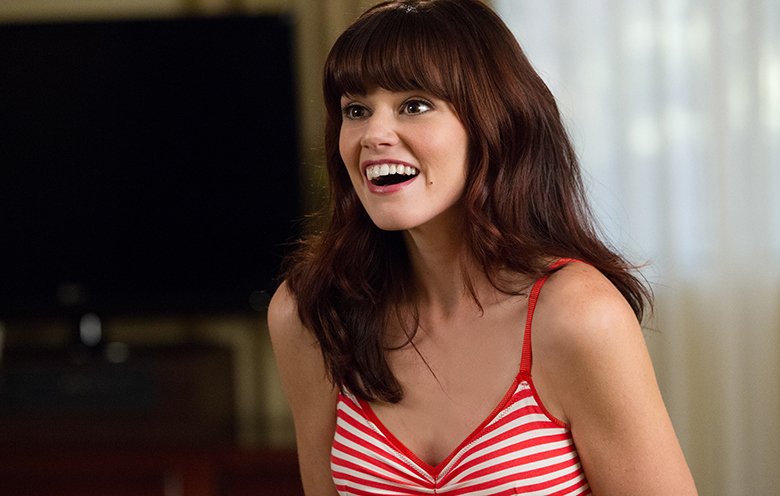 As these two nitwits make their way along the "Barbara Hershey highway" it's worth sparing a thought for the large group of older actresses who will never be given the chance to revisit their heyday in a film sequel. In the good name of bad taste, wouldn't it be interesting to see what Serial Mom Beverly R Sutphin is up to in the present day?
Funny-enough moments such as a meth-imbibing cat named Butthole getting high and swinging from the chandeliers, or Harry bathing in nuclear waste, add to the story's haphazard nature, and the gag rate is very high, so something is sure to make you giggle out loud. The Farrelly brothers along with Bennett Yellin took on writing duties for Dumb and Dumber, but in this update they bring on three new writers including Sean Anders and John Morris (the pair responsible for We're the Millers and Horrible Bosses 2). It's a case of wading through a hit-and-miss script with an off-putting mean streak, in order to locate something of the original's charm.
Overleaf: watch the trailer for Dumber and Dumber To