DVD: Boris Barnet - Outskirts/By the Bluest of Seas |

reviews, news & interviews
DVD: Boris Barnet - Outskirts/By the Bluest of Seas
DVD: Boris Barnet - Outskirts/By the Bluest of Seas
Russian/Soviet heroism in war and love in these re-released 1930s classics
Tuesday, 13 November 2012
Trench warfare on the Eastern front in Boris Barnet's 1933 'Outskirts'
Boris Barnet may not be as well known in film circles as his contemporaries Sergei Eisenstein or Alexander Dovzhenko, but his role in the first decade of Soviet cinema was no less important. What he lacks in the more pronounced experimentation of those two, he more than makes up in his depictions of the fabric of everyday life itself. His Outskirts of 1933 was one of the very first Soviet talkies, and followed on from Barnet's highly successful silent comedies.
Its subject, however, was darker - this is the story how the beginning of World War I affects life in a small Russian town that is among the first to encounter invading German forces.
There are brilliant scenes from life in the trenches, culminating with the two sides coming together for a (brief) scene of fraternisation, before the high-ups on either side put a stop to that sort of thing. Politically too, it's a complicated subject for the early 1930s: the sirens of industrial unrest against the factory-owners are sounding in the community even before the start of war, in the course of which the Russian side fights first for the Tsarist empire, then the provisional government, and finally the new Soviet regime. It may have been released in the US as Patriots, but Barnet's soldiers are ordinary young men who are fighting for their very specific place at home, and those they have left behind, far more than for any ideology.
Comedy and love win out over anything so distracting as dogma
It starts with life in a family whose business is cobbling boots, which come to be particularly needed for the serving army (industrial production overtakes the original manual awls in the course of the film, too). A sympathy between the daughter of the house (actress Yelena Kuzmina) and a pre-War German lodger morphs into a semi-romantic friendship with a German POW who happens to be a cobbler by profession, and is let out of his prisoner camp to look for day work when rations to feed the interned have run short.
Outskirts was acclaimed at the very first Venice Film Festival in 1932, but not that well received at home. There's much of Remarque's All Quiet on the Western Front, and Barnet is on the side of his everyday heroes. A postscript worth mentioning: Barnet's title was taken, and his story loosely adapted by Russian director Pyotr Lutsik in a 1998 film (also in black and white). One of the best to come from that territory in the late 1990s, the heroes of Lutsik's small town community are fighting guerilla-style this time to protect their interests against encroaching oligarchs. Plus ca change...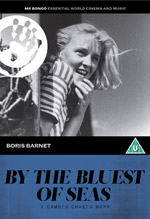 Actor Nikolai Kryuchkov, who plays a supoprting role in Outskirts, went on to become a Soviet hearthrob. He achieved full stardom in Barnet's 1936 By the Bluest of Seas, a story set on the (often rough) Caspian; Kryuchkov, frequently seen in rather flimsy sailing shorts, would have given Johnny Weismuller a run for his money in the latter's Tarzan roles. Here he's one of two sailors washed up on the shores of the "Lights of Communism" collective fishing farm who fall in love with the beautiful, intrepid leader Masha (Kuzmina from Outskirts, pictured right) - his rival is his fellow survivor Yousuf, who stands up for Azeri honour in this romantic stand-off. When it's revealed deus ex machina that Masha has a long absent fiance who's away defending the motherland in the Pacific, Kryuchkov's beach-blond Alyosha sails off with his Azeri best mate. Apparently Barnet was berated for the excessive emotionality of his story, though that didn't stop Kryuchkov from playing leads in Stalin's favourite musicals a few years later (he and Kuzmina share some very nice vocal numbers here). Comedy and love win out over anything so distracting as dogma.
By the Bluest of Seas was new to me, and it's a gloriously lighthearted love triangle that apparently the French nouvelle vague had a lot of time for. Sea storms come with very accomplished use of backdrop projections, while composer Sergei Potosky's score is a treat. Apparently it was nearly shot in colour, but the black and whites we see here (in a print that, whether restored or not, looks in very good shape) couldn't be bettered. Sixty-nine minutes of pure delight.
When it's finally revealed deus ex machina that Masha has had a long absent fiance, Kryuchkov's beach-blond Alyosha sails off with his Azeri best mate
rating
Explore topics
Share this article