DVD: Exhibition |

reviews, news & interviews
DVD: Exhibition
DVD: Exhibition
There's an unseen ghost in the dream home of Joanna Hogg's elliptical drama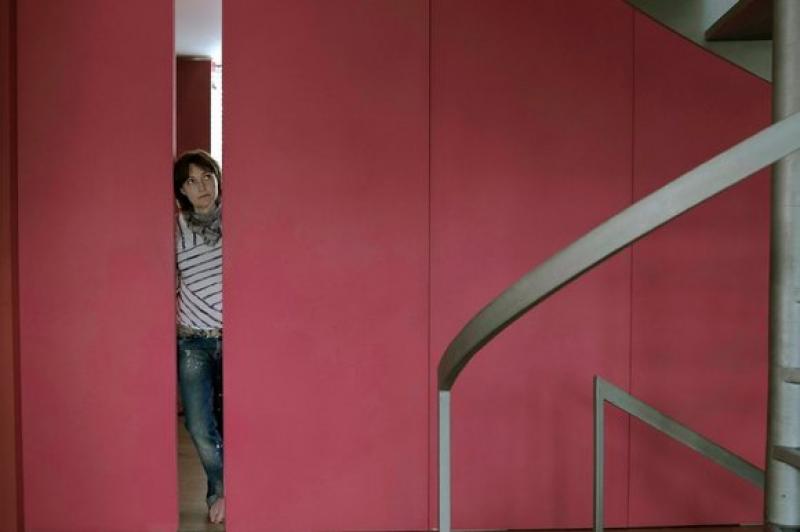 Slit in the facade: Viv Albertine as D in 'Exhibition'
With Unrelated (2007) and Archipelago (2010), the filmmaker Joanna Hogg staked out unfashionable territory: the anxieties and frustrations that stem from communication failures and deep-seated resentments among the insular English bourgeoisie. Exhibition, her latest, is as coolly observed and as exquisitely acted, visualized, and sound-designed as its predecessors, but it's more opaque.
A series of mostly low-key vignettes, it depicts the secure but uneasy marriage of the contemporary artists D (Viv Albertine, the musician) and H (Liam Gillick, the conceptual artist) at a moment of crisis. Despite her misgivings, they've decided to sell the James Melvin modernist house in Kensington where they've lived for 20 years. Aware of D's fretful tenderness for her hardly cozy home, Hogg regular Tom Hiddleston plays an estate agent with the bedside manner of the most sensitive obstetrician.
Why does H excitedly scurry off into the night on one occasion?
D's and H's behavior is not always explicable. H is an arrogant art star who patronizes D, which has caused her to clam up about her less successful career. Why does he excitedly scurry off into the night on one occasion, making her fearful for him? D is dreamy, passive, and repressed – but more sensual than her cerebral husband. Sex with H is a chore for her. When she surreptitiously dons heels and a black thong, lubes herself up, and masturbates as he sleeps beside her, is it for the thrill, an act of rebellion, or both? (Readers of Albertine's bracing recent autobiography might suspect a counter-intuitive psychodrama is being enacted here by the former Slits guitarist, never one for self-pleasuring apparently.)
The camera placement indicates D might be touching herself for the benefit of anyone looking out of a nearby window – as she could be seen from the street when formulating a bondage-fused performance piece in a lit room at night. Influenced by the feminist performance artist Valie Export, Exhibition is far more sympathetic to D than to H. At least three times, it enters her dream/fantasy life, but never his. (Pictured above: packing up – Albertine and Gillick.)
So this remarkable film is a mystery – about the spirit of a dream home with a heartache (as well as a faulty boiler), about a woman's fugitive desires, and a couple that thinly papers over the cracks in its marriage. Toward the end, D looks out of a window. A long shot shows what she sees or imagines – an old man holding a baby so awkwardly it appears to have been foisted on him. That, perhaps, explains why she and H have to get away from there.
The DVD extras include interviews with Hogg, Albertine, Gillick, and Hiddleston; a featurette; an audio commentary with Hogg; deleted scenes; and the trailer.
When D masturbates as H sleeps beside her, is it for the thrill, an act of rebellion, or both?
rating
Explore topics
Share this article