The Souvenir review – Joanna Hogg's most emotionally wrenching film yet |

reviews, news & interviews
The Souvenir review – Joanna Hogg's most emotionally wrenching film yet
The Souvenir review – Joanna Hogg's most emotionally wrenching film yet
Love is hell in Knightsbridge in romantic autobiographical drama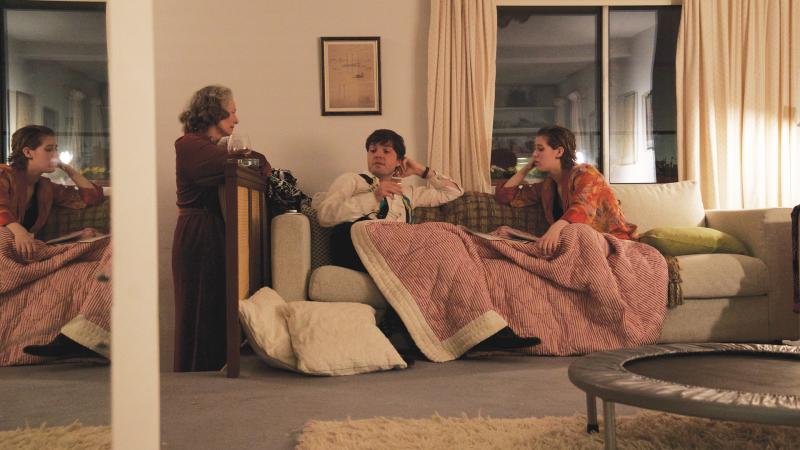 Tilda Swinton, Tom Burke and Honor Swinton Byrne in The Souvenir
Joanna Hogg's melancholy autobiographical drama The Souvenir cuts too close to the bone.
That's a compliment: like Sally Rooney's equally unsettling first novel
Conversations With Friends
, Hogg's movie almost forces the viewer to relive that shattering early
romance
, founded on collusion and self-delusion, that reordered her or his universe for all time.
Like Conversations With Friends, too, The Souvenir, set in the first half of the 1980s, depicts a young woman's affair with a withholding older man. Whereas Rooney's protagonist Frances is a poor Dublin undergraduate enmeshed with a married middle-class actor, Hogg's is an aspiring upper-class filmmaker, Julie (Honor Swinton Byrne), who lives rent-free in the Knightsbridge flat owned by her "county" mum (Tilda Swinton, Honor's mother) and her gentleman farmer dad. That Julie hasn't quite grown up is revealed by the way she turns to Swinton's over-protective Rosalind for loans and lets her put her to bed with her childhood cuddly toys.
First glimpsed as a guest at one of Julie's parties, the posh, worldly flaneur Anthony (Tom Burke) stealthily seduces her over a period of weeks. "You're very special, Julie…you're a freak," this Hitchcockian man of mystery tells her, reassuringly adding that she will "always be lost". Early in their courtship, he takes her to the Wallace Collection to see Fragonard's eponymous 1778 painting, which was inspired by the heroine of Rousseau's epistolary novel Julie, or The New Héloïse and shows a girl carving the initial of her lover's name in a tree trunk. Similarly smitten, Swinton Byrne's Julie chooses to disregard Anthony's unexplained comings and goings.
Soon after moving in with Julie, Anthony starts borrowing tenners from her and popping out to spend them. That he returns Julie's love is indisputable, but nothing validates his claim that he works at the Foreign Office. She doesn't quiz him about his alleged experience in Afghanistan in 1973 or his alleged involvement in the 1984 Libyan hostage crisis. They fail to discuss in depth the December 1983 car-bombing of Harrods, which she heard while working alone in the flat.
When a bohemian couple comes for dinner, the husband (Richard Ayoade) – a pretentious director suitably clad in a hideous animal-print jacket – casually discloses to Julie information about Anthony that comes as no surprise to the audience but knocks her for six. This occurs at the 45-minute mark. How Julie copes with this knowledge and Anthony's subsequent behavior comprise the rest of the film; the upcoming sequel will presumably build on her tormented coming of age.
As The Souvenir traces Julie's romantic disillusionment so it follows her artistic development at film school. She withstands a sneer from her male supervisor concerning her monied background. Anthony, a Powell and Pressburger fan, influences her decision to jettison her idealistic plan to make a social realist working-class family drama partially set in Sunderland's ailing shipyards – Hogg makes ironic use of the Robert Wyatt version of Elvis Costello's "Shipbuilding" (as she does elsewhere Joe Jackson's "Is She Really Going Out With Him?", Jona Lewie's accidental Christmas hit "Stop the Cavalry", Bartók's opera Bluebeard's Castle, and 1930s big band tunes). Though the distracted and sometimes ill Julie stumbles through her course, she gets on well with her fellow students, who come from all classes, and ends up working on a Derek Jarman-like film of Measure for Measure. It's clearly more heartfelt than the Sunderland film would have been.
Correspondingly, The Souvenir – bolstered by Swinton Byrne's moving debut (wholly devoid of mannerisms) and exquisite performances by Burke and Swinton – is the most emotionally wrenching of Hogg's four features to date. The argument that she should be frowned on for using her impressionistically punctuated version of Loachian realism to explore upper- and upper-middle class lives is spurious. Her films (Archipelago particularly) are alert to bourgeois condescension and snottiness and reveal far more the unhappy truths of privileged existence than they do its felicities. Never a snob, Julie is as fragile as Anthony says she is, but she emerges from her ordeal apparently untarnished by cynicism. The sequel, currently in post-production, can't come too soon.