DVD/Blu-ray: The Blood of Hussain |

reviews, news & interviews
DVD/Blu-ray: The Blood of Hussain
DVD/Blu-ray: The Blood of Hussain
Remarkable early films from Pakistan's Jamil Dehlavi bridge the political and the mystic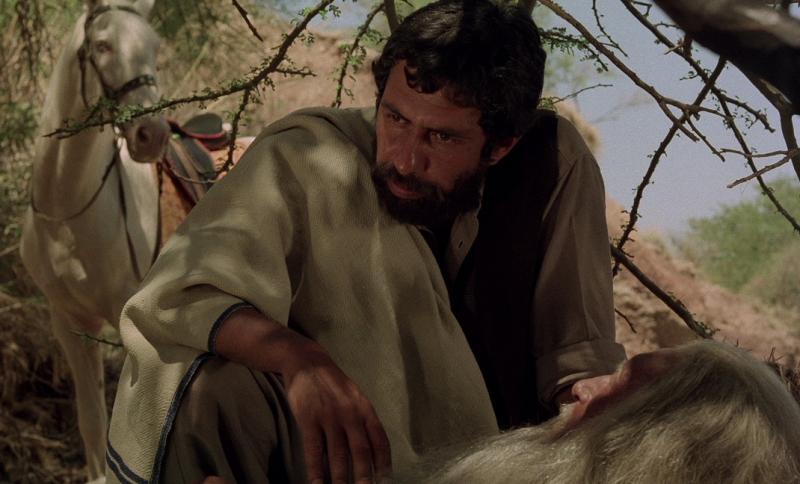 Call of destiny: Salmaan Peerzada as Hussain
Jamil Dehlavi is a filmmaker whose work straddles two worlds. His native Pakistan is certainly the key element in the two early films on this BFI dual-format release – it follows on from the director's August South Bank retrospective, the first there for a director from that country – but it is as if, for a variety of reasons, he always had a foot in a cinematic context that went beyond it.
His film education and training came in New York, and the spirit of experimental cinema of the time infuses his 1975 Towers of Silence, though its visual elements are anchored in Karachi's shoreline and associated settings. The Blood of Hussain, from five years later, was filmed in Lahore and some striking rural locations, with a part-British cast and crew; Dehlavi later finished the film in London after escaping, literally, from his homeland and restrictions that had been imposed on him by the regime of Muhammad Zia-ul-Haq (The Blood of Hussain remains banned in Pakistan today). Based in the UK, he went on to work for television – he made Born of Fire for Channel 4 in 1987 – while over the last three decades he has returned to Pakistan for films as varied as 1998's Jinnah, the far-from-standard biopic of the founder of the nation that has Christopher Lee in its title role, and Infinite Justice (2006), based around the story of kidnapped American journalist Daniel Pearl.
It's visually intoxicating, the work of a filmmaker discovering the resources of his craft
The timing of The Blood of Hussain certainly proved prescient: Dehlavi finished filming his story of a country under military rule just months before the overthrow of Zulfikar Ali Bhutto's government (a radio broadcast drawing on a speech of Zia's is the only direct reflection of that context). But the film's story stretches far beyond the quotidian, referring to the death of Hussain, grandson of the prophet, at the Battle of Karbala. A key element in Shia Islam that is referred to at the opening, its commemoration in the Muharram procession is seen in visceral flagellation scenes (documentary footage, in fact) in early scenes of the film.
But there's a more standard dramatic strand too, involving familial and political loyalties that are embodied in the story of two brothers from an obviously influential family (both are played by the same actor, Salmaan Peerzada). The eponymous Hussain remains close to his roots and to the people for whom he will become a leader, while the westernised Selim has married an Englishwoman (Kika Markham), and endorses the new regime, his role as an economist-politician being to maintain its relationship with the international community. Allegiances are further clouded by the fact that Markham's character is having an affair with another senior figure in the regime (that role played by the director himself, lavishly moustached).
Dehlavi must have absorbed material from a whole range of sources. There's surely a Tolstoyan element in there somewhere, principally in the depiction of a nobleman choosing to live close to his peasants, while the revelation of Selim's knowledge of his wife's adultery, in a scene at the hippodrome, may come from the same source. It provides a strand of psychological drama that stands out against the growing stylisation of the film's conclusion, which has cinematographer Walter Lassally drawing some big-scene visual effects from spectacular locations. The celebrated sequence in which a white stallion rises in slow motion seemingly from out of the earth (pictured above) has an arthouse magic that wouldn't look out of place in Tarkovsky.
The 51 black-and-white minutes of Towers of Silence (pictured below) are no less striking, albeit considerably more avant-garde. It's certainly challenging to reconcile that experimental aesthetic with material that references everything from Zoroastrian rituals – the titular towers are those in which corpses have their bones to be picked clean by vultures, which have a striking recurring presence throughout the film – to complicated allusions to family drama and political engagement. Surrealism might be another concept to invoke to characterise the whole melange, but the final effect goes beyond that, too.
It's visually intoxicating, the work of a filmmaker discovering the resources of his craft. His themes certainly extend beyond the standard resources of the western cinema world, making the explication offered by the two extras here, recorded at the August retrospective with the event's co-curators, welcome. In conversation with Timothy Cooper, Dehlavi gives much of the general background, including biographical detail, behind his work, while Ali Nobil Ahmad's screen lecture, "Between the Sacred and the Profane", fits it into a whole variety of frameworks of critical theory. While that all provides context, these are films that stand on their own terms, and reward discovery as such.
Subscribe to theartsdesk.com
Thank you for continuing to read our work on theartsdesk.com. For unlimited access to every article in its entirety, including our archive of more than 10,000 pieces, we're asking for £3.95 per month or £30 per year. We feel it's a very good deal, and hope you do too.
To take an annual subscription now simply click here.
And if you're looking for that extra gift for a friend or family member, why not treat them to a theartsdesk.com gift subscription?