DVD/Blu-ray: Catch Us If You Can |

reviews, news & interviews
DVD/Blu-ray: Catch Us If You Can
DVD/Blu-ray: Catch Us If You Can
John Boorman's debut skewered the capitalist exploitation of youth culture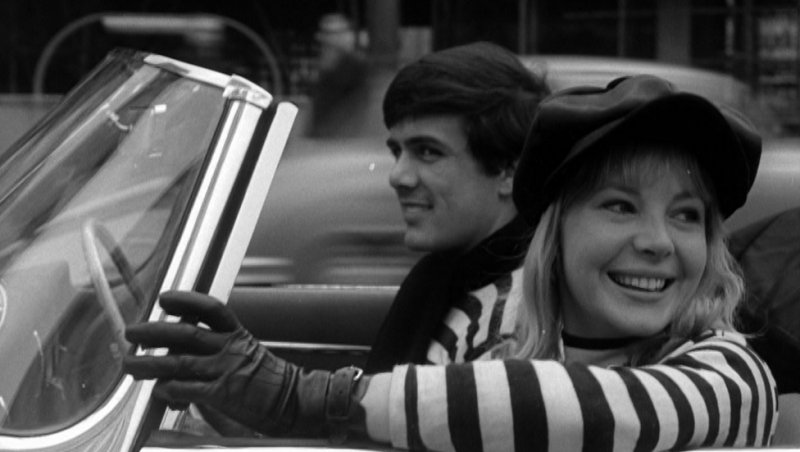 Runaways: Dave Clark and Barbara Ferris in 'Catch Us if You Can'
Catch Us If You Can, the 1965 road movie starring Barbara Ferris and the eponymous drummer and guiding force of the Dave Clark Five, proved a more trenchant satire of capitalism in the embryonic Swinging '60s than did the box-office smash it was piggybacking, the previous year's A Hard Day's Night.
John Boorman's feature debut was as inventively directed as Richard Lester's Beatles vehicle, but it couldn't hope to be as iconic or as financially successful. Instead of the Fab Four at their wittiest and most anarchically Goons-ish, it had Clark playing Steve, a dour, cynical stuntman who absconds in an E-Type Jag with Ferris's Dinah, the vivacious national meat-marketing poster girl, from the expensive commercial they're shooting at Smithfield Market in the City of London.
Whatever deal Clark – who really was an experienced movie stuntman – made with Boorman and the film's producer David Deutsch, it didn't insist on screenwriter Peter Nichols (the TV dramatist who later wrote A Day in the Death of Joe Egg) creating characterful parts for his DC5 bandmates Lenny Davidson, Rick Huxley, Denis Payton, and Mike Smith. They don't even play pop musicians but are the interchangeable nice blokes in Steve's stunt crew, who share his signage-cluttered gaffe in a converted church and humdrum badinage. (The DC5 songs in the film are unexcitingly non-diegetic.) It's telling that Steve tells Dinah that he's not only fed up with the commercial, but with "the boys", too.
The rapidly cut Pop Art opening sequence, which includes the DC5 laddishly breakfasting in the church – Rice Krispies received ironic product-placement – and fooling around in a Bermondsey children's playground, deliberately mimics A Hard Day's Night, setting up an expectation of boisterousness that Boorman and Nichols subvert as Catch Us If You Can succumbs gradually to melancholy. Runaways Dinah and Steve have low-key adventures in and around London – scuba-diving at the open-air Oasis Swimming Pools in Holborn and visiting the Grand Conservatory at Syon House in Hounslow – before heading south-west toward Devon, where the idealistic Dinah intends to buy and escape to an island with her earnings as "the butcher girl".
They're pursued by the rest of the DC5 and two admen dispatched by the meat campaign's chief executive, Leon Zissell (David de Keyser), to bring Dinah back, not least because he's obsessed with her. In contrast, Steve, happy to abet Dinah's flight, remains – to her increasing disappointment – stonily uninterested in her as a woman. He's apparently just curious to see how far she'll go with her anti-materialist rebellion, which she gleefully urges, yelling through a megaphone, London's bemused shoppers to join. Boorman put his experience as a documentary directior into the vibrant on-the-fly location shooting and observational interior scenes.
On Salisbury Plain, Dinah and Steve run into a commune of dropouts squatting in one of the decayed buildings in Imber, the abandoned village owned by the Ministry of Defence. Catch Us If You Can may condemn the exploitative commodification of youth culture ("meat"), but it suggests that voluntary alienation from the society that condones it constitutes idle non-resistance. The film's depressed proto-hippies have lost interest in smoking pot and now crave heroin. Their brain-addled leader (Ronald Lacey) mumbles incoherently; if he's the first example of a Merlin figure in a Boorman film, he's an impotent one. The commune is eventually routed and the E-Type destroyed by an aggressive Army training exercise epitomising the establishment's attitude to nonconformists.
Bourgeois life is no answer to Dinah's wistful existential quest either. In the film's sharpest sequence, she and Steve are picked up by Nan (Yootha Joyce on typically spiky form) and Guy (Robin Bailey), a pair of wealthy middle-aged swingers – as potentially predatory as Zissel – who are living in codependent marital rancor in Bath's Royal Crescent. Though Steve calmly rebuffs Nan, Dinah touchingly finds a kindred spirit in Guy, telling him she's not one of the young people he jealousy disdains for being "callously hopeful".
Guy derides Nan for collecting clothes, but himself collects antique optical instruments – which he proudly shows Dinah – as an escapist hobby because, he gloomily opines, "hardly anybody can bear reality", as good a mantra for the film as any. Dinah and Steve part company from Nan and Guy at a riotous, gender-bending party at the Roman baths, heading on to snowclad Devon (the boys in tow) and a loaded encounter with Steve's former youth club organizer Louis (David Lodge), whose love of the outdoors is compromised by his entrepreneurial streak. (Pictured below: Robin Bailey and Yootha Joyce)
Bailey's brilliant characterization of Guy owes to the effete marquis (Marcel Dalio) who delights in his collection of mechanical and musical devices in Jean Renoir's The Rules of the Game (1939). The author and critic Matthew Sweet notes in the insightful on-camera interview he contributes to this home video release the influence, too, of Alain Resnais's Last Year at Marienbad (1961) in some of Dinah and Steve's enigmatic exchanges and languid poses.
Along with allusions to another 1964 film, The Collector, and 1962's Lawrence of Arabia, there are references to Robert Louis Stevenson's novel Kidnapped, notably in Dinah sorrowfully realizing that Burgh Island, her Devon destination, is "just a gimmick in the sea" – a tidal island (like Erraid, west of Mull, where Stevenson's David Balfour thinks himself stranded) reachable by walking from the mainland – and no haven from capitalism. Disillusion sinks in, and It's there that her other chickens come home to roost, deciding Steve on whether he wants anything further to do with her. He emerges as a man of principle, if not as a hero, but the role required an actor with much greater range than Clark.
More economically and less indulgently (or sexistly) than Dennis Potter's miniseries Blackeyes (1989), Catch Us if You Can – eloquently photographed in black and white by Manny Wynn – throws an attractive young woman to the wolves of advertising and all it manifests in terms of avarice, soullessness, and manipulation. It started Boorman on a magnificent career as a psychologically astute visual stylist and should have made the excellent Ferris a star. As well as the Sweet interview, the disc includes a fragment of an interview with Nichols (who had little time for Clark) and an engaging one with the film's neophyte set decorator Ian Whittaker, who subsequently won an Oscar for art-directing Howard's End (1992).