DVD/Blu-ray: Conversation Piece |

reviews, news & interviews
DVD/Blu-ray: Conversation Piece
DVD/Blu-ray: Conversation Piece
Burt Lancaster is a model of subtlety in Visconti's most candid self-portrait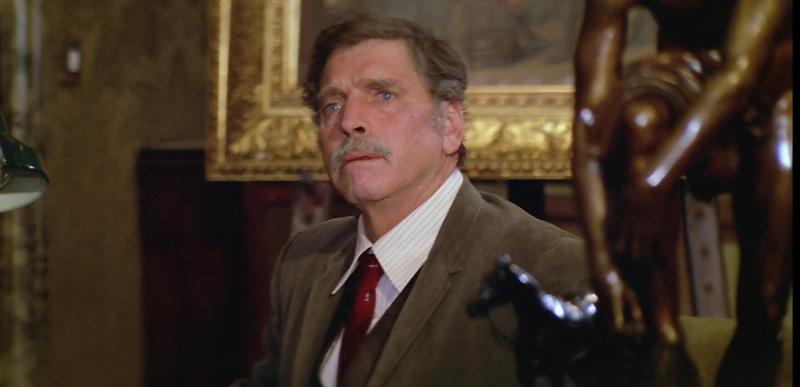 Burt Lancaster as the Professor in 'Conversation Piece'
Luchino Visconti's penultimate film, made entirely in a studio recreation of a two-floor Roman apartment for the benefit of the semi-invalid director, is an atmospheric drama split down the middle.
The better half of it is very definitely Burt Lancaster's restrained characterisation of the alter-ego Professor, withdrawn from the world and devoted now to collecting family-group portraits; his world is an amazing recreation of a patrician's rooms, looking good in this 2K restoration. The other aspect has dated horribly. This is the portrayal of a group of brash and sometimes violent "people of today" – the film was made in 1974 – led by Silvana Mangano's capricious Marchesa, who commandeers the floor above the Professor's living quarters for her even more volatile young lover Konrad (Helmut Berger).
Lancaster essentially replays another Visconti self-portrait, the Prince in The Leopard, with discreet hints of the infatuated Aschenbach in Death in Venice (thankfully he gets to speak in his own, noble tones here; the dubbing of the complete, Italian-version Leopard is a liability). He makes the protagonist's interest in Berger's intelligent waster paternal rather than sexual; Visconti's own long-term relationship with the arrogant, bisexual Berger, then on the wane, finds its truer expression in the physical interplay between the Marchesa and her gigolo.
Neither Berger nor the two young Italians playing the Marchesa's daughter and boyfriend (Elvira Cortese and Stefano Patrizi) act convincingly – Konrad's expletive-laden outbursts can curl the toes, however decorative he is to look at – but then Visconti takes a skewed, fantasy view of their liberated generation. The last of the patricians and at the same time a committed Marxist, his confusion over what Konrad really ultimately means to the Professor adds to the fascination of the film's hazy psychology.
A detailed, French-made documentary on Visconti and Conversation Piece is if anything more compelling than the film. We learn of Lancaster's rushing to the stroke-afflicted Visconti's side to commit to the film and win Italian producers' approval, and how, without the director's knowledge, he undertook to complete work on it if Visconti's health failed completely. There are excellent testimonials, among others, from Renata Franceschi, script supervisor and speaker of the best-articulated Italian I've ever heard, and two of the actors – Patrizi, looking good in the early 2000s, and Berger, decidedly raddled. A short essay by a sober Italian critic adds a few more piquant details to the mix; the only pity is that the nitty-gritty of Visconti's relationship with Berger is skimped in both extras.