DVD/Blu-ray: The Emperor's Naked Army Marches On |

reviews, news & interviews
DVD/Blu-ray: The Emperor's Naked Army Marches On
DVD/Blu-ray: The Emperor's Naked Army Marches On
Extraordinary 1987 documentary upends expectations of Japan - and of the genre itself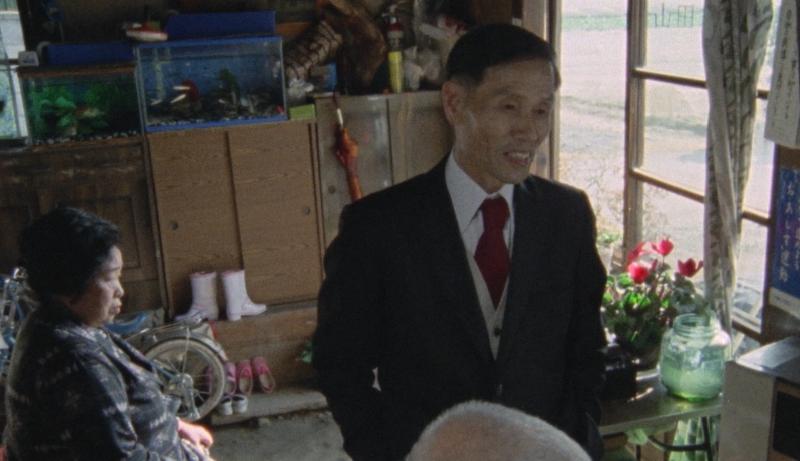 Deceptive order: Kenzo Okuzaki, the incendiary protagonist of Kazuo Hara's film
When Sight & Sound compiled its "Greatest Documentaries of All Time" list five years ago, Kazuo Hara's The Emperor's Naked Army Marches On came in at number 23 – proof, some three decades on from its 1987 release, that this remarkable film had stayed in the minds of filmmakers an
When Sight & Sound compiled its "Greatest Documentaries of All Time" list five years ago, Kazuo Hara's The Emperor's Naked Army Marches On came in at number 23 – proof, some three decades on from its 1987 release, that this remarkable film had stayed in the minds of filmmakers and critics alike. Its rerelease now by Second Run in a new director-approved HD remaster offers the chance to reappraise a groundbreaking work, one whose powerful – and undeniably strange – impact has in no way diminished over the years: it continues to shine an unexpected light both on Japanese society and on the documentary form itself.
Hara's protagonist, Kenzo Okuzaki, is a 62-year-old WWII veteran on a mission that is partly driven by that war service, who certainly demolishes any stereotypes that we may have about the "propriety" of Japanese society. It's 1982, and he's conducting a one-man blitz campaign against the authorities in general – and Emperor Hirohito in particular, whom he sees as the ultimate symbol – that centres on his private investigation of an incident that took place at the very end of the war within the embattled Japanese army in New Guinea, involving the executions of two soldiers from the unit in which Okuzaki himself served.
The director follows him as he hunts out and questions those whom he considers responsible. It's a virtually "guerrilla" campaign that breaks through any expected deference, one that involves turning up unannounced at the homes of those involved – sometimes at five in the morning – and insisting on an audience; given Okuzaki's insistence on getting an answer, such discussions can last for hours, and when he feels that he's being fobbed off he's not averse to resorting to physical violence to further press his subjects (the concept of the "release form" is clearly alien here). Such behaviour is played out – like some bizarre psychodrama – against the extreme politeness we expect of Japan, mitigated to some extent by the frequent presence of the police on the scene (Okuzaki has served time for a range of past offences).
It's the sort of material that proves absolutely compelling for a documentarist, and the fact that Hara works as his own director of photography gives real immediacy: he faces issues such as whether to continue filming, or halt and intervene in proceedings, as he's called on to do more than once. Nevertheless the revelations that Okuzaki finally manages to draw out of these encounters are no less surprising than his methods. We learn that the soldiers' executions were linked not only to their supposed desertion from their regiment (itself a moot point, if events happened after Japan's surrender), but also to far darker issues, cannibalism principle among them. (Even that comes with its own ambiguities, depending on if it involved fellow Japanese soldiers or the locals – less often the case, apparently, since they were harder to catch).
Is Okuzaki a loner-investigator determined to draw out the truth, however ugly, from within his rigidly defensive society?
The initial narrative that the film fashions seems convincing, with Okuzaki as the loner-investigator determined to draw out the truth, however ugly, from within his rigidly defensive society, his unusual methods implicitly endorsed by Hara (the director's earlier films had been no less uncompromising). Then on a second consideration (or viewing) we begin to suspect that things aren't necessarily so simple: earlier in his investigations Okuzaki has been accompanied by the dead soldiers' siblings, but when they drop out after the allegations of cannibalism are raised, he simply casts outsiders (including his own wife!) to play their roles and heighten the emotional pressure at the next encounter he is planning.
It's an extraordinary scene – of a kind that you simply couldn't make up – that surely effects a change in the viewer's perception. Is Okuzaki driven not by any more generous altruistic motivation but rather by the fanatical enthusiasm of a provocateur? Rather than being his effective accomplice, is Hara actually dissecting his behaviour as something almost pathological? It's the director's genius just to keep his camera rolling, its apparent lack of judgment gradually shading into something rather different.
It's a fascinating, deeply unsettling dynamic on which the director expands in the two extras on this release, the main one a 26-minute interview filmed specially in Tokyo last year, in which he reveals – with a clarity that contrasts starkly with the stormy atmosphere that must have characterised the production process itself – something of the background to the film, as well as his final thoughts and feelings about Okuzaki. Best not to know what some of those insights are before watching the film, sufficient to say that all the ambiguities of involvement inherent to the documentary process come to the fore. The Emperor's Naked Army Marches On is simultaneously a shocking and a deeply subtle film, one that remains compelling viewing today.
Watch the 2018 Open City Documentary Festival trailer for The Emperor's Naked Army Marches On
When he feels that his enquiries are being avoided he's not averse to resorting to physical violence
rating
Share this article