DVD/Blu-ray: The Goalie's Anxiety at the Penalty Kick |

reviews, news & interviews
DVD/Blu-ray: The Goalie's Anxiety at the Penalty Kick
DVD/Blu-ray: The Goalie's Anxiety at the Penalty Kick
No particular place to go: refreshed soundtrack revives Wim Wenders's debut feature
Drawn to cinema: Arthur Brauss as Wenders's goalkeeper
The invaluable work being carried out by the Wim Wenders Foundation to preserve the legacy of the great German director continues to bear fruit.
In 2012, with the help of the World Cinema Foundation, Wenders bought back his entire
back catalogue
(which he had lost in associated bankruptcy proceedings a decade earlier), and the process of 4K digital restoration began.
The challenges – much more than just repairing images drawn from some very tired original prints (though that was considerable work too, as an accompanying extra here, Restoring Time, reveals) – were particularly demanding in the case of two early films. His 1973 Alice in the Cities needed reframing, to correct the ratio from its original TV broadcast standards to the one in which Wenders and his longterm DP Robby Müller had filmed it. With the director's debut film The Goalie's Anxiety at the Penalty Kick, from 1971, the issue was the soundtrack: Wenders's extensive use of American rock/pop material – much of it played from his beloved jukeboxes – had been cleared only for German distribution, which made the film effectively unavailable internationally for almost 45 years.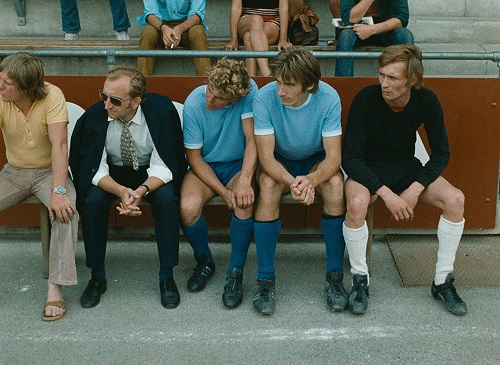 In an interview that comes as an extra on this release, Wenders describes how that problem was resolved, through technical "wizardry" that saw the tracks that would have been prohibitively expensive to clear removed from the surviving mono mixtape, and new "lookalike" (matching in style and length) material, specially composed, performed and recorded (in analogue), inserted in their place. The happy exception in this general substitution came with Van Morrison's "Gloria": playing over a fight scene, its removal would have been almost impossible. Wenders finally approached his hero, who gave the rights for free.
The director surely overplays his own naivety somewhat in recalling how The Goalie's Anxiety came to be made: indeed, he sounds practically astonished that his 25-year-old self, with just two shorts and a graduation film behind him, could have been standing up in front of a real crew and cast for a four-week shoot (it was shot chronologically, Wenders claiming here that he didn't know there was any other way). And the German cinema landscape can't have been quite as bleak as he remembers it here: he felt that becoming a film director was about as realistic as going to the moon. The success of Wenders's old friend Peter Handke's source novel brought in majority funding from German public television WDR, as well support from Austria, where its action is set, starting in Vienna before moving to the Burgenland countryside.
Most of all this is a story of monotony, of alienation
After all, Wenders had absorbed a huge cinematic heritage by then, not least that of Alfred Hitchcock whose influence he acknowledges here, as well as the impact of American culture in general ("the Yanks have even colonised our subconscious," he would later write). He certainly added something distinctive to the road movie genre in his story of Joseph Bloch (Arthur Brauss, pictured below, left) and his seemingly motivationless wanderings; the significance of his titular profession is minimal from the film's opening episode through until an allusion in its final scene.
The description of the film as an "existential thriller" appears to have left Wenders bemused too, though he certainly plays with elements of the latter in a (very) loose crime detection strand. Most of all this is a story of monotony, of alienation, one which reflects both post-war Germany's troubled past and its location on the boundary of the Cold War. Bloch's central – indeed, his only – defining action is committed with a randomness that is all the more chilling for being so casual (shades of Camus and L'Etranger there, perhaps).
Unrelieved bleakness? Not quite, with elements of deadpan humour growing as the film progresses. The colour correction in this restoration certainly showcases some very generous hues that at times almost contradict the starkness of story, the countryside scenes especially emanating rather more Gallic warmth than Teutonic chill. Müller's cinematography perfectly matches Wenders's sense of control, reinforced by the deceptive simplicity of the score by Jurgen Knieper (another future collaborator).
It's the work of a director who has discovered that understatement can be a powerful form of statement. And certainly a step on from Same Player Shoots Again, his 1967 student film included here, that has the director playing stylistic games with colouring, music and editing (characteristically, he compared the experience to playing a pinball machine). If that was Wenders experimenting, in The Goalie's Anxiety we can feel a sense of style in formation. It's great to have it back – and looking so good.
The colour correction here showcases some very generous hues that almost contradict the starkness of story, the countryside scenes emanating more Gallic warmth than Teutonic chill
rating
Explore topics
Share this article