DVD/Blu-ray: Mogul Mowgli |

reviews, news & interviews
DVD/Blu-ray: Mogul Mowgli
DVD/Blu-ray: Mogul Mowgli
A powerful performance reminiscent of the young De Niro marks out this quasi-autobiographical tale
Tuesday, 16 February 2021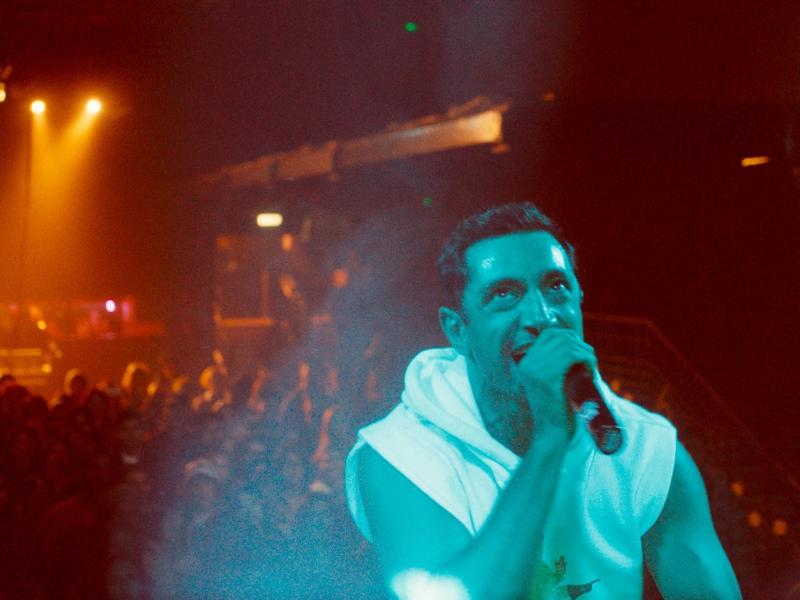 Riz Ahmed as MC Zed dominating the stage
Can one use the term autofiction about a film? If so, Mogul Mowgli would be a perfect example.
Riz Ahmed, the actor who came to fame with
Four Lions
, has in recent years appeared in a
Star Wars
spin-off and a Marvel film; he also
raps
as Riz MC with the transatlantic duo Swet Shop Boys. No stranger to racial stereotyping and the existential questions that beset successful second-generation Asians, Ahmed has now written and produced a formidable portrait of a British-Pakistani performer struggling with his identity when he returns to Wembley after two years making it big in New York.
Is he Zaheer, beloved son of a sprawling family, or MC Zed, the politicised rapper? Fitting back into the terraced home, going to the mosque, and being idolised by a young passer-by, Zed is profoundly conflicted. He's ready to go off on a large-scale European tour when his body betrays him. The story gives Ahmed the chance to show off his acting skills to the full, and he gives an extraordinarily powerful physically nuanced performance. He's generous to his co-stars, too – Alyy Khan is excellent as Zed's father and Nabhaan Rizwan (last seen in 1917 and Industry) is almost unrecognisable here as a rival MC.
Ahmed handed the directing duties over to American-Pakistani documentarian Bassam Tariq, who captures the clashes and strains involved when Zed is trying to reconcile his identities. The film's title comes from a line in one of Ahmed's lyrics, "Half moghul half mowgli / Raised like a concrete jungli". Ahmed explores the tensions between being true to your roots, following family, religion and tradition, and also being seen as Mowgli, the brown boy allowed onto the silver screen, but only from the white establishment's perspective.
The film is dominated by Ahmed, but as its writer-producer he doesn't always make the character he's playing likeable. Zed is impatient with his family and cavalier with his American girlfriend Bina (Aiysha Hart), who gets a subtle revenge. Artfully non-linear, discordant scenes evoke the trauma of the 1947 Partition, and a figure from Pakistani mythology haunts Zed during his neurological crisis. Shot in desaturated, close-up sequences, Annika Summerson's camerawork is stunningly atmospheric and well-matched by the invasive sound design, all of which works to make this a fever dream of a film.
Mogul Mowgli is not a fun watch. Anyone hoping for another East is East or Blinded by the Light will be disappointed. This is no cheery, cheesy tale of culture clash and assimilation, it's a dark indie film filled with claustrophobic interior scenes and punctuated by performances in gritty clubs.
The storytelling lags a little in the final third, but Mogul Mowgli is a striking debut, and it's a shame that it missed out on a decent cinema release last year. Hopefully, it won't get lost in awards season – Ahmed deserves to win prizes for his writing and producing as well as his acting. This BFI release comes with deleted scenes, a fascinating audio commentary by Tariq and Ahmed, and a Q&A from the 2020 London Film Festival. There's also a short film, Daytimer, that Ahmed directed in 2014. The story of a 15-year-old boy skipping school to go to a daytime rave in 1999, it shows that the seeds for Mogul Mowgli were sown two decades ago.
The film is dominated by Riz Ahmed, but as its writer-producer he doesn't always make his character likeable
rating
Share this article