DVD/Blu-ray: Nineteen Eighty-Four |

reviews, news & interviews
DVD/Blu-ray: Nineteen Eighty-Four
DVD/Blu-ray: Nineteen Eighty-Four
Nigel Kneale's 1954 TV adaptation lacks bite, despite strong performances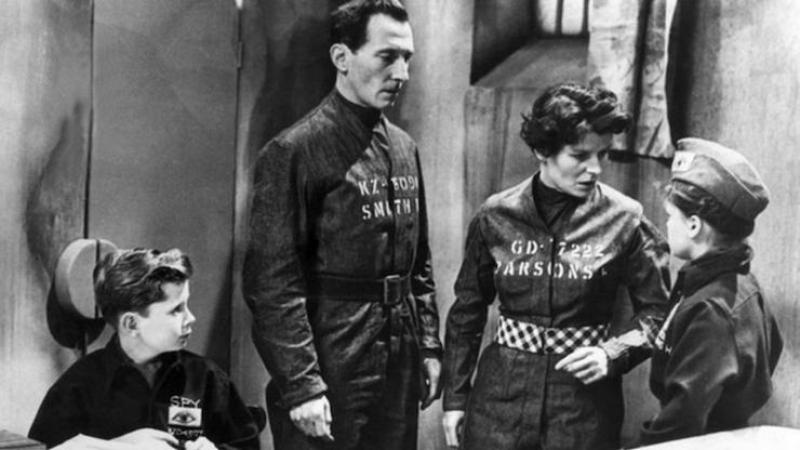 Big Brother is watching you: Peter Cushing and Yvonne Mitchell in 'Nineteen Eighty-Four'
"Disgusting", "depressing", "sheer horror from start to finish", a "filthy, rotten, immoral play". Such were the comments from viewers published across a spectrum of British newspapers following the BBC transmission, on 12 December 1954, of Nigel Kneale's Nineteen Eighty-Four.
The papers themselves were similarly critical. "A Tory guttersnipe's view of Socialism" was the assessment of the socialist Daily Worker. The Daily Express opted for sensationalism. Its headline read: "Wife dies as she watches".
Adapted by Kneale, obviously, from George Orwell's 1949 dystopian novel, and now released by the BFI in a Dual Format Edition, the drama stars Peter Cushing as the tortured (figuratively, and later literally) Winston Smith. Impelled by resentment of the IngSoc Party, the authoritarian rules of which dictate his life, and by nostalgia for a life he can't recall, Winston defies party groupthink through small acts of rebellion: glimpsing lingeringly at the outside world via a porthole window; childishly scribbling private tirades in a secret diary; entertaining harmless unuttered thoughts that malign Big Brother, the Party's nominal leader.
"Thoughtcrime" is the term deployed in the invasive IngSoc Party tongue, known as "Newspeak", to describe the last of these misdemeanours. Including "Doublethink" – the ability to believe a lie one has told is true – this nomenclature was one of the most powerful means by which Orwell evoked the intrusion of Party rule into the lives (and minds) of ordinary citizens. It also helped cement the novel's contemporary relevance.
This power was not lost in Kneale, whose script rendered such thoughts in voiceovers, capitalising effectively on an opportunity afforded exclusively to the director, Rudolph Cartier. For example, one of the most arresting scenes shows Winston, within the confines of his own living room, trying desperately to wipe away the seditious thoughts that populate his inner narrative, thus to protect himself from the mounted telescreen scanning his face for any sign of a telling expression.
While "Thoughtcrime" is unlawful, it also marks the limit of Winston's insurgent spirit. It is not until he encounters fellow rebel Julia (Yvonne Mitchell) that his private rebellion morphs into something more concrete. The pair, who find themselves ravenously in love, embark on a futile effort to join the so-called Brotherhood, a resistance movement headed by Big Brother's political rival, Emmanuel Goldstein.
For the audience, Winston never convinces in this guise, however. Scrawny, awkward, and altogether unheroic from the off, Cushing's protagonist is an excellent incarnation of the man who, in the novel, refuses to unveil himself (or who manages to conceal himself) until Orwell's powerful end scene – a fact, sadly, that robs that ending of its irresistible hopelessness. Instead, it is Julia who makes the more notable transition. Adept and headstrong at first, she emerges from her visit to Room 101 as a husk of her former self.
As Michael Barry, who commissioned the play as BBC Television's head of drama, says in his brief introductory address: "This is one man's vision of a dangerous future… a future which he thought with such dangerous ease might be brought about." This statement, a testament to the accuracy of the BBC adaptation, is largely true: differences in effect aside, and minus a few additions, Kneale's script remains predominately faithful to the novel.
This homevideo edition, released to tie in with a Nigel Kneale season at the BFI Southbank, complements the main picture with supplements plucked from the BBC and BFI archives. Notable among them is a 1965 episode of the BBC's Late Night Line-Up, in which members of the cast and crew took an illuminating look back on the controversy that enveloped the project.
One of the most arresting scenes shows Winston trying desperately to wipe away the seditious thoughts that populate his inner narrative
rating
Explore topics
Share this article