The East |

reviews, news & interviews
The East
The East
Eco-anarchist thriller initially intrigues but is crippled by paper-thin characters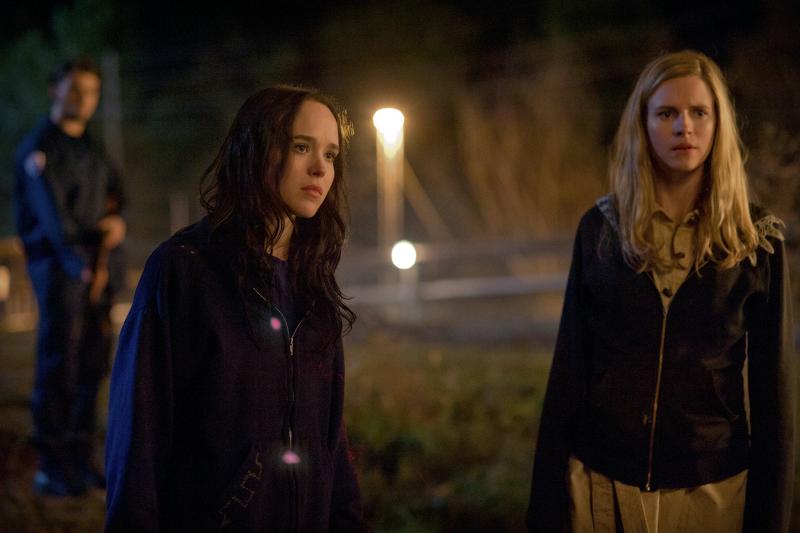 Wrong heroine? Ellen Page and Brit Marling in 'The East'
There's a whole genre's worth of films that would be improved tenfold if they'd only focused on a different character, and it's often possible to pinpoint a better candidate among the same film's supporting cast. Zal Batmanglij's undercover thriller The East focuses on Brit Marling as a former FBI agent who infiltrates an eco-anarchist group but (would you believe it) becomes sympathetic to their mission.
Marling is a talented young writer and producer, having worked previously on surreal sci-fi Another Earth and cult drama Sound of My Voice, but in this instance the film would have benefited from her remaining behind the camera. It should be fascinating to watch the driven, obsessive Sarah gradually slackening and giving in to The East's influence, but Marling feels too ethereal, too much like a dreamer from the start. From her very first moments in the group's eerie, intimate homestead, she feels like she belongs, which dispels much of the tension surrounding her initiation.
What really works in The East is the dramatic meat of its anti-corporation message, which is manifested in a series of strikes made by the group against pharmaceutical companies. Marling and Batmanglij spent several months researching real cases of corporate wrongdoing and the responses of modern anarchist groups, and it shows – the strikes, or "jams" as the lingo goes, are executed with chilling precision and a plausible sense of justified rage. The first jam sees ringleader Benji (Alexander Skarsgård, pictured above right with Page) and his followers giving the heads of one corp a literal taste of their own medicine, a drug that has been widely distributed despite evidence that it causes brain damage.
But as the novelty of smartly-conceived thrills fades, the wildly illogical plotting becomes more of an issue, as does the paper-thin characterization. Marling's miscasting is only half the problem – between the half-heartedly drawn doting boyfriend (Jason Ritter) and one too many shots of Sarah jogging pensively around Washington DC, it becomes increasingly clear that the script is using shorthand in place of real psychological shading.
The supporting character that would have made a worthier lead is Ellen Page's longtime member Izzy, the broken child of a wealthy oil family whose confrontation with her alienated fat-cat father (Jamey Sheridan) is one of the film's few really electric moments.
The film ultimately functions much like Skarsgård's Benji, who initially intrigues but becomes less and less compelling the more he speaks. The group dynamics are well drawn, steeped in a curiously touching, quasi-incestuous intimacy that would in itself have made for a fascinating, albeit less easily marketable, film. As it is, crippling plot holes and underdrawn characters may mean you're less than wholly seduced by The East.
Watch the trailer for The East