El Father Plays Himself review – a roller coaster ride of mixed emotions |

reviews, news & interviews
El Father Plays Himself review – a roller coaster ride of mixed emotions
El Father Plays Himself review – a roller coaster ride of mixed emotions
Making a movie in the Amazon with a drunkard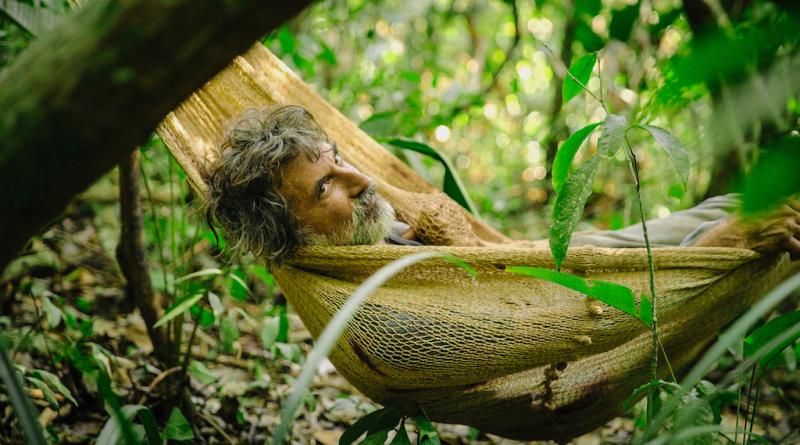 Still from 'El Father Plays Himself' by Mo Scarpelli
A young film director writes a script based on his father's life story and invites his dad to play the part. It's an interesting gambit, given that the son, Jorge Thielen Armand left Venezuela with his mother at the age of 15 and has not returned since. His father stayed behind, so their relationship has stalled. Can it be reignited?
Mo Scarpelli's documentary follows Armand's attempts to make the film and, in the process, rebuild his relationship with his father. Jorge Roque Thielen agrees to play himself despite not having seen the script; but the project is fraught with difficulty since, inevitably, it involves Father, as he is called, confronting the choices made by his wayward younger self. It also means spending six weeks in the Amazon where, in the 1990's, he built a tourist camp and, when it failed, turned his hand to illegal gold mining.
Working in this environment is bound to be problematic and Scarpelli sees herself following in the footsteps of Les Blank, who in Burden of Dreams 1982 recorded Werner Herzog struggling to make Fitzcarraldo in the Amazon with the impossibly difficult Klaus Kinski.
Like Herzog, Armand has to grapple with the dual challenges of making a film in the jungle and coping with an extremely volatile leading man. Father is charming, charismatic, eager to please and delighted to be starring in two films – when he's sober, that is. But he is also an alcoholic and, when drunk, becomes a raging bull – violent, abusive and confrontational.
As an award winning film-maker and Armand's partner, Scarpelli has the trust of both father and son, which allows her to witness at close range every step of their unfolding relationship. She films them as they negotiate the emotional gulf that has developed during the years of separation – arguing, wrestling for dominance, laughing conspiratorially and hugging. "I just watched and watched", she recalls, "and waited for these two to show each other, and me, who they were to one another." And since they are not acting but are genuinely experiencing difficult and conflicting emotions, it makes for extremely intense and intimate cinema.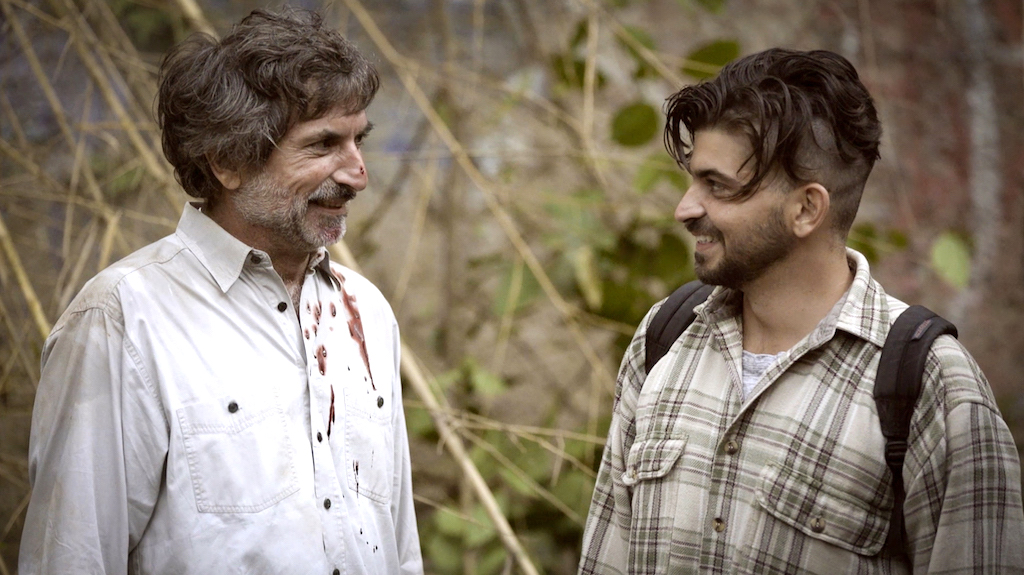 "This thing these two were doing, it was their battle", Scarpelli continues. "They would fight it out the way they needed to." And fight they did. Father's first attempt to wrest control comes before filming has even started. He wants more money and more say. "I'm not a whore; I quit," he yells. "You have to pay for my biography because it's my history, my life, dumb ass." The producer foresees that outbreaks like this will occur every time Father gets drunk and advises casting someone else. But this is no ordinary film; for Armand it's a way of coming to terms with his father's alcoholism and consequent failings as a parent. Father's strengths and weaknesses are its very subject.
They hatch a plan to keep him off the rum, but there's a scene that requires him to be wasted, since it's based on an audio message he sent while under the influence. And as Father is not an actor, to make the scene authentic, he will have to be drunk. We hear the original message. "I'm on the frontier where the police are crawling up and down watching my back. Maybe I'll get killed", Father says in a gravelly voice. "Fuck, I don't know how to say this to you, but I love you. I miss you son."
Armand can't predict how Father will react, so tension is running high. Will he be willing to reveal his feelings to that extent on camera? The answer is "yes" and the scene that follows is electrifying; but Scarpelli skips most of it, choosing instead to film Armand's face as he watches the rushes later. We see him on the verge of tears as Father lets loose a string of obscenities interspersed with demonic laughter: "Listen to me, limp dick. I'll get you an Oscar, you dumb fucker. I'm here kid, all for your fucking film… I miss you so much. You're a piece of shit, faggot."
And so things lurch from one crisis to another, most of them created by Father's chaotic outbursts. It's a miracle that Armand manages to shoot the film without having a nervous breakdown and that, having seen the final edit, Father agrees to the release of La Fortaleza.
Meanwhile, Scarpelli records the clashes between father and son with amazing empathy and, in so doing, poses important questions about the morality and purpose of film making. How and when is it truthful - how honest, for instance, is Father's version of himself? And is it always exploitative? This project, at least, has had a positive effect. "Both films," says Scarpelli, "have elevated their relationship to another level. They went through (sometimes literal) fire, and here they are on the other side thinking, "Well, what's next?"
Since they are experiencing difficult and conflicting emotions, it makes for extremely intense and intimate cinema
rating
Explore topics
Share this article