In Fabric review - hell is a demonic dress |

reviews, news & interviews
In Fabric review - hell is a demonic dress
In Fabric review - hell is a demonic dress
A vengeful red frock takes no prisoners in Peter Strickland's sublime horror comedy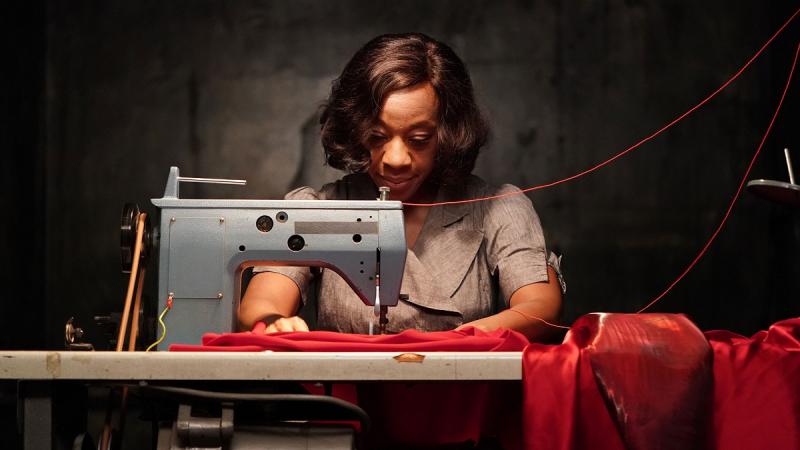 Marianne Jean-Baptiste as middle-aged bank clerk Sheila Woolchapel
Red is the colour, mayhem is the name – along with pestilence and greed.
Red is the colour, mayhem is the name – along with pestilence and greed. In writer-director Peter Strickland's exquisite fourth feature In Fabric, the first he's made in his native England, middle-aged bank clerk Sheila Woolchapel (Marianne Jean-Baptiste, main picture) is terrorised by a haunted scarlet dress she buys in Dentley and Soper's, a Debenhams-like department store in drearily generic "Thames Valley-on Thames".
Miss Luckmoore, who oversees Sheila's regrettable purchase, is no ordinary sleek, patronising sales clerk. She's an Italian or Italianate witch (wonderful Strickland regular Fatma Mohamed, pictured below) whose archaic patter is so convoluted it's migraine-inducing. When she stays late to sponge the breasts of the shop window mannequin she adores and tastes its menstrual blood (having dipped a finger beneath its abundant black bush), her excited boss Mr. Lundy – who's outside watching through a window – sends globules of semen flying through the cold night air; cinematographer Ari Wegner uses slow motion to poeticise the moment. (As the gaunt, lanky Lundy, Richard Bremmer channels character actor Ernest Thesiger, best known for his ghoulish gents in 1930s horror classics.)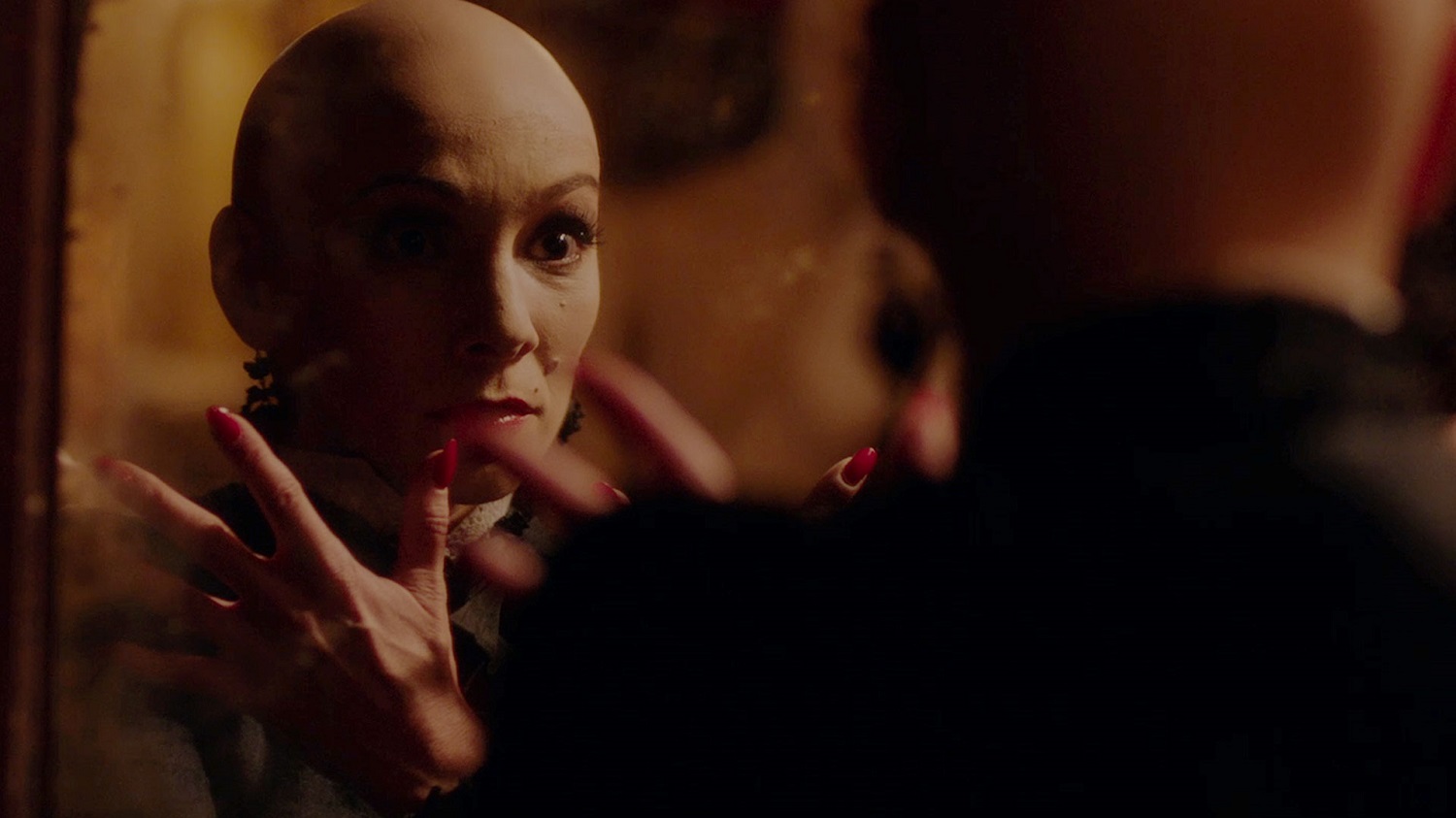 There's an art-for-art's sake quality about Strickland's films and this one in particular. Gorgeous though they are, it's not immediately apparent if they have any deeper purpose, not that it's incumbent on every filmmaker to make social statements. However, the sensuality and compositional perfection of In Fabric doesn't obscure its feeling for ordinary people, their drives and anxieties, or Strickland's recognition that many of us fill the holes in our lives with mindless consumerism or, for whatever psychological reasons, denature sexuality through the use of clothing and objects.
After the malevolent dress has had its way with Sheila, it plays hell with thirtysomething washing-machine repairman Reg Speaks (Leo Bill) – who is forced to wear it at his stag do by his rowdy mates and future father-in-law – and Reg's wedding-obsessed fiancée Babs (Hayley Squires). Like Frodo's ring, anyone who puts on the elegant off-the-peg number is cursed, though none of Tolkien's Ringbearers had to deal with a suppurating rash. The dress, which has a mind of its own, eventually passes judgment on the avarice and frenzy of shoppers visiting Dentley and Soper's during the January sales.
As demonstrated by Katalin Varga (2009), Berberian Sound Studio (2012), and The Duke of Burgundy (2014), Strickland delights in tormenting protagonists for whom he clearly feels great tenderness. Jean-Baptiste, as moving here as she was in Mike Leigh's Secrets & Lies, is endearing as Sheila, a good-hearted, lonely woman negotiating the dating minefield following her marital split. A responsible mum, Sheila tolerates the dismissiveness of her sixth-former son (Jaygann Ayeh) and the contempt of his older live-in girlfriend (Gwendoline Christie). A conscientious employee, Sheila must cope with her hilariously hypercritical supervisors, Stash (Julian Barratt) and Clive (Steve Oram), who have evidently learned from middle-management courses that it's best to soften up subordinates with bland smiles and praise before attacking them.
The Leigh connection is even stronger in In Fabric's second half: the torpid Reg and the no-nonsense Babs – precise, humorous studies in working-class manners – could have stepped from such early Eighties Leigh television dramas as Grown-Ups and Home Sweet Home. There are also links to David Lynch via the red silk wraparound dress and signature blue robe worn by Blue Velvet's Dorothy Vallens (Isabella Rossellini); when Miss Luckmoore removes an item she's wearing, it's as shocking as when Dorothy removes the same thing. The title In Fabric echoes "In Dreams," the Roy Orbison song mimed by Dean Stockwell in Blue Velvet.
Though set in 1993 according to the date on a newspaper, In Fabric is steeped in nostalgia for the ambience of 1970s department store shopping, as conveyed through shots of the Dentley and Soper's TV ads and clothing catalogue and the 19th century dumb waiters and cash railways that survived in some stores at that time. As Strickland casts a loving eye on these artefacts, the nature of fetishism emerges as one of the film's key themes, not as a symptom of neurosis but as a universal – even democratising – tendency.
Fetishes in In Fabric range from nylon tights (quel horreur!) to the sound of Reg describing, in elaborate mechanical detail, various causes of washing machine failures. As do Stash and Clive when Reg visits them to ask for a loan, Babs goes into a trance listening to Reg's monotone – a joke at the expense of YouTube ASMR addicts.
Like Berberian Sound Studio especially, In Fabric takes stylistic inspiration from Italian giallo thrillers and horror movies; Mario Bava's Blood and Black Lace and Dario Argento's Deep Red were probable touchstones. A woman's flimsy scarlet robe worn in A Virgin Among the Living, directed by Jess Franco, one-man factory of Spanish and French erotic horror pictures, suggests the film influenced In Fabric, as it did The Duke of Burgundy. In Fabric's playful use of a scary splayed hand motif is a horror trope that goes all the way back to 1922's Nosferatu. The miracle is that, for all of Strickland's inspired post-modern pastiching, his films are sui generis in their strangeness and beauty.
The nature of fetishism emerges as one of the film's key themes
rating
Share this article