Berberian Sound Studio, Donmar Warehouse review – improves the original |

reviews, news & interviews
Berberian Sound Studio, Donmar Warehouse review – improves the original
Berberian Sound Studio, Donmar Warehouse review – improves the original
This dark comedy raises disturbing questions about sound and intimacy
Tom Brooke delivers a masterclass in repressed emotion
Two men called "Massimo" face the audience, one very tall, one very, well, minimo. The tall Massimo (Tom Espiner, pictured below) sports wavy shoulder length blond hair and an exuberant pearl rosary, the minimo Massimo (Hemi Yeroham) has dark hair, a beard and glasses, and intense stare. In front of them are two stands carrying all the paraphernalia needed to create sound effects for one of the gruesome slashing scenes in the Italian giallo film on which they are working, not least several sharp implements and a watermelon. What ensues is probably one of the most diverting sequences of absurd choreography currently playing in London, as the clashes, rattlings and cacophonic howls build to a climax in which, inevitably, the watermelon gets it.
It's the moment in this dynamic reconstruction of Peter Strickland's acclaimed 2012 movie Berberian Sound Studio (which starred Toby Jones) that you realise, with some relief on this critic's part, how different this Donmar Warehouse stage version is going to be. Here Tom Brooke (who made his name on stage as the doltish Lee in Jerusalem, and on TV as damaged war veteran Andy Apsted in Bodyguard) plays the geekish Gilderoy, a sound engineer invited to create effects for an Italian movie. As in the movie, Joel Horwood and Tom Scutt's recreation raises sophisticated questions about the way that sound can distort reality and create its own universe, as Gilderoy – who initially thinks he is working on a film about horses - is drawn into the horror world that he's so unwillingly evoking. Yet where the original plays disturbingly with the Italian giallo's sadistic obsession with violence against women, so that Gilderoy himself becomes horrifyingly complicit, here his angst is turned against himself.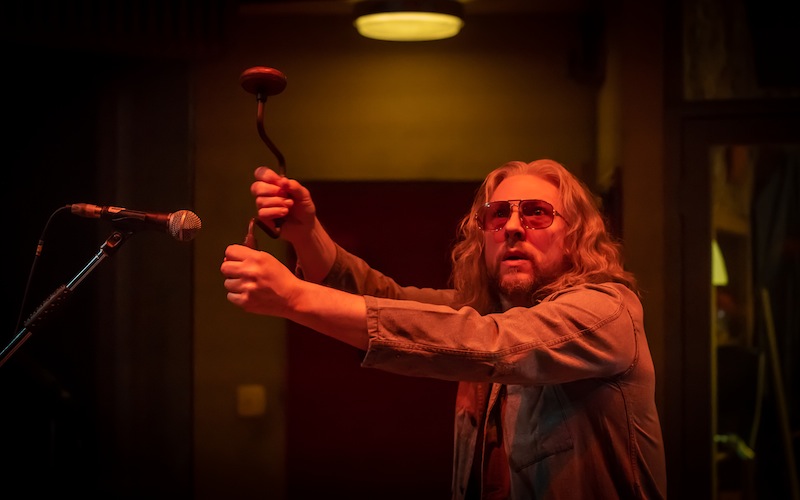 If that doesn't sound like a barrel of laughs, it isn't, but Scutt, in his debut as a director, skilfully amplifies the comedy of the film, which has the dual effect of both making this more entertaining, and creating an intelligent distance from its most disturbing elements. To watch the film and then this production is to realise quite how great the change is wrought by the #MeToo movement. Where, in 2012, a strikingly original script could get away with recreating erotically-motivated violence against women by simultaneously condemning it, now we can see it's not acceptable to portray that violence at any level. Society has grown up, so what we have here instead is a script that raises disturbing questions about sound and intimacy filtered through dark comedy that steers an ambitious course between Alan Partridge and Krapp's Last Tape.
Brooke is never less than compelling in his assertive dweebishness – as deftly assured when it comes to the technical flourishes of mixing sound as he is unassured in issues of sentiment and his own sexuality. His extraordinary face alone presents a masterclass in repressed emotion: the eyes glistening intensely like small pools of water, the chin jutting more defiantly the more he is oppressed by what's going on around him. In a wonderful innovation, where, in the film, we see the letter his mother has written to him, here, he has taught her to record her letters on old-fashioned spools of tape. This means that when she talks about the nesting chiff-chaffs we can hear the birdsong, and watch his face as it spirits him back home to an altogether more innocent universe.
Tom Espiner's (above) involvement in this production (for which he has designed the sound together with Ben and Max Ringham) brings with it the legacy of all his work with Sound and Fury, the sound-based theatre company he co-founded with his brother Mark Espiner and Dan Jones. This seems at least partly accountable for the fact that the play is, on one level, an utterly fascinating disquisition on the tricks and techniques of recording sound, and the way such techniques play with the mind. Being a story about a geek, technical detail is king here, and as with the original, it fetishises the equipment used for film in the pre-digital era. This means that certain lines still resonate wonderfully: when Gilderoy is having problems remembering the names of humans, he's told to think of them as if they are microphones. In one of the best jokes of the script, when the mysterious, sadistic Santini asks Gilderoy if he believes in God, Gilderoy snaps back "Don't get technical" – making it clear that in a world where concepts like emotion or religion are fiendishly complicated for him, sound technology has become his faith.
Aside from the brilliantly original improvisations of the two Massimos, there are strong subtly comedic performances from Lara Rossi as Silvia and Beatrice Cirocchi as Carla. Enzo Cilenti has a harder task in making the slimily misogynistic Francesco three dimensional, but he tackles the role valiantly. This is a challenging evening on many levels, both for its themes, and its shift from provocative comedy to psychologically warped horror. You emerge with no easy answers, but like the reverb of a microphone, it will continue to assail your mind from unexpected angles for some time afterwards.
Berberian Sound Studio at the Donmar Warehouse until 30 March
Brooke is never less than compelling in his assertive dweebishness
rating
Explore topics
Share this article