Flight |

reviews, news & interviews
Flight
Flight
Its crash sequence is already part of cinematic history. Can Denzel also land his third Oscar?
Denzel Washington as Whip Whitaker, heroic pilot with a problem
"You're a hero, man! You will never pay for a drink for as long as you live." Sounds easy enough, but after the sensational crash sequence in the opening scenes of Flight, heroism will never be the same. The Oscar-nominated script by John Gatins is a morally skilful examination of one terrifying what-if: what if Captain Chesley "Sully" Sullenberger, who sensationally landed US Airways flight 1549 on the Hudson River in 2009, had been a closet drunk?
Also Oscar-nominated is Denzel Washington for his portrayal of Whip Whitaker, heroic pilot with a problem. Striding down a hotel hallway on the way to the airport, Whip is soundtracked by the Rolling Stones' Gimme Shelter. This is our hero, full of the breakfast of champions - a snort and a toke - capturing all the excitement of a rock star heading to the stage. That scene is so good that director Robert Zemeckis gives it to us twice and we don't mind because it's great to see Washington, as a handsome, assured professional, owning a hotel hallway just as he owns the cinema screen.
Screenwriter John Gatins is as skilled with action as he is with emotion
But this character's charisma comes with a price. Not only does Whip like a drink, he needs a drink - and that has ruined his marriage, his health, his relationship with his son and pretty much everything except his career. Washington plays him with sensitivity, alarm, strength and reckoning.
The support cast is very strong. Sensitive and poignant in the thankless role as Nicole, the addict who seems to have done everything just to get high, Kelly Reilly (best known as DC Anna Travis in TV's Above Suspicion) is credible and watchable. John Goodman, who's had a great 2012, is there as the larger-than-life dealer who supplies the whole rock'n'roll lifestyle enjoyed by Whip Whitaker.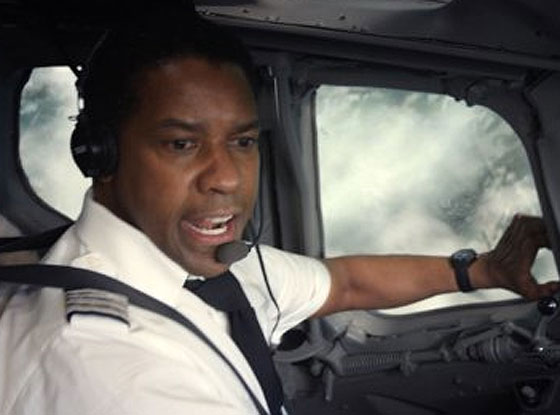 Bruce Greenwood is Charlie Anderson, the handsome, steady, steel-eyed pilot who tries to help Whip, while Tamara Tunie is Margaret Thomason, the solid and caring stewardess who keeps nipping at Whip's hind legs to try to get him on the wagon and with Jesus. But it is Don Cheadle who surprises the most. He's Hugh Lang, the tough guy investigator who cannot deny the facts before his eyes - all the facts about Whitaker's ability to fly. (Capt Whitaker encounters turbulence, pictured above).
If Flight is satisfying, it is so in part because Gatins, who also wrote the Hugh Jackman robot film Real Steel, is as skilled with action as he is with emotion. And yet Flight's ending is as it must be. As Robert Zemeckis's first R-rated movie in 32 years, this dramatic look at the the complexities of heroism is a welcome addition to the director's illustrious roster, but also to our memories, with the early crash scene already being mentioned as one of the best yet filmed. Ultimately, Flight may not knock it out of the ballpark, but it rewards multiple viewing, even if once is thrill enough.