Glassland |

reviews, news & interviews
Glassland
Glassland
Powerful and haunting drama starring Jack Reynor and Toni Collette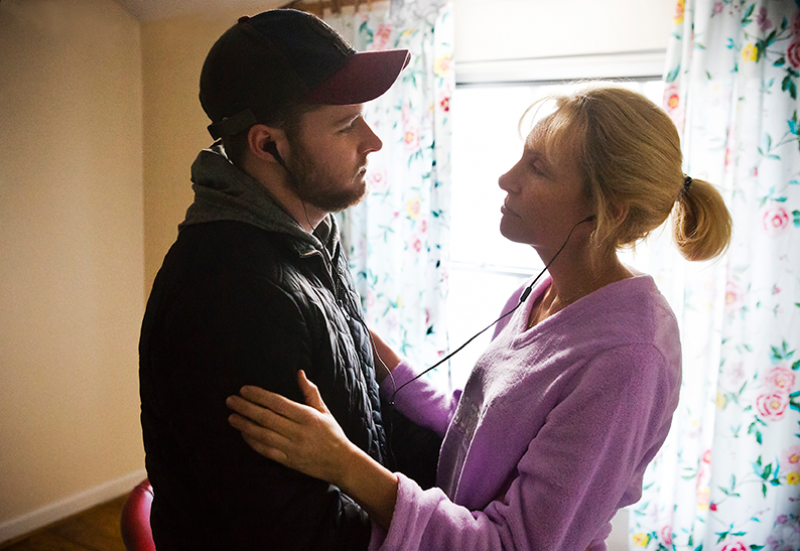 Jack Reynor and Toni Collette in Gerard Barrett's powerful drama
The burden of responsibility weighs heavily on a young man struggling to deal with his mother's alcoholism, in Gerard Barrett's powerful and poignant second feature. Jack Reynor, who so impressed in Lenny Abrahamson's What Richard Did, turns in a nuanced and moving performance as a son driven to desperate measures in order to survive. Barrett empathises how difficult it can be to get by when you don't have a regular income, or indeed plentiful cash to throw at your problems.
John (Reynor, pictured below) is at a crossroads in his life. Does he continue driving a taxi in the village where he grew up, in order to support his mother Jean (Toni Collette) through her alcoholism, or travel around the world with his best mate Shane (an excellent Will Poulter)? It's difficult to think of himself, when doctors inform him that his mother's continued drinking will kill her. His increasing frustration sends him into a tailspin of despair.
John's moral quandary is a fundamental one: at what point, if ever, do you just give up on a family member? We find out if John's integrity will fail him or save both his mother and himself.
The tricky mother/son relationship was also recently explored, in all its messy intensity, in Xavier Dolan's Mommy. Here Barrett switches the dynamic, with the son taking the role of carer and the one forced to make difficult, life-altering decisions. They would make for a fantastic double bill. Another interesting comparison could be made with James Ponsoldt's loosely related trilogy, Off the Black, Smashed and The Spectacular Now, which deals with alcoholism at different stages of the illness. In Glassland, Barrett switches the viewpoint to the person dealing with the behaviour of an alcoholic, and it's devastating to watch. One stand-out scene, in which John appears to give in to his mother's self-destructive ways and joins her for a drink, underlines how joyless his life has become.
Collette is one of the best actresses working today, but she gives an unusually exaggerated performance here that weakens the narrative. However, in the more jovial and muted scenes there's great chemistry between her and Reynor, which adds to a thoroughly engaging and involving – albeit tough – viewing experience. Barrett's strong second feature marks him out as one to watch.
Overleaf: watch the trailer for Glassland