God's Pocket |

reviews, news & interviews
God's Pocket
God's Pocket
Philip Seymour Hoffman offers another masterclass in warts-and-all humanity in one of his final roles
Wednesday, 06 August 2014
Toasting the dead: and an unintended irony for fans of the late Philip Seymour Hoffman, with Eddie Marsan
Now that the shock and dismay over Philip Seymour Hoffman's death has subsided, we have the chance to see his final performances and recall an actor like few others. I can't think of many who managed to emit so much power and convey so much human complexity without an iota of visible "acting".
His spy thriller A Most Wanted Man is released later this year, followed by what he'd managed to get in the can for the final instalments of The Hunger Games. And that will be that. First, there's God's Pocket, whose other notable credit is that of John Slattery, the actor best known for his suave and sozzled ad man Roger Sterling in Mad Men, here making his directorial debut. The film joins a long tradition of American independents that rummage for scraps of humanity through the lives of backwater losers and miscreants. It's modest and imperfectly formed, made watchable by Slattery's occasional sense of the thin line between comedy and pathos, and by the opportunity to watch Hoffman strut his stuff one near-final time.
Based on the novel by Pete Dexter, it's set in the blue collar town of God's Pocket, a grim place peopled by barflies, ramshackle businesses and two-bit criminals. It's a town, we're told in the voiceover of newspaper columnist Richard Shellburn (Richard Jenkins), where everyone has done something bad or hurtful, everyone knows everyone else's business, and "the only thing they can't forgive is not being from God's Pocket."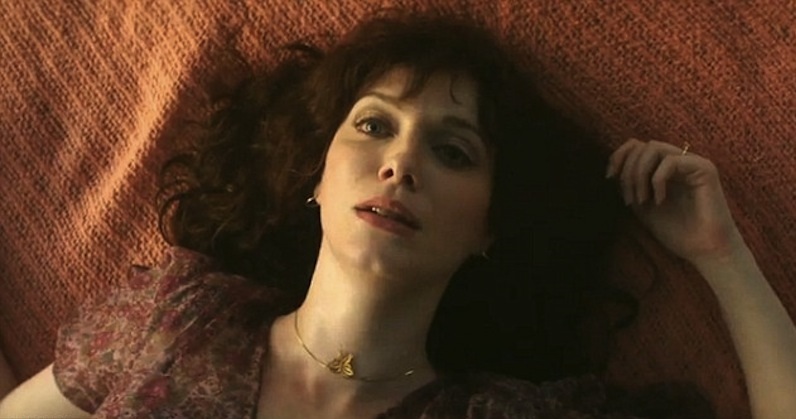 Hoffman is Mickey Scarpato, who is not from God's Pocket, something of which even his wife Jeanie (Slattery's Mad Men co-star Christina Hendricks, pictured left) is never shy to remind him. But he's making do, running an illegal meat business with his pal Bird (John Turturro), until his errant stepson Leon is killed while at work on a construction site. Mickey is under a dual pressure from his wife: to find the money for the top-of-the-range funeral offered by sleazy undertaker Jack Moran (Eddie Marsan), and to get to the bottom of Leon's death.
Mickey's luckless attempts to raise the cash and learn the truth are interlaced with the journalist's courtship of his wife and Bird's run-in with a local loan shark. The shaggy-dog plot works best when the comedy is black, Hoffman capturing brilliantly the travails of a decent man struggling in the face of cruel fate. But Slattery's control of tone isn't consistent, and too often proceedings simply descent into farce (a running joke involving Leon's missing body) and a certain bitter whimsy.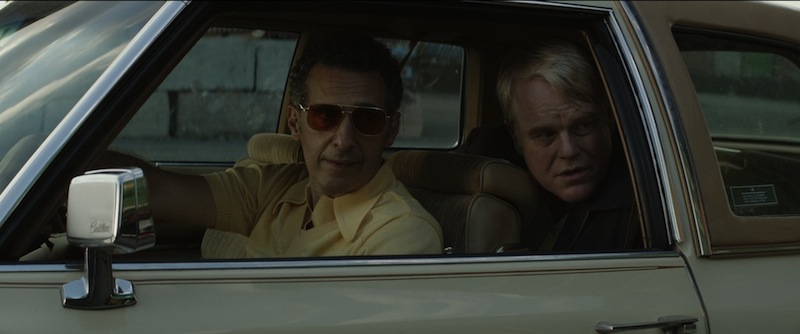 Jenkins is suitably oleaginous as the alcoholic hack turning out the same column week after week; Turturro (pictured right, with Hoffman) is a solid foil to the star; Eddie Marsan can play a ferrety undertaker in his sleep; and Hendricks, whose Jeanie is at once steely, conflicted and deeply disappointed by life, gives another supporting performance that signals her starring potential.
Yet all these actors suffer from underwritten roles, and the whole thing feels half-baked, It's a measure of Hoffman's quality (epitomised by that fleshy outside and tough core) that he can transcend such limitations, to portray an aimless underachiever who finds grace in the moment of his greatest failure.
As for the co-writer and director, there's enough here to suggest that Slattery may still bring the panache that he's demonstrated behind the camera for Mad Men to the big screen.
Overleaf: Watch the trailer for God's Pocket
The film joins a long tradition of American independents that rummage for scraps of humanity through the lives of backwater losers and miscreants
rating
Explore topics
Share this article