Philip Seymour Hoffman, Giant of the Stage |

reviews, news & interviews
Philip Seymour Hoffman, Giant of the Stage
Philip Seymour Hoffman, Giant of the Stage
The consummate actor's actor was at home on stage as well as screen
Philip Seymour Hoffman as Willy Loman on Broadway in 2012
On screen, Philip Seymour Hoffman will be forever immortalised as the Oscar-winning star of Capote who was both a darling of the indie film world (think Todd Solondz and the Coen Brothers) and an invaluable supporting player in such mainstream fare as Moneyball, Charlie Wilson's War, and the Hunger Games franchise.
But the shock waves currently being felt at the news of his death are likely to be intensified in New York, the city where he was found dead and where Hoffman first came to attention as the formidable theatre talent that he remained through to his last Broadway stage role - as Willy Loman in
Death of a Salesman
in 2012.
His high-profile Broadway appearances - each one nominated for a Tony - were in canonical works by Sam Shepard (True West, in 2000, in which he swapped roles throughout the run with co-star John C. Reilly), Eugene O'Neill (Long Day's Journey Into Night in 2003), and, of course, Salesman, Arthur Miller's abiding masterwork in which the actor brought a rumpled fury and near-savage, deep-voiced grace to the role of a man who - irony of ironies - embarks upon a collision course with death. Hoffman (pictured below with co-star Andrew Garfield as Biff) was a youngish Willy Loman, a part often played by someone a generation older than he was at the time, but from his first, silent appearance on the stage of the Barrymore Theatre, there was no doubt that an iconic part was in the hands of someone possesed of a bearish pugilism whose rage against the dying of the light was at once gripping and painful to behold. (Accepting that year's Best Actor Tony, One Man, Two Guvnors star James Corden paid touching tribute to his fellow nominee.)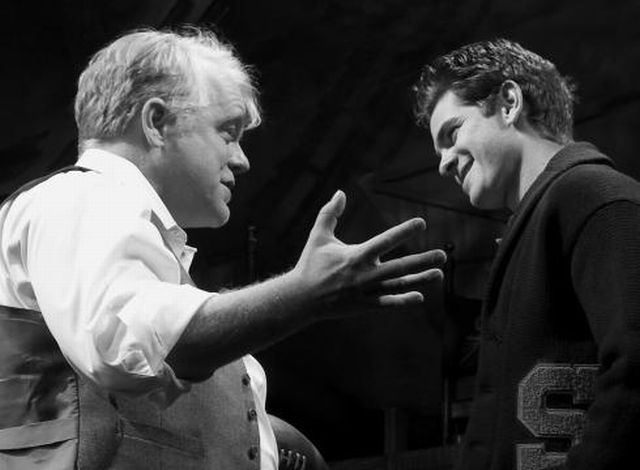 Nearly a decade earlier, and as for all intents and purposes the junior member of a quartet of stars headed by Vanessa Redgrave and Brian Dennehy, Hoffman's Jamie Jr. in O'Neill's grievous family drama was marked out by a physicality that lent a terrifying intensity to the character's face-off with his tubercular younger brother (played in that production by Robert Sean Leonard). And trading roles as the two brothers in Sam Shepard's raucous tragicomedy, Hoffman switched on a Janus-faced dime from a shambolic presence (Lee) to a more orderly one (Austin) in a play about disorder and chaos in all its forms.
But it was away from the Broadway glare that Hoffman left an arguably more lasting impact via his relationship with the costume designer Mimi O'Donnell, the mother of their three children. O'Donnell last April became artistic director of the LAByrinth Theatre Company, the enterprising Off Broadway troupe behind the London transfer to the Donmar in 2002 of the Stephen Adly Guirgis play, Jesus Hopped the 'A' Train, which Hoffman directed. (He returned to the London stage in 2008 to direct the disappointing Andrew Upton play Riflemind at the Trafalgar Studios.) And it was a measure of Hoffman's connectedness to the New York stage that with memories of his 2006 Oscar trophy still fresh in everyone's minds (his competition at the Academy Awards included Heath Ledger, another great actor to die way too young under similar circumstances) that he was back on the Off Broadway stage at the Public Theatre the next year to star in the Bob Glaudini play Jack Goes Boating - which Hoffman later directed and starred in on screen.
And yet, for those who saw it, Hoffman in theatre terms may be most pertinently remembered for the 1998 Off Broadway premiere of Mark Ravenhill's London hit, Shopping and Fucking, in which he played the drug-dependent, deep-walleted Mark. There, on eerily prescient view, was a young man battling much the same addiction that 16 years later would do this brilliant actor in.