The Great Museum |

reviews, news & interviews
The Great Museum
The Great Museum
From politicians to polar bears, unexpected insights behind the scenes
Tuesday, 09 December 2014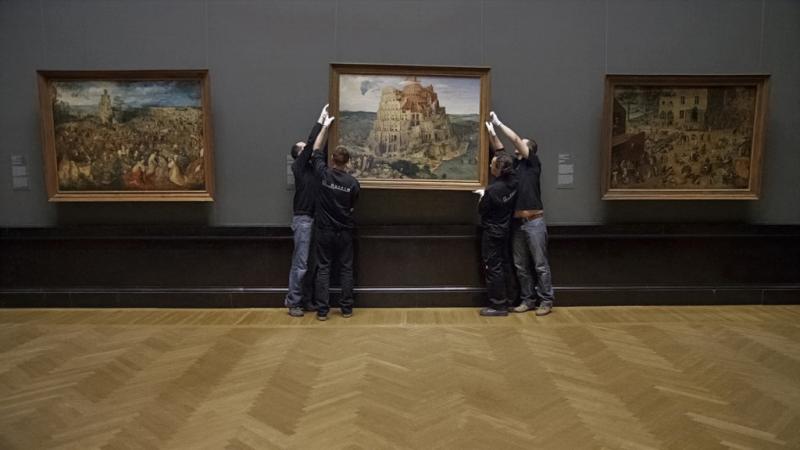 Re-hanging 'The Tower of Babel' at Vienna's Kunsthistorisches Museum
I don't think any of us will look at a museum in quite the same way after this dazzling documentary. For several years the Austrian film-maker Johannes Holzhausen and his team followed what seems to be scores of the working staff inhabiting Vienna's Kunsthistorisches Museum (KMH), as they physically cared for the remarkable objects in their care, worried about how best to put them on view for the public, and met continually to discuss museum matters.
KMH is one of the world's most important museums, repository of centuries of Habsburg imperial heritage, as well as myriad other collections, situated in a late 19th century purpose-built museum – designed by the cultural architect of the day, Gottfried Semper – in the centre of Vienna. This beady-eyed film making was possible in part during a period of closure for restoration and refurbishment prior to the re-opening of the imperial Kunstkammer: over 2,000 sculptures and decorative arts objects in 22 galleries.
One staff member groans that the Habsburgs are a millstone round his neck
The whole is accomplished by the film-makers actually managing, in a way all too rarely achieved, to be the proverbial fly-on-the-wall. There is no narrative, no voice-overs, no background music, just endless eavesdropping on various linked themes and episodes involving restorers, conservators, curators, academics, bureaucrats, politicians, workmen, cleaners, warders and the occasional professional visitor, as they went about caring for the thousands, perhaps millions of historic objects in their care.
We, the film's audience, are the stand-ins for the missing ingredient in the film itself, the public. We are present behind the scenes at discussions of marketing strategies, new logos, branding, ticket pricing, budgeting, as well as curators in the galleries discussing where to arrange the paintings. We attend several grand openings, with in one instance the head of the Habsburgs (still addressed as Your Majesty, unless I misheard) and the President of the Federal Republic. We go to a retirement party for the head of arms and armour, an old fashioned soul who puts out cheese and nuts on his windowsill for visiting crows, and boxes up his private library when he heads home for good. We witness a meeting headed by the finance director, with the Visitor Services team, also known as warders, where a passionate spokesperson points out that they have never in years of service to the museum met the higher-ups: although the front line for visitors, and people of widely varied education and backgrounds, they are also in the museum hierarchy, the lowest of the low.
We open with a lot of people, mostly men, garbed in black, moving huge paintings about, and then switch to lots of cleaners: there is a subtly hilarious moment of a rather small woman almost affectionately dusting the vast muscled leg of the huge marble sculpture of Canova's Theseus which dominates the enormous landing of the impressive central staircase. A subtle motif, present at the beginning and the end of the film, is Pieter Bruegel the Elder's magnificent painting The Tower of Babel, being moved; perhaps a symbol of the cacophony of the millions of objects owned by KMH.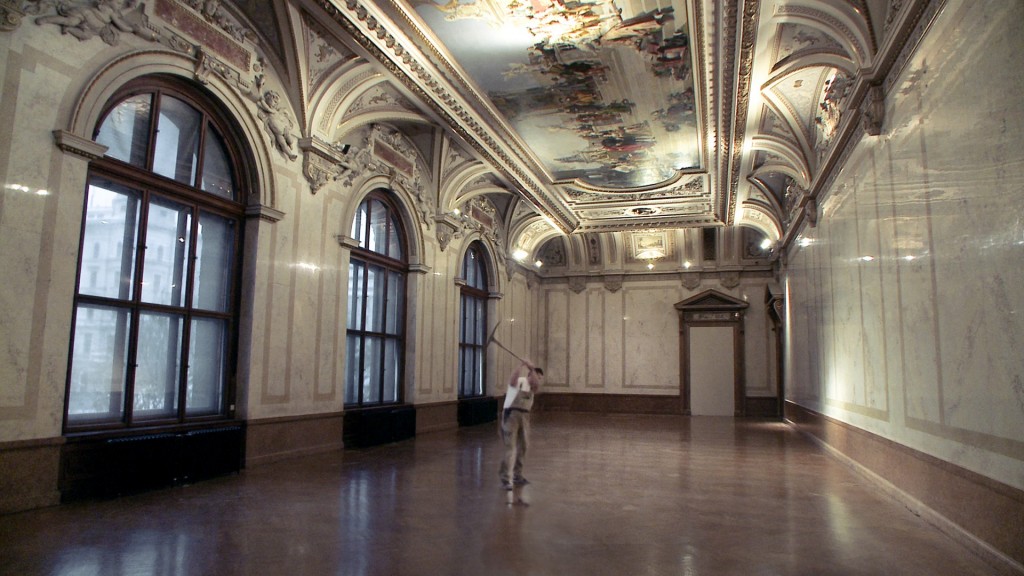 There are dramatic moments: a workman appears at a vast empty gallery, and standing at its centre, starts with a resounding bang to rip up the most magnificent wooden floor (pictured, above). I winced – but it turns out, as revealed in a visit paid by Neil MacGregor to Dr Sabine Haag, director general of KMH (who gives an impression of highly sympathetic competence), to be preparation for stripping out scores of galleries to return them to their original late 19th century splendour. Our own British Museum director pays slightly envious tribute at the notion of purpose-built museum interiors complementing their contents. The head of the Rubens archive comes to inspect a small Rubens sketch – a modello – which after cleaning and restoration has been revealed as altered by Rubens himself at least once, and then titivated by another hand even later to make it more attractive in the market place. We are reminded that art history is a detective story, and solutions are not always apparent.
We even see creepy-crawlies. Clothes moths are investigated by a man on a crane reaching up into moth traps hidden in the ceiling in a vast gallery housing moth-balled – no pun intended – stage coaches and carriages. Bugs infesting a huge painting are also investigated, their corpses examined by microscope. Disparate moments abound, subtly pointing out the enormous variety of objects and equal varieties of care and concern: a polar bear rug, all staring eyes and huge teeth, is wheeled about to be cleaned; the heads of costume fail at an auction to buy some Habsburg courtier livery, but in another episode receives as a gift from an Austrian count his father's century old gold encrusted uniform and funereal sword: win some, lose some. There is also intermittent discussion about the huge painting of the Empress Maria Theresa and her four sons, restored by the KMH and residing in the Austrian President's office; one staff member groans that the Habsburgs are a millstone round his neck, whilst another points out that they are a terrific draw for tourists. Meanwhile a numismatist literally uses his scooter to transport himself through the lengthy corridors from his drawers of coins to – the photocopier.
All is focused on the objects, on the actual management of the museum and its huge organisation, and its relation to funders and politicians. The one gap in this mesmerising film is that surprisingly no attention is given to how museums interpret their objects for visitors, and to the department that is now so crucially indispensable for British national galleries: education.
Overleaf: watch the trailer for The Great Museum
We are reminded that art history is a detective story, and solutions are not always apparent
rating
Explore topics
Share this article