The Guest |

reviews, news & interviews
The Guest
The Guest
Dan Stevens swaps Downton for devilment, as a super-soldier on the run
Tuesday, 02 September 2014
David (Dan Stevens) makes himself at home
Dan Stevens puts Downton behind him to become a CIA-built killing machine laying low in a New Mexico small town, in Adam Wingard's bonkers new thriller. He looks all the better for it. Aristocratic English charm translates into Southern civility as his character David insinuates himself into a family grieving for a son he served with in Iraq. David's just here to help.
If young Luke (Brendan Meyer) needs to be shown how to quieten down the bullies at school with a few broken bones, Dad (Leland Orser) would have his promotion prospects improved by a nasty accident to a colleague, or Mom (Sheila Kelley) just wants a fond reminder of her dead son around the house, David can fix it.
Teenage daughter Anna (Maika Monroe) has the most complex reaction to this charismatic, muscular slab of man, prone to wandering out of the shower with his torso on hormone-electrifying display. Her crush on the stranger with the immaculate manners leads her to make him a mix-tape. She is also the first to register the bodies that are starting to pile up around town, and the way David's winningly affable grin sometimes has to be hurriedly winched into place, to mask the killer within.
As the camera circles around Mom's armchair on Halloween, just before David first rings the bell, a horror film seems in prospect. But director Wingard and regular writer Simon Barrett have a more slippery approach to genre. Their previous film, You're Next, began as a gruelling home invasion flick, coupled with a merciless dissection of the values of the rich family in that home, before turning into an unlikely action showcase for Home and Away star Sharni Vinson. The Guest similarly begins as a variant on the cuckoo-in-the-nest thriller. David seems a version of Uncle Charlie in Hitchcock's Shadow of a Doubt, Rebecca De Mornay's nanny in The Hand That Rocks the Cradle, or Matthew Goode in Stoker. But when a secret CIA cadre move in to destroy the man they programmed to be "an ideal soldier", we are suddenly in an Eighties straight-to-video action movie, complete with low-budget mechanical effects, constantly firing machine-guns, and the feeling that a small cast are running around a cardboard but crudely exciting world. This is then mashed into the same decade's slasher and high school films, as David hunts Luke and Anna through their school's dry ice-filled corridors (pictured below), to the soundtrack of Anna's mix-tape, made for David in happier days.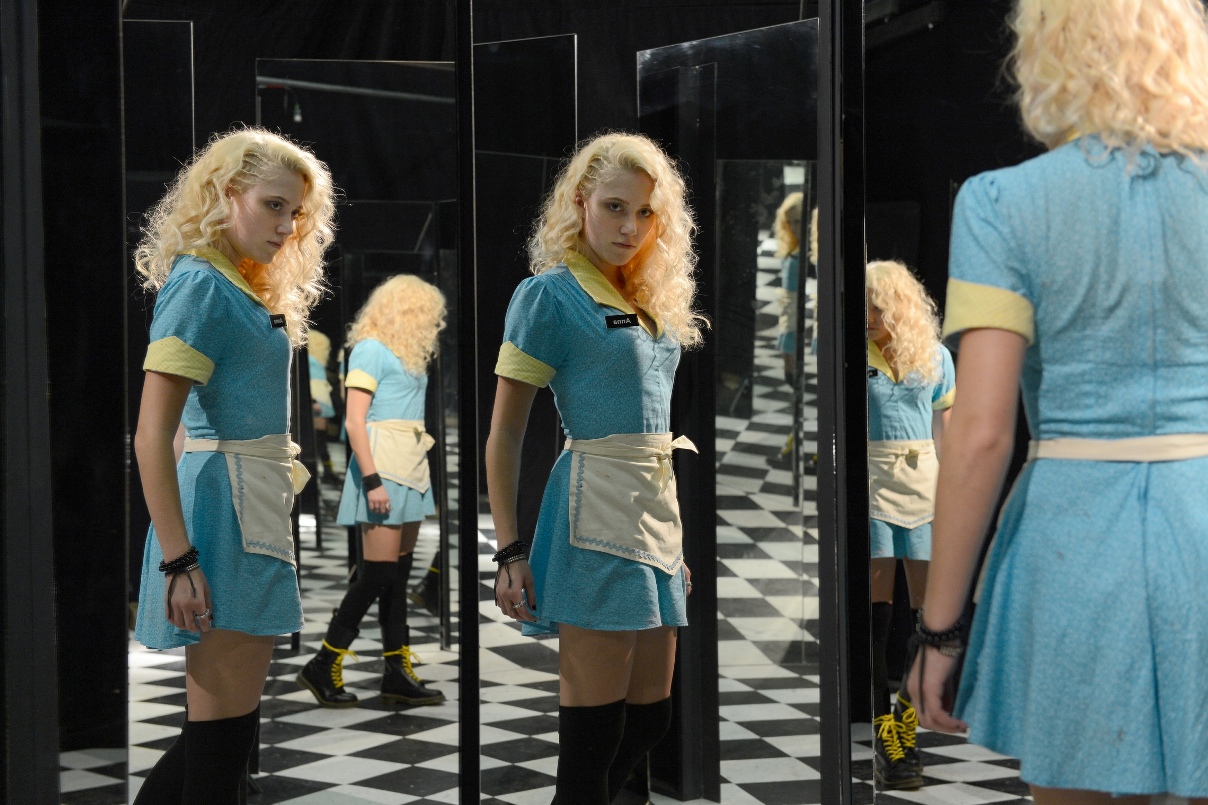 Some TV shows are said to "jump the shark" when they lapse into absurdity, or lose the plot. In Wingard's world, he'll circle back to ski over the shark several more times, compelling you to follow his ludicrously entertaining conceits.
The Guest has many incidental pleasures: the variety of reasons Dad concocts to say "I need a drink!" every time he staggers in from work, or David's psychotically inappropriate advice to Luke when left in loco parentis. Dan Stevens, meanwhile, has a ball. Wingard and Barrett have been leading him further astray as The Guest has made its way round horror festivals, giving him a taste for sleazy late-night double-bills. Downton's doors have been firmly shut, as he dips his toe in the dark side.