Interview: 10 Questions for Bobcat Goldthwait |

reviews, news & interviews
Interview: 10 Questions for Bobcat Goldthwait
Interview: 10 Questions for Bobcat Goldthwait
The US comic-turned-director on the awful truth behind his latest satire, God Bless America
Bobcat Goldthwait: 'I thought, Oh, these children should die...'
Tracing a career arc which has taken him from stand-up comic to actor, writer and film director, it's not too fanciful to describe Bobcat Goldthwait as an anarchic, indie, low budget version of Woody Allen. The 50-year-old New Yorker started out in the clubs of Boston before heading west to Hollywood in the 1980s, where he cultivated a shrill-voiced, nervy, confrontational comic persona to considerable success.
Increasingly, he became infamous for the somewhat contrived controversies he unleashed on the US chat show circuit; in 1994 he set fire to a chair on
The Tonight Show
with Jay Leno
. Almost two decades later, he doesn't regard it as a career high.
Although his antics led to numerous acting roles in the likes of One Crazy Summer, Scrooged and as Zed in the Police Academy series (pictured below), he became deeply unhappy at having to act up to his "zany" alter ego. Eventually he quit acting and stand-up altogether, although he returned recently to live comedy, shorn of the exaggerated persona and silly voice.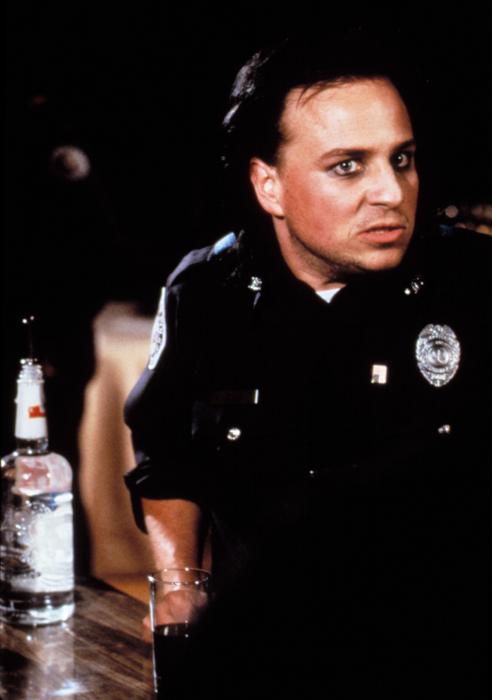 Goldthwait made his directorial debut in 1992 with Shakes the Clown, but has recently hit his stride with Sleeping Dogs Lie and World's Greatest Dad, starring his old friend Robin Williams. He met theartsdesk the morning before his fifth film premiered at the Edinburgh International Film Festival. God Bless America is a blunt but effective black satire starring Joel Murray as Frank, divorced, dying (or so he thinks) and driven to despair by the "cacophony of stupidity" that surrounds him: tawdry reality TV, meaningless celebrity culture, talent shows mocking the afflicted. In the bloody opening sequence Frank dreams of shooting the baby next door. Eventually he puts his rage into practical action, hooking up with an equally disaffected young accomplice Roxy (Tara Lynne Barr).
Small, compact, clad in cloth cap, cardie and sensible black-rimmed glasses, Goldthwait is personable, passionate and alert. Despite having only arrived in Edinburgh from Los Angeles at one o'clock this morning, the large black coffee he drains is the only discernible sign of jet lag. Towards the end of our chat Joel Murray joins us to eulogise about a golf trip he'd just been on in Northern Ireland with "Billy" – his brother Bill Murray.
GRAEME THOMSON: Do you have any concerns about how God Bless America will play in the UK? The title notwithstanding, are these themes universal?
BOBCAT GOLDTHWAIT: I don't know. It's funny you should ask that, because last night as I'm driving in from the airport one of the few bus signs I see is for Keeping up With the Kardashians. I was like, "Eeeew! It's here too!" The germ of the whole movie came when I was in London, and they were having a [MTV reality show] My Super Sweet 16 marathon. That was my first exposure to the programme, and I thought, Oh, these children should die. I don't know if it will translate. I hope so. I think a lot of those programmes actually started over here.
There's a continuing debate about how corrosive this stuff is. Do you believe these things - reality TV; celebrity saturation - have a profound influence on the wider culture?
I think they're symptomatic. To me the movie is about why we have the appetite for these distractions. It's not really that I want to get rid of these shows – I'm not even angry at them, I don't watch them and I don't really care about them at all. Some people say, "Why doesn't Frank switch off the TV?" But you're stuck with this stuff. I knew when Kim Kardashian got married, when she got divorced... It's these constant non-versations people have with you. I'm not criticising the people who make it or produce it, it's about all of us. I'm asking people, "Are you in or are you out?"
There's no parody in the film, no exaggeration. The ultra-right wing quotes come from the Westboro Baptist people. There was a popular poster by the Tea Party saying: "We came unarmed. THIS time". All that helped me write this movie. I was like, OK, that's crazy. I'll show you real crazy. People say, "Yes, but you're just criticising mindless entertainment with mindless violence." Yes. That was the point. Fighting fire with fire. You could keep doing that for the whole film, but in my own mind I wanted the story to kick in. The subject is that the wheels fall off and Frank (pictured above with Roxy) realises that he is human too, and the expectations he has for other people he can't even hold up himself.
Forgive me for saying this, but in the past you've contributed to some fairly culturally negligible entertainment yourself. Is this film partly about atoning for past sins?
Oh sure, of course! The first thing I ever directed was a short called The Making of Bikini School 3, and that's what that whole thing was about. Parodying myself. I've written a movie a bit like that but it was too indulgent. It was about a crabby, bitter old comedian on the road who goes to pitch this movie and is told it's too dark, so he pitches Easter Dad instead, about a dad who discovers the true meaning of Easter – and so he's stuck writing this turd.
Have you now developed a directorial style?
[Pause] It made me think of Todd Solondz when you said that: there's no obvious style, but his movies are clearly his voice. So yes, I guess. I met him a month or so ago - me, him and John Waters posed for a photo. I called it "The Mount Rushmore of Fucked Up". My wife called it "The Hundred Dollar Trio". They're definitely peers. We make our different movies but we make them sincerely on our own terms for our small audience. I don't have this attitude of, This will change people's perceptions of me, or, This will make me a lot of money. They really do come from a sincere place: can we make this and get away with it?
There are references in the film to Bonnie & Clyde, A Clockwork Orange, Lost in Translation, Taxi Driver, Natural Born Killers, Butch Cassidy and The Sundance Kid... Are you a real student of movies?
I didn't think I was until I was working with Robin [Williams] and I was like, "Oh, this is this movie", and "That's that movie." And he said, "Wow you watch a lot of movies!" And so does he, by the way. I intentionally was derivative of all those films. Bonnie & Clyde was a big germ for this one, because it's not really about Bonnie and Clyde, it's about the counter culture against the establishment. And I was thinking, who are we angry at now? And it's us. Ourselves. Our own tastes.
I realised, Oh you really hate this persona. I had to jettison it in the middle of the tour
At one point Roxy is recording what's happening on her iPhone and Frank reprimands her, saying, "You were there. You lived it". Do you despair at the way technology allows everything to be documented and preserved?
That is a little bit of me being an old guy saying, "Get off my lawn, kids!". Also as a stand-up comedian on stage, there's just people standing there not listening and recording the show. I'd stopped doing stand-up for many years and when I got back into it, it took me a while to realise, OK, this is just what people do. I had to not take it personally and realise this is the world I live in. I have noticed that when the show goes off the rails or I've got a bad heckler, that's when they all come out. It changes the spontaneity, you're a little gun shy about adlibbing as much. If you take a shot at a celebrity, now there's a strong possibility that it will be on YouTube or Twittered about.
Does that old stand-up persona still exist somewhere inside you or was he entirely a construct?
I was touring with one of my best friends, the shows were going real well, the radio shows weren't even douchey, everything was good – and I was like, Why am I miserable? And I realised, Oh you really hate this persona. I had to jettison it in the middle of the tour. I sat in my hotel room and just had to think of as many personal funny stories as I could and I just went out there as me. Some of those rooms were mad: "Do the voice, man!" But I had to stick to my guns if I ever was to enjoy doing stand-up again.
Goldthwait on The David Letterman Show in 1987
You've spent a lot of time working in the super-competitive environment of American television. Were you glad to leave?
It's insane. It took me so long to realise why all that stuff made me so unhappy. It's a machine, and even when I was in the belly of it and was working with it it made me very unhappy. People would say I was ungrateful, but no. I always joke that I retired from acting the same time they stopped hiring me, but what I really quit was the idea of waiting around, going on auditions, trying to make it on someone else's movie or TV show or within the studio system. That seemed.... horrible. It is demeaning, but also soul crushing. So many talented people get sucked into that game. There is something to be said for just making stuff on your own terms.
I hear that you're working on a musical with Ray Davies.
It's one of the things I've been developed for years, and I'm taking some meetings on it when I get to London. It's based on Schoolboys In Disgrace, their 1970s album. I pitched it and wrote him the screenplay. I had it all figured out because I'd basically shot it all in my bedroom when I was thirteen. Ray is fully on board. I said to him, "The mentor character needs a song, would you write one?" And he says, "Yeah, yeah, I'll write a song. But I hate writing." And I agree. I also hate writing. We share that! The cool thing is that all of his songs are stories, that's why as a young boy I was hooked. They have classic narrative structures with a twist, and these amazing characters. One of the crazy by-products of all this is to have a friendship with your hero. At least now I can talk when I'm around him.
How are you perceived in the States - does your association with Police Academy and your stand-up career still overshadow everything else?
Oh, that's all of it. They're rebooting Police Academy and I said, "They're going to do it like 21 Jump Street - they're going to make it a comedy this time!" I've had no offer to participate. They always considered me difficult because I'd make suggestions about things - like, "Hey, why don't we have a plot?" I was considered a heretic for messing with the formula.
God Bless America is in cinemas on July 4
Watch the trailer for God Bless America
There was a Tea Party poster saying: 'We came unarmed. THIS time'. That helped me write this movie. I'm fighting fire with fire
Explore topics
Share this article