'It was appealing to make a thriller about mental illness': Gareth Tunley and Alice Lowe on 'The Ghoul' |

reviews, news & interviews
'It was appealing to make a thriller about mental illness': Gareth Tunley and Alice Lowe on 'The Ghoul'
'It was appealing to make a thriller about mental illness': Gareth Tunley and Alice Lowe on 'The Ghoul'
The director and one of the stars on The Ghoul and low-budget British movies
'We're probably all a bit obsessed with the Seventies': Alice Lowe in 'The Ghoul'
Gareth Tunley, director of the psychological drama The Ghoul, and Alice Lowe, one of its stars, are a duo with eclectic tastes. They share a background in comedy, but cite everything from punk to surrealism and the occult as influences on Tunley's directorial debut, which was produced by Ben Wheatley.
Genre nods, mental illness, the underlying suggestion of magic and an unreliable protagonist set the tone of the film, which follows the life of a detective who goes into therapy to try to uncover the secret of a seemingly impossible double murder, before revelations begin to suggest his life may not be as straightforward as it seems.
As an actor Tunley has appeared in Wheatley's Sightseers, Kill List and Down Terrace, as well as making numerous appearances in TV comedy. Lowe most recently wrote, directed and starred in the comedy slasher film Prevenge. Lowe and Tunley and a significant proportion of the film's cast have collaborated before, and theartsdesk began by asking the pair about the collective creative effort.
THOMAS BARRIE: Tell me about the collaborative process during filming – you both have acting, directing and writing credits on previous projects, so how much input was there from the cast during production?
GARETH TUNLEY (pictured right): We were on quite a constrained schedule, because we were on such a tiny budget, so this is not a film where there is loads of improvisation, but there was lots of input from the cast. We rehearsed before quite extensively; I rehearsed with the lead actor and producer Tom Meeten (pictured below), so he knew his character and by the time we came to rehearse [Alice's] scenes, it was kind of focussed on discussing your character, wasn't it?
ALICE LOWE: It's quite interesting because Tom's a producer – the lead's not generally a producer unless it's Russell Crowe's pet project, or something like that, that he's brought to the screen. The way that we've worked over the years is almost a collective. We've been working together in comedy for such a long time, you can pick up the phone and say, "Oh, can you come in and do this acting role for me?" Gareth's actually going to be script-editing on my next film, for want of a better word; it sounds like a demotion but it's not…
GT: It's a promotion. I'll take it!
AL: That's what's good about the way we work together. It's like a communistic society we've formed around film.
GT: We're basically creating some sort of utopian anarchist collective by accident, by making low-budget films.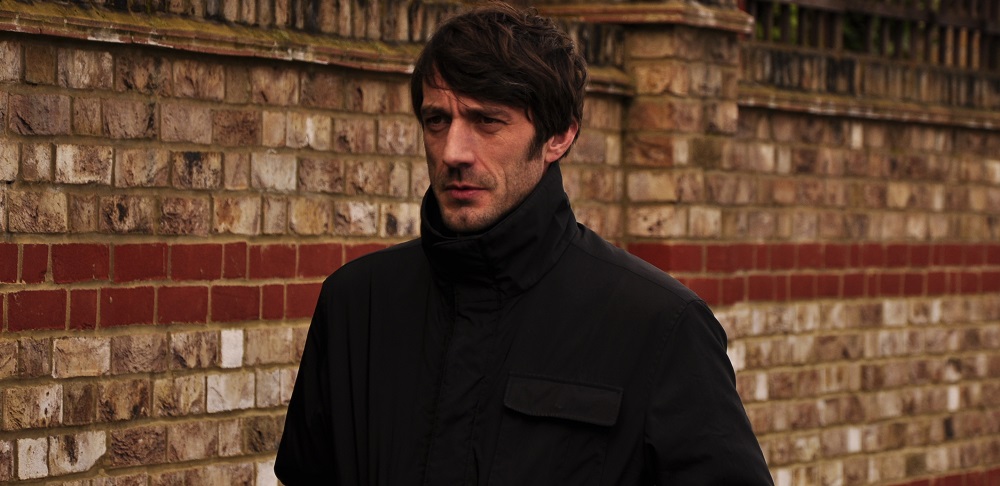 You mentioned comedy – there are very light hints of comedy in a couple of scenes in the film, but it never reaches the same levels of dark humour as your other respective projects. Were you ever tempted to take the film further in that direction?
GT: It was always a psychological thriller, but I'm really pleased that we had a cast that was – in the nicest possible way – a bunch of clowns, who bring a lightness to quite a dark film, as well as an interesting texture to the performances. Because comedians have been on stage and faced down a room full of baying drunks in the Purple Turtle on the Essex Road, there's a kind of fearlessness that they have, so when you point a camera at them and put them under the pressure of a tight schedule and a set, they just have a certain hold-their-ground kind of courage.
AL: I remember you saying to me, when you were directing it, "We can't veer into parody." You were absolutely right. When you're already dealing with shifting between two different tones, to add loads of comedy into that, you don't want people to suddenly stop taking it seriously and go "I've been snapped completely out of this now, I can't take it seriously any more." Then you're watching bloomin' Tropic Thunder or Anchorman. So it's a dangerous thing to add into the mix, going further with comedy. I think the thing is, the comedy comes when you don't know it. When you're making something that's a bit thrilling and a bit scary, sometimes the laughs come and you weren't expecting it.
GT: Having a low budget meant that if I'd had millions of pounds, I might have been tempted to push the more genre elements into more stylised space, but luckily we had no money! It meant that the whole film – broadly speaking – has to look like it's in the same world, and so the main character's fantasies seem to be constructed from the more or less mundane fabric of everyday life.
There are some references to magic and the occult in the film, but there's also the very serious underlying subject of mental health. Were you initially aware of the slightly fantastical nature of certain aspects of the film, alongside the serious themes?
GT: While coming up with ideas it became apparent that it was a film about depression and mental illness. It was really appealing to wrap it up in genre clothing and make, essentially, a thriller and a detective story, but about mental health. I think that's one of the reasons why the detective story, as a form, has lasted for a century or more: you can explore all these different themes, whether they're social themes or philosophical themes. There are things about mental health which are real taboos, such as people with mental health issues having to pretend to be well. The detective story turned out to be a great way to explore these rather thorny and unpleasant themes in an entertaining way.
AL: You can sort of watch it and choose. That's what I like about it. You can choose to believe that the character's mad, or you can choose to believe in the witchcraft element of it, which is a nice metaphysical little conundrum. It's very Alan Moore, that aspect of it.
Surrealism and the occult feature heavily in producer Ben Wheatley's own work. What was his influence on the film?
GT: His influence was more in making film on a small scale. Ben Wheatley and his team were a huge influence in showing that you could just go and make a film. I was in a film of his called Down Terrace, a few years ago. I just remember being impressed by their whole attitude, their whole ethos. They were timing how long it took to film scenes, because they only had 45 minutes to do a scene, not half a day. You can't go five minutes over, otherwise you're going to lose a scene later in the day. It was that discipline on one hand, and this anarchic punk spirit, wedded together, that produced Down Terrace and led to all these other amazing films with bigger budgets but the same kind of ethos. I think every few years there's a sort of trailblazer, and I think in terms of low-budget filmmaking Ben Wheatley was the man for that.
AL: From my perspective, the experience I've gathered has suddenly got to a point where it's crossing over with what ideas I've had, and I have the power to implement those ideas and get them made. It has taken a long time. Certainly what I do – I don't think it's consciously – is mixing a lot of different very British ideas with kind of a punk ethos, a surrealist ethos mixed in with naturalism, and then maybe a weird sort of pagan, witchcrafty thing. Or maybe it's not even witchcraft, but I think that's what's so interesting about The Ghoul. It's someone haunted by themselves. And I think that's a very "MR James" tradition of spookiness. When you mix all those things it's a potent mix.
GT: I think there's also a generational thing happening, perhaps, in that we're all roughly the same vintage.
AL: We're probably all a bit obsessed with the past as well. The Seventies.
GT: Yeah, we all grew up when Hammer Horror films were on on a rainy Bank Holiday.
AL: When kids' shows were weird.
GT: Kids' shows were really, really disturbing – Ben and I both read 2000AD as kids, so there's lots of the same influences, half-remembered, half-forgotten, feeding into this stuff.
The Ghoul is in cinemas now
We're basically creating some sort of utopian anarchist collective by accident
Explore topics
Share this article