Killers |

reviews, news & interviews
Killers
Killers
Violent Kutcher/Heigl summer romcom (of sorts) is dead on arrival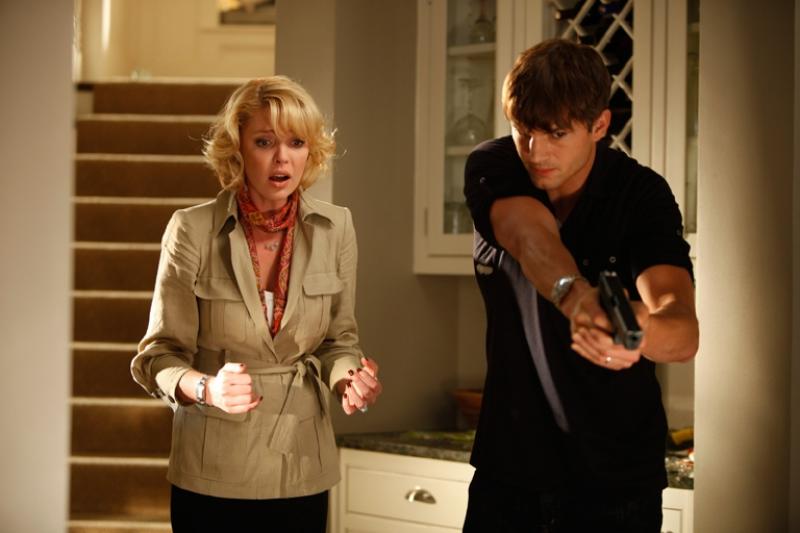 Not so nice (sorry, make that Nice), after all: Kutcher turns killer while Heigl looks on
As cinematic landmarks go, Kutcher Speaks French may not quite be up there with Garbo Talks. But there's a certain pleasure to be had in the opening sequences of the otherwise dismal Killers to find that so quintessential a movie dude can actually manage the word "bonjour". Small wonder that a vacationing, newly single Katherine Heigl falls for this clearly keen linguist in a lift in Nice. His bared torso has nothing to do with it - surely, not!
After all, a fella's skills with the bench press look even better accompanied by a self-evident immersion in the back catalogue of Berlitz.
If only the happy couple had stuck close to the Riviera, where on a first lunch date Heigl's Jen Kornfeldt spends much of the time under the table - no, not doing that but trying as best she can to avoid her parents, with whom she is travelling. An apparently sensible, sweet-natured girl who has bad luck with blokes, Jen doubtless wants to shield her new amour from the sight of daddy's moustache, and since he is played by Tom Selleck, who can blame her?
Alas, Jen has rather less control over her droopy eyelids and falls asleep back at the hotel during a crucial moment of self-revelation on the part of Kutcher's Spencer Aimes, which, had she bothered to be awake and listen, would have nipped the entire film in the bud. Instead, the poor dear remains completely clueless about the fact that Spence, as she calls him, makes a rather unorthodox living by killing people. Why? How? When eventually pressed on that topic, all Spencer can say is "blah, blah, blah". Clearly, Bob DeRosa and TM Griffin's script isn't especially interested in details, while on this evidence, director Robert Luketic (Legally Blonde) shouldn't stray too far from Harvard.
Three years pass, and we have left Nice (shame!) in favour of faceless American suburbia and a home that looks like something you might win on a game show, except that what happens to our lovebirds' dream house is no joke. It transpires that a lot of seemingly very nice people want to kill Spencer - including some to whom (SPOILER!) he may even be related. Cue car chases of the most banal kind and a sudden, engulfing paranoia where Jen and Spencer start mistrusting everyone in their midst, including that kind man who advises on pregnancy testing kits at Walmart.
The press notes make an apparent virtue out of the varieties of violence on view that allow Spencer's various, increasingly nasty encounters to at least be easily differentiated, one from the next. That may be swell, but it doesn't mitigate the fact that Kutcher in faux-Terminator mode gets tedious pretty quickly, this being one actor whose doe-eyed blokiness doesn't really lend itself to becoming lean, mean and narrow-eyed in intensity, no matter how many personal trainers it took to get you into shape. The movie makes vague nods towards seriousness in Spencer's desire for normalcy, freed from life as a killing machine for some moral purpose that is never properly explained. (Is small-town America this rife with enemies of the state? Even David Lynch cut his country's heartland some slack.)
Best not to dwell, I think, on what scant lofty aims Killers possesses and see it instead as a chick flick that gives way to a boys-will-be-boys rumble, except that some of the most extensive carnage involves women. Heigl, for her part, looks goofy and then irritated, though I'm sure she loved the scene where her co-star cuts open a particularly body-hugging dress. I was most drawn to Catherine O'Hara in a blissful supporting turn as Jen's alcoholic mum, who drinks Bloody Marys out of the jug. After sitting through Killers, I know how she feels. What's the French for "bottoms up"?
Killers is on general release from Friday
Watch the Killers trailer