Godzilla vs Kong review - let battle commence (again) |

reviews, news & interviews
Godzilla vs. Kong review - let battle commence (again)
Godzilla vs. Kong review - let battle commence (again)
CGI monsters have more character development than the humans who share the screen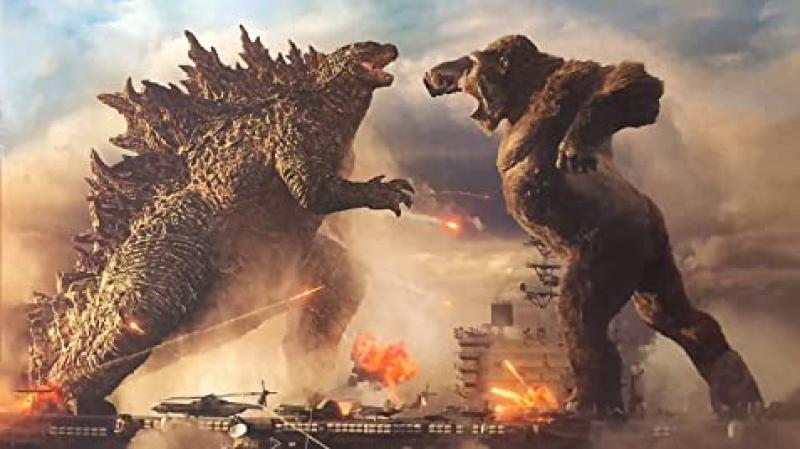 Godzilla and Kong duking it out, one more time with feeling
All is harmony as another day breaks in paradise. Kong yawns and stretches luxuriously, his furry brown musculature surely paying homage to Burt Reynolds' iconic yet discreet Playgirl centrefold. Bobby Vinton croons Over the Seas over invisible speakers as the giant ape showers in a waterfall. If only Godzilla vs.
Kong had continued in this genre, a relaxing portrait of life in an Eden where a lonely primordial primate's main problem is that he can't get trousers to fit him.
But sadly this is not that kind of film. Kong's nemesis, Godzilla, that scaly creature who has conspicuously failed to use the right moisturiser over the millennia, just has to get involved. There will be spectacular battles and light shows and the probing of the Earth's mysterious core. There will also be flying lizards and wholesale destruction of cities, which is fine if that's what you want in your living room over the Easter holidays. Just don't expect a decent script.
Maybe it would have been better to wait until the cinemas re-open; immersed in the darkness, the lavish brawls and cacophonous sound design would have made it easier to ignore the perfunctory and dizzying plot. Soon we leave El Dorado for the MonsterVerse as the evil technocrats of Apex Cybernetics are working on a scheme to pit their own giant beasts against each other. Meanwhile the good guys at Monarch who have provided Kong with shelter, enlist maverick scientist Nathan Lind (Alexander Skarsgård). Dr Lind's Hollow Earth theory posits that there's an untapped energy source in Kong's ancestral home which would be jolly useful, unless it falls into enemy hands. A spot of "gravitational inversion" (please don't ask me to explain) should allow Kong to reclaim his underworld throne and grab a glowing axe to wield.
On Skull Island, Kong had been protected from his stalker, Godzilla, by primatologist Ilene Andrews (Rebecca Hall, wasted here) and her cute orphaned ward, Jia (Kaylee Hottle). The little girl has conveniently taught Kong sign language, as she's Deaf herself. But now it's time to put him to use: the giant ape is sedated and shipped on a tanker in chains across the ocean with a flotilla of gunships to protect him. What a shame that this delightful cruise is doomed not by an outbreak of covid on board but by a familiar set of spikes ploughing through the waves. Cue the first gargantuan boxing round, which is entertaining enough if you enjoy ships being overturned and fighter jets being flung around as Kong dukes it out with Godzilla.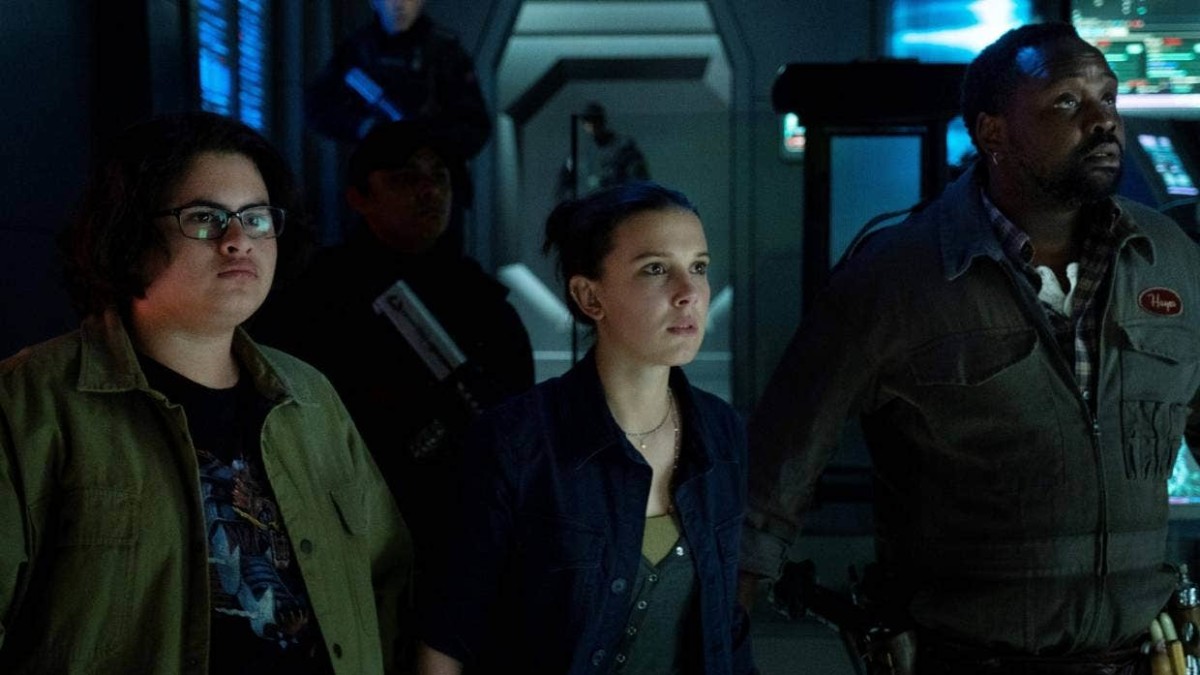 Sadly the frenetic CGI action sequences are paired with an equally frenetic casting around for star names to draw in as wide an audience demographic as possible. Millie Bobby Brown (pictured above middle) from Stranger Things reprises her role from Godzilla: King of the Monsters and teams up with Julian Dennison (pictured above left) from Hunt for the Wilderpeople and Bryan Tyree Henry (pictured above right) from Atlanta. There's some comedy generated by Henry's podcasting conspiracy theorist who is determined to infiltrate Apex, but it's not enough to make up for the tedious dialogue given to Demián Bichir, who seems to be channelling Brian Cox and Robert Downey Jr simultaneously in his portrayal of evil technocrat Walter Simmons.
As for Eliza González as Simmons scheming daughter, I never quite got why she was in the film at all, other than to wear sexy leather leggings and pout a bit. In the future, the filmmakers should just forget about niceties such as dialogue and plot and stick to slugathons; when Kong and his nemesis unite to battle a clanking kaiju in Hong Kong, the movie is pretty entertaining. If you loved Ghidorah and Mechagodzilla in the previous episodes, Godzilla vs. Kong will probably do for now. And watching the beloved ape rip off and eat the dripping head of a dragon-monster hybrid will make a pleasant break from arguing over who ate the last Easter egg.