Kong: Skull Island |

reviews, news & interviews
Kong: Skull Island
Kong: Skull Island
Colossal digitised gorilla shares spoils with John C Reilly
Mad, bad and dangerous to know: Kong, god of Skull Island
There have been three versions of King Kong and only one of them answers the question of how they get a massive ape back to New York. In 1976 they shipped him in an oil tanker, but the vessels in RKO's 1933 original and Peter Jackson's 2005 homage were nothing like big enough.
The new Kong is so colossal that there is no thought of monetising him back in the Apple. How would they airlift him off? This 3D neo- monstrosity stands 60 foot tall, twice the size of any previous screen appearances. They'd need a fleet of helicopters to lift him, and he doesn't like choppers: a fleet of them are soon smashed to smithereens when they trespass onto his territory. No, Skull Island is Kong's eponymous domain and Skull Island is where he remains.
So why is anyone paying a visit this time round? The film is set in 1975, when a troop of soldiers led by Samuel L Jackson are requisitioned from the failing war effort in Vietnam to provide a military escort for a federally-sponsored programme to explore an uncharted island in the South Pacific. It's the same old story: a map, an evolutionary goldmine, a feverish desire to go see "a place where myth and science meet". The crackpot adventurer this time round is played by John Goodman.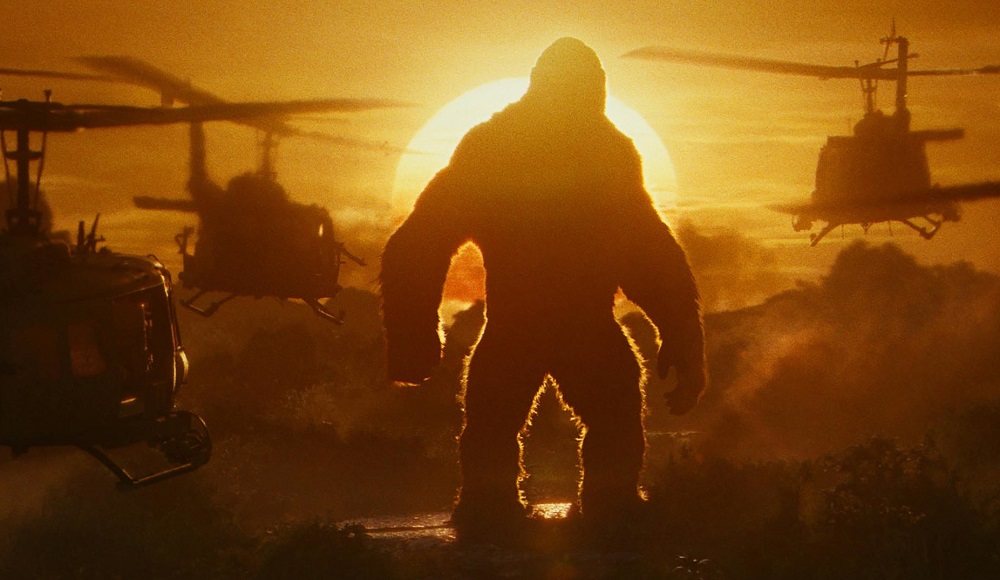 But there's a twist. The film opens with a preamble set in 1944, when a US soldier and a Japanese pilot are downed in the same dogfight. They fetch up on a cliff top and are about to dice each other up when two vast hairy hands and an angry face appear above the ledge. As someone says later, "Is that a monkey?" In this version of Kong, director Jordan Vogt-Roberts is unabashed about an early display of coming attractions.
Spool forward to the Seventies, when Goodman retains a small ethnically diverse group of science nerds plus a hardnut tracker called Jack Conrad (Tom Hiddleston). Also tagging along is so-called "anti-war photographer" Mason Weaver (Brie Larson). "You're a woman," says Goodman accusingly. "Last time I checked" is her reply. This heroine is more wry than Wray.
Their first encounter with the resident ape is a wrathful one-sided punch-up in which the choppers are spectacularly downed and the survivors, split into two groups, head for the rendezvous escape point. But there are wrinkles in that plan. Jackson wants to bring all his marines home while Goodman reveals that he's not quite the scientist he said he was.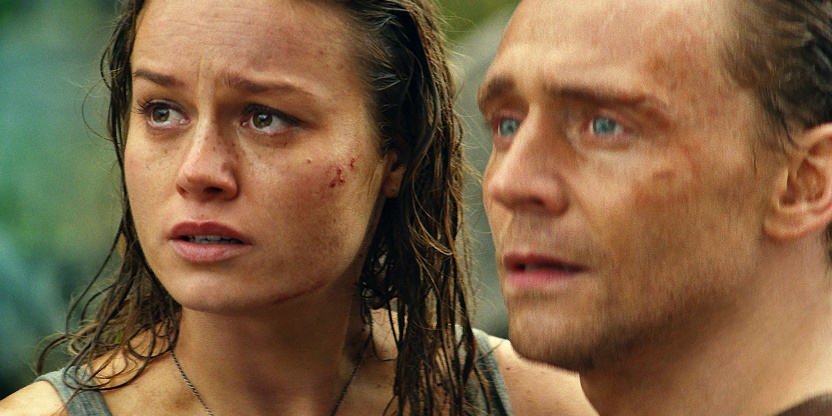 Plus then there are obstacles. Skull Island is a hyper-realisation of Conan Doyle's Lost World, an eco-system playing host to the darkest SFX fantasies. A giant yak seems harmless enough, but they soon encounter a giant spider, a giant squid, a giant mantis, a giant this, a giant that. They keep on coming. The main players' response is laconic understatement. "That was an unconventional encounter," says Hiddleston.
In fact these encounters threaten to become monotonously conventional, and as the efficient script hits all its marks you start craving fewer slugs and bugs and more cameos from the shy titular star. Then all of a sudden the film is rescued – nay, flat-out stolen - by the arrival mid-picture of John C Reilly, who introduces himself as Hank Marlow. (Conrad, Marlow: is everyone getting these lower-sixth nods to Heart of Darkness?) He's none other than the soldier who's been here since 1944, and happily resides with a tribe of largely speechless natives. "What happened with the war?" he asks. "Did we win?" And other wonderfully delivered timewarp gags. He also explains that Kong is a morally complex figure with, believe it or not, a bigger enemy than the US Army: a species of subterranean-dwelling lizardy things whose rise Kong has so far managed to keep in check.
The project to get off the island now becomes a battle between Jackson's soldiers, eager to wreak their vengeance on Kong, and the faction led by Hiddleston who reckon it politic not to upset their host. The film turns into a big night at the boxing hall: Kong v lizard, plus on the undercard, hawks vs doves. So, (very) subtly, this is a fantasy action adventure with things to say about America's policing of the planet.
The individuals who mainly get beaten up are the audience. To watch Kong: Skull Island is to be thrashed to a pulp by a jumbo SFX lab. Kong's every pore has been pixellated into being with astonishing skill. Other pleasures are to be found in the Vietnam-era soundtrack, the beautiful lumps and waterways of Skull Island, while Larson constitutes a welcome twist on the traditional Kong-finds-love narrative. There's a bit of an issue with Hiddleston's he-man tracker. The Hid certainly looks the part, priapically tall and muscularly pumped, but that drawing-room tenor is rather too redolent of David Niven and after-dinner port.
Still, there is plenty of infantilising fun to be had. Be sure to stick around through all the credits, which list literally hundreds of digital artists, for an outro sequence promising the next instalment starring Kong's scaly stablemate.
Hiddleston is priapically tall and muscularly pumped, but that drawing-room tenor just is rather redolent of David Niven and after-dinner port
rating
Explore topics
Share this article