Jurassic World |

reviews, news & interviews
Jurassic World
Jurassic World
Juddering 3D dinosaur epic leaves no stone unturned in its assault on the senses
Jumping the shark: Chris Pratt tames velociraptors in 'Jurassic World'
Jurassic World opens on a close-up. The smooth creamy surface of an egg is shattered by a claw attacking it vexatiously from within. In no time at all a scaly little critter is peeping out at us. It took a mite longer for the latest in the Jurassic Park franchise to hatch. The last film was 14 years ago and this fourth instalment seems to have been on the development slate almost ever since. Now that it's here at last, what's new?
For starters, this is a film which will give you tinnitus. The latest generation of dinosaurs are louder, scarier, toothier. Arguably, also sillier. Twenty-two years after disaster first struck and Richard Attenborough went "Oops", the dream of a teeming parkopolis drawing all-American thrill-seekers to gawp at prehistoric attractions is alive and well and raking in the dino-dollars. The only problem is that the public demands ever bigger shocks. The petting zoo doesn't bat a single kid's eyelid, and tourists walk right through the giant reptilian holograms prowling the park museum. So in the labs they have been gaming with nature to create mutant dinosaurs out of spliced genes.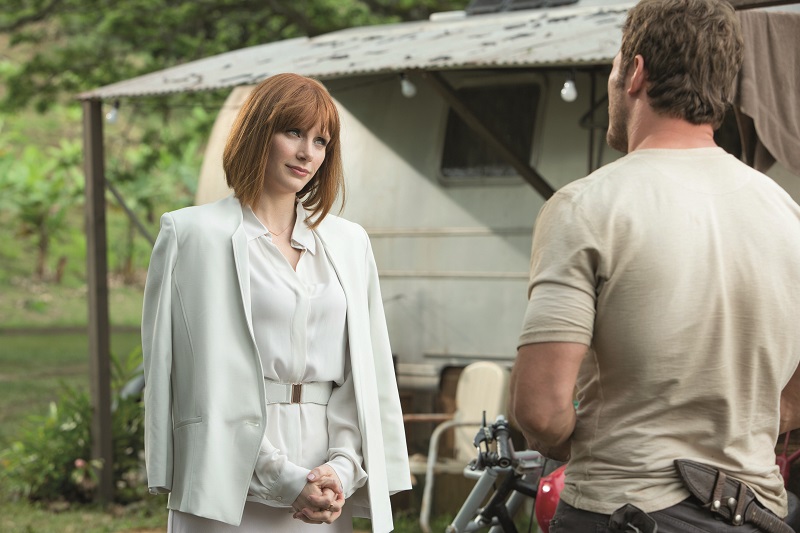 The newest attraction is an enormosaurus, to be unveiled after final security checks on its vast concrete pen. Prim, box-ticking managerial executive Claire (Bryce Dallas Howard in a smart white two-piece and a flaming bob, pictured) downplays shatter marks in the reinforced viewing pane, but mega-rich Indian proprietor (Irrfan Khan) wants a second opinion. He calls in super-hunk Owen (Chris Pratt), who since leaving the navy has turned to training velociraptors to respond to commands, and even giving them names.
Naturally the captive is soon causing more mayhem than every other dinosaur in the history of the franchise (and possibly pre-history) put together. Its mix of T-rex DNA with something else makes its behaviour wildly unpredictable. The problem for Claire – apart from multiple deaths of park troopers and grazing brontosauruses – is that her long-lost nephews Grey and Zach (Ty Simpkins and Nick Robinson) are visiting, and they of course are the ones caught out in the field touring around in a nifty pod that looks like an oversized pool ball (pictured below).
The plot more or less riffs on the original movie. Indeed, Jurassic World is intensely conscious of its Spielbergian forebear, doffing its cap in multiple nods and winks. When Simpkins first sees the park his mouth opens exactly as wide as Laura Dern's did in 1994. "That park was legit," says a control-room nerd (Jake Johnson) who wears a collectible JP T-shirt sourced on eBay. In its quieter moments Michael Giacchino's soundtrack can't stop quoting John Williams.
And yet director Colin Trevorrow, with no previous form in this area of the market, knows his film can't hope to repeat the impact of Jurassic Park, in which dinosaurs were on screen for only six high-octane minutes. So, flouting the terror principle that less equals more, you get a lot of bangs for your buck. The big bad lizard may have salamander DNA letting it melt into its surroundings, but mostly this is not a creature of subtlety, preferring to squash jeeps, snack on rangers, and generally knock holes in things. Its ear-splitting roars come with the frequency of late-stage contractions. The pounding thuds of its steps ricochet like a relentless jungle drum beat (in a nice play on audience expectations, even a garden bird in the opening shot thumps its little foot down with a mighty boom).
All the way through to its dino-on-dino dino-uement, this chaotic juddering insatiable whopper of a film comes to you in what feels like 5D: the three known dimensions, plus a whole lot of sound and fury. The hunger for sensation is what Jurassic World is not only about, but also has been created to satiate. It feeds its audience bleeding chunks of sturm und drang while simultaneously commenting on that ravenous diet. (It also trousers the product-placement windfall even as it makes snitty remarks about corporate greed).
The film more than supplies its quota of chills and shrieks. The CGI is predictably jaw-dropping, with a noisy flap-on role for a flock of snarky pterodactyls. The main novelty is that it is at least as much a comedy. Even in moments of white-knuckle tension, it has time to de-stress with a knowing gag. You never got a laugh out of boring old Sam Neill, but Pratt is a tongue-in-cheek kind of action hero ("I was with the navy not the Navajo!" he complains at one point). Howard, meanwhile, is a hoot as the freeze-dried number-cruncher in ridiculous heels who finds her inner Ripley.
As for those raptors, Jurassic World is at its daftest whenever they're on screen. The "clever girls" who devoured Bob Peck are now semi-tamed zoo animals which a crazed army guy (Vincent D'Onofrio) is eyeing up as a more lethal alternative to drones ("Imagine if we had these puppies in Tora-Bora," he drools). The sequence in which they scamper through the bush alongside Pratt's scrambling bike on the hunt for prey is the moment Jurassic World jumps the shark (pictured above). For side-switching from bad to good, the multiplex has seen nothing as head-spinning since Arnie the friendly terminator.
Talking of sharks, a great white is spotted dangling on a pole like a wriggly little sprat, a lunch snack for a supersized marine dinosaur kept in the park's aquarium. Spielberg's back catalogue has been swallowed whole.
Overleaf: watch the trailer to Jurassic World