Kung Fu Panda 2 |

reviews, news & interviews
Kung Fu Panda 2
Kung Fu Panda 2
Gentle humour and spectacular set pieces keep this diluted sequel rolling along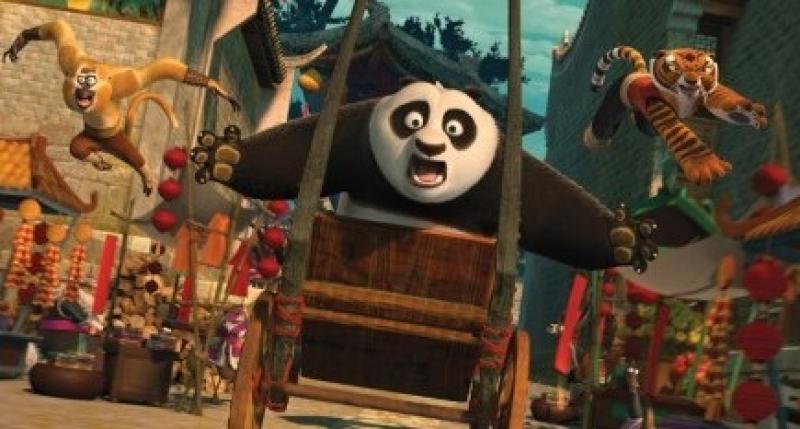 Po the panda: Hurtling frantically towards film number three?
The appeal of fat, foolish, good-hearted panda Po (Jack Black) as a cartoon action hero is predictably diluted in this sequel. A fully trained and socially accepted martial arts master by the original's end, he offers Kung Fu Panda 2 less pathos and originality. It compensates with spectacular 3D set pieces, cute and ferocious animals and gentle humour finely tuned to children's tastes.
Po is this time stunned to discover the kindly goose who raised him isn't his real dad. Jack Black bravely resists the temptation to reprise Steve Martin's similarly naïve adoptee in The Jerk ("You mean… I'm not black?"), in a film free of the sort of improv showboating modern cartoons' all-star voice casts normally indulge in to keep grown-ups happy. Angelina Jolie's Tigress (a rare genuinely strong female Hollywood cartoon character, animal and actress blending well) merely raises a long-suffering eyebrow.
Po is then subjected to the Bambi/Lion King school of character development, as he discovers his parents were seemingly slaughtered by evil peacock Shen (Gary Oldman), who destroyed every panda he could find after a soothsayer goat predicted a warrior of black and white will destroy him. The Gordian knot of such mythic tales (orphaning Po leads to him being the warrior Shen fears) is nicely done, as is the more painterly, classic animation style used in Po's dreamy memories. In the film's present day, Shen takes over Gongmen city with a wolf army firing cannon which seem to render kung fu skills redundant, but Po and his animal team set off to battle anyway.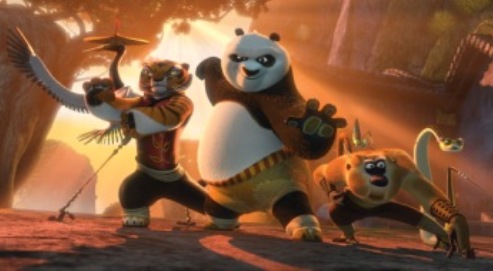 Shen's madly swivelling bird's eyes can't make a peacock as terrifying as George Sanders's Shere Khan in The Jungle Book, or Jeremy Irons's Scar in The Lion King, and Oldman voices him as a querulous, emotionally thwarted and ageing monster, the film's most intriguing choice. Director Jennifer Yuh Nelson and her crew have fun with the menagerie populating its ancient, bestial China, from cute baby bunnies to a kung fu crocodile (Jean-Claude Van Damme - why not?) and lumbering gorilla heavies.
The vast budgets available to these animated super-productions since Disney's The Little Mermaid (1989) revived the commercial fortunes of feature cartoons, and Pixar and Kung Fu Panda/Shrek studio DreamWorks found they could print money with them, are poured into painstaking spectacle reminiscent of China's most lavish martial arts movies. Giant pagoda palaces tumble, and Shen's wolf fleet creeps through a cramped urban river. A breathless chase through Gongmen City could be straight out of the sort of old western in which horse-riding stuntmen were once routinely trampled, and John Powell and Lion King veteran Hans Zimmer's thrilling score blends Chinese and horse opera styles.
A third film is frantically signposted at the end. Let's hope DreamWorks stop before gently diminishing returns here slide to Shrek 4's narratively exhausted, opportunistic depths. This panda has a charm you can't buy.
Kung Fu Panda 2 opens nationwide on Friday