Love Like Poison |

reviews, news & interviews
Love Like Poison
Love Like Poison
This short but sweet coming-of-age drama marks a formidable debut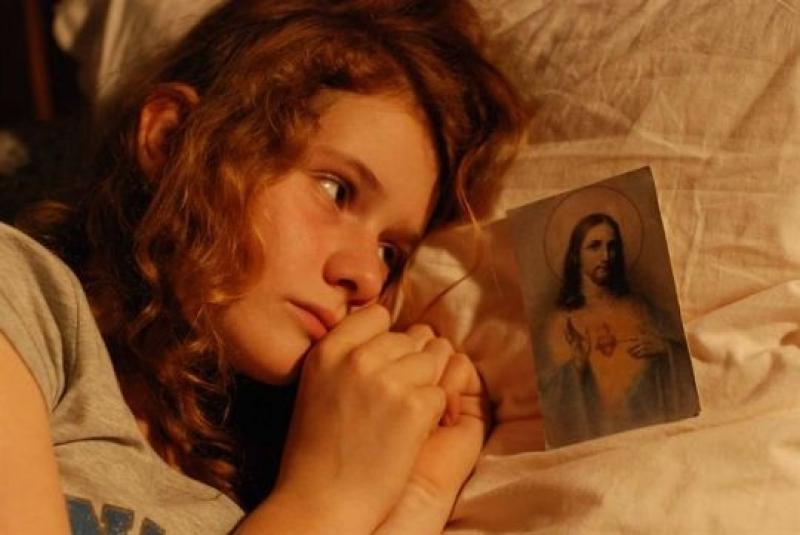 'Losing my religion': Clara Augarde in 'Love Like Poison'
Sensitive but unsparing, the debut feature from French writer-director Katell Quillévéré is a tender portrait of a shy, sweet teenager experiencing the first flushes of womanhood. Don't be deterred by its somewhat sinister title; although Love Like Poison (or a Un Poison Violent, a phrase taken from a Serge Gainsbourg song) doesn't dodge uncomfortable truths, it is distinguished and defined by its delicacy, insight and humanity.
Returning from boarding school for the holidays, Anna Falguères (Clara Augarde), a taciturn teen, is confronted by the breakdown of her parents' marriage. Her devastated mother Jeanne (Lio) has remained in the family home where she continues to care for her husband's father Jean (Michel Galabru).
Anna and her mother are ostensibly committed Catholics, and the film deals with the run-up to Anna's Confirmation. Ahead of the solemn ceremony - a rite of passage which sees her recognised as an adult member of the church - Anna finds herself in turmoil. Her sexual maturation and feelings for fellow Catholic and tuneless chanteur Pierre (Youen Leboulanger-Gourvil) are at odds with the oppressive piety of her chosen religion. This conflict is neatly alluded to during the film's opening: as Anna receives the host as part of Holy Communion her attention is diverted by Pierre, who flashes her a cheeky smile.
An alternative, secular influence on Anna's life is her paternal grandfather, the rotund bon vivant Jean. A spirited atheist and unabashed dirty old man, he has an affectionate, trusting and sometimes awkwardly intimate relationship with his granddaughter. During an early, charmingly innocent sequence, which illustrates their wordless understanding, she enters her grandfather's room and silently curls up on a chair like a cat, knees tucked under her oversized sweater, head in a book. Jean, noticing something is up, slips on a witty, upbeat French record and gestures for a cigar. Anna is amused and obediently fetches the cigar before pulling over her chair and proceeding to set up a game of Connect Four.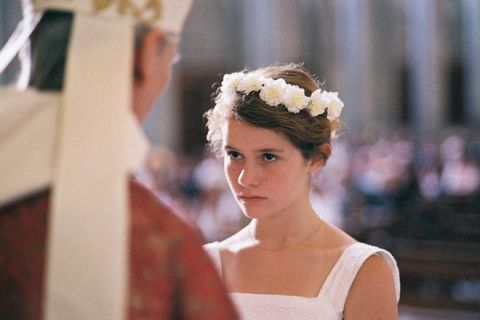 When Jean is visited by Father François (a rare benign role for Roberto Succo's Stefano Cassetti) he is visibly dismayed, greeting him with, "What big teeth you have!" before mischievously chasing him out of the room with a rendition of an indecent World War One song. In response to the debacle, Jeanne describes him apologetically but appositely as "still full of spunk".
With a deft, feather-light touch, Quillévéré deals with the sexual and romantic complications of several generations. Anna's mother Jeanne finds herself jealous of her daughter who is growing into a beautiful young woman as she finds her own attractiveness called into question. Jeanne also struggles to accept that her husband Paul's love for their daughter will endure, even though their marriage is over.
Father François is shown silently yet agonisingly struggling with his faith, apparently experiencing romantic feelings for Jeanne – a lingering hug, for example, leaves him frozen in anguish. Virtually bedbound and facing down death, the elderly Jean is similarly sexually inactive - albeit not through his own choice - and is shown wrestling with his own, often problematic, desires.
The film is buoyed by natural but nuanced performances from a terrific cast. Particularly impressive is newcomer Clara Augarde, whose turn as an awkward, conflicted adolescent will resonate with anyone who was ever young, and Michel Galabru is marvellous as the rebellious, sexually inappropriate Jean.
Love Like Poison possesses plenty of the nonchalant frankness we've come to expect from French cinema, yet it's as fresh and radiant as its heroine. As intended, it succeeds both as a coming-of-age story and an ensemble drama, although, at a mere 77 minutes (minus the end credits), it is a fraction too short. Presenting human truths in the most unshowy and unselfconscious way imaginable, in the end it's an accomplished, efficient and deceptively simple debut which establishes its formidably talented helmswoman, Quillévéré, as one to watch.
Watch the trailer for Love Like Poison