Maggie |

reviews, news & interviews
Maggie
Maggie
'I'll be back': Arnold Schwarzenegger stars in an unusually low-key zombie movie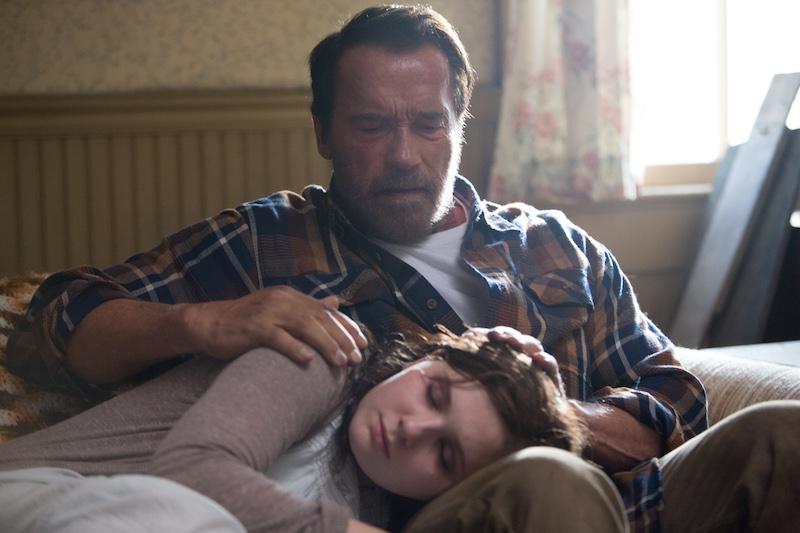 Counting the days before 'the turn'. Arnold Schwarzenegger and Abigail Breslin as his infected daughter in 'Maggie'
We can't seem to move these days without stumbling into the path of a zombie movie, making one wonder why walking dead with a penchant for fast food are suddenly so alluring.
When George A Romero effectively created the genre in the late Sixties and Seventies, zombies were a device for satire; today they seem to reflect a communal sense of societal breakdown. While comedies such as Warm Bodies and Zombieland make broad fun of post-apocalyptic decay, and the horror of World War Z is mitigated by its global scale, the zombie stories that truly strike home – such as The Walking Dead on television, and the new film Maggie – are those that posit the idea that killing loved ones might be the only way to survive.
It's notable that the word zombie isn't used in either The Walking Dead or Maggie; the word carries too many naff connotations these days. A key difference between series and film is that in the former the game really is up, with only pockets of humanity struggling to survive; in Maggie, society is hanging on by its fingertips, albeit in a state of martial law, whose modus operandi for keeping the warm-blooded in the ascendancy threatens to drain their humanity.
When we are confronted by a familiar zombie-in-the-woods confrontation, it's without the customary fetish A global virus is turning people into (for the sake of this review) zombies. When someone is bitten, they're hospitalised, then allowed to return to their lives for a few weeks more, before "the turn" approaches and they are collected by the authorities, for a fate that is equal parts execution and mercy. One such is Maggie (Abigail Breslin), a teenage girl bitten in the city, who is collected from quarantine by her father Wade (Arnold Schwarzenegger) and returns with him to his Midwest farm. Maggie's stepmother (Joely Richardson) seems irritated by Maggie's presence and eager for the whole thing to be over; in contrast, as the days pass and Maggie's condition deteriorates, Wade struggles with the idea of giving his daughter up.
Despite Schwarzenegger's presence, this is not an action movie in the slightest, but a sombre account of loss in the most horrific circumstances, with the bearded and haggard-looking Austrian stepping up to the plate to give a surprisingly affecting performance. Admittedly, the taciturn farmer is tailor-made for someone who lacks the chops for nuanced emoting; but actor and character dovetail to good effect as the practical and straightforward father struggles to deal with the unthinkable.
Having featured in Zombieland, Breslin now has a rare double-bill to her credit, having appeared in both comic and dramatic riffs on the zombie scenario. She quietly carries the heavier loads here, as Maggie comes to terms with her own fate while herself losing a close friend to the virus. The young actress also pulls off some of Maggie's ickier physical moments with aplomb.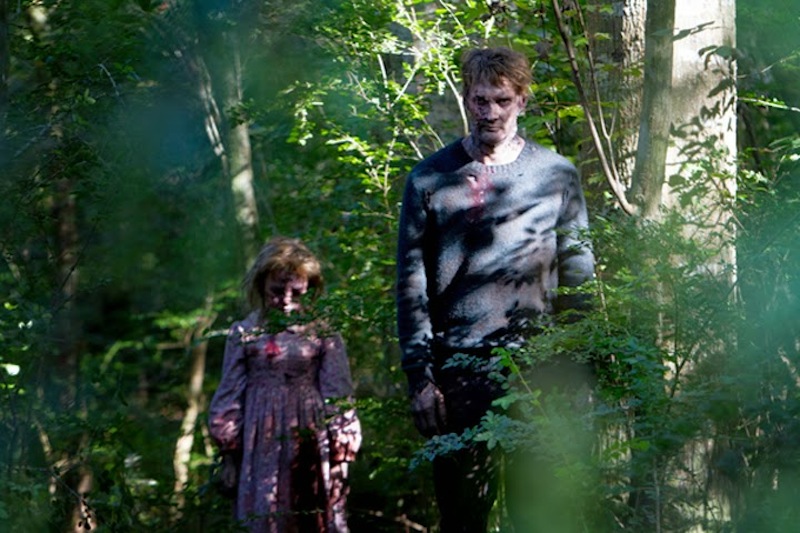 In his directing debut, Henry Hobson opts for restraint in depicting his dystopian horror. The initial sequence of Hank driving through a desolate, burning landscape is an effective shorthand for the bigger picture. Thereafter there are very few sensational scenes; and when we are confronted by a familiar zombie-in-the-woods confrontation, it's without the customary fetish.
Indeed, the growing sense of unease is achieved mostly through dialogue, as when Wade's doctor and friend warns him: "She's going to lose her appetite. And then she'll get it back again." The most chilling moment has us on tenterhooks as to whether a movement towards a sleeping man is about to result in a tender kiss, or a bite.
Hobson could have breathed a little more air into proceedings, his downbeat tone eventually becoming wearing. But what he's achieved is a genre film that resonates with the coping mechanisms related to real-life disease, one's own impending death or an eventual loss, while suggesting a life after Terminator for its star.
Overleaf: watch the trailer for Maggie