Martin Scorsese's 'Mean Streets' - a triumph of personal filmmaking |

reviews, news & interviews
Martin Scorsese's 'Mean Streets' - a triumph of personal filmmaking
Martin Scorsese's 'Mean Streets' - a triumph of personal filmmaking
Martin Scorsese's breakthrough film celebrates its 50th anniversary this month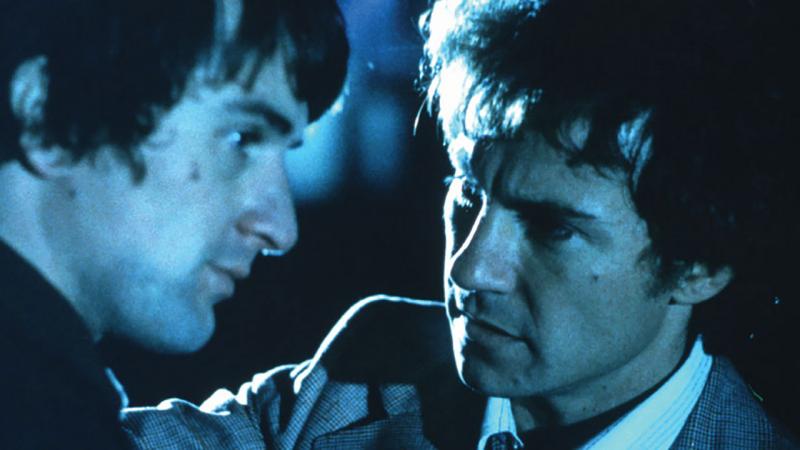 With friends like these... Robert De Niro and Harvey Keitel in 'Mean Streets'
Ask someone to pick their favourite moment from a film by Martin Scorsese, something defining.
Many would cite De Niro's memorable "you talkin' to me?" challenge to his own leering, gun-toting reflection in Taxi Driver (1976); others, the same actor's majestic, slow-motion dance around a boxing ring as Jake LaMotta in Raging Bull (1980), or his tragi-comic monologue at the end of that film; others the long tracking shot that follows Ray Liotta's Henry Hill through the Copacabana in Goodfellas (1990).
For me, the indelible scene comes earlier, in Mean Streets (1973) and is so embedded in my film memory that I can't recall when it first inserted itself; it's always been there. De Niro again, how could it not be, as the anarchic, ducking and diving, doomed Johnny Boy, making his first entrance into the lurid environs of his friend's bar, Volpe's – moving in slow motion, a girl on each arm, Cheshire Cat grin threatening to crack his face in half, the Rolling Stones' "Jumpin' Jack Flash" expressing the irreverent danger he represents to best friend Charlie (Harvey Keitel), who's waiting stony-faced at the other end of the bar. It's an exhilarating moment, in one of the great calling card movies in American cinema (De Niro, pictured below).
Scorsese has been much in evidence in the past few weeks, including an entertaining Screen Talk for the London Film Festival, accompanying the release of his new film, the acclaimed Killers of the Flower Moon. Now in his Eighties, Scorsese is still going strong and, alongside Spielberg, is one of only two of the original "movie brats" of the New Hollywood generation, which galvanised American cinema in the 1970s, who has maintained both quality and high profile in the industry.
Fifty years ago this month, Mean Streets was his breakthrough, when the Scorsese magic first presented itself fully formed. His bravura tale of small-time hoods and rogues in Manhattan's Little Italy confirmed him as a major new talent in a period of American film production that was experiencing an embarrassment of riches (other releases that year included The Exorcist, The Last Detail, Badlands, American Graffiti and Serpico.) On its premiere at the New York Film Festival in October 1973, Pauline Kael hailed Mean Streets as "a true original of our period, a triumph of personal filmmaking".
Kael's observations were incredibly apposite. Driven by a desire to represent his Italian-American roots, Scorsese poured memories, personal conflicts and an almost Dickensian array of real-life characters into his script (co-written with a film school friend, Mardik Martin), along with a multitude of filmic inspirations, to produce something new, with its own potency. Mean Streets was at once authentic and flamboyant, and it established a film language that continues to be immediately identifiable as Scorsese's own.
The story was wrought from his own experience growing up in the Italian-American enclave of downtown Manhattan, one that was subtly controlled by organised crime, set amid the bars, pool halls, tenements and streets of Little Italy. The protagonist, 20-something Charlie (Keitel, pictured below), runs numbers and collects debts for his uncle Giovanni, a powerful local Mafioso. Charlie is torn between ambition and Catholic guilt; his attempted penance, the "salvation" of his volatile best friend Johnny, will prove his undoing.
The film doesn't have conventional plot development, or character arcs; you might say it's built on a series of incidents, or vignettes. A temporal framework is afforded by the real Neapolitan feast of San Gennaro, which takes over the streets of Little Italy every September (and also features, prominently, in The Godfather Part II). The principal plot drivers are Charlie's attempt to arbitrate between Johnny and increasingly frustrated loan shark Michael (Richard Romanus), and his clandestine relationship with Johnny's cousin Teresa (Amy Robinson, pictured below with Keitel and De Niro). Given that Charlie's controlling uncle has warned him away from both Johnny and Teresa, Charlie's attempts to do the right thing by both are problematic, to say the least.
The film introduces many of the director's preoccupations – notably with guilt, redemption and criminal subculture – along with his signature traits: conflicted, audience-challenging male protagonists; a verité use of location; a mobile, expressive visual style; graphic violence; and the use of rock and pop songs (as well as Italian folk songs and opera) as integral elements to a scene's dramatic construction. Scenes involving and often cut to the beats of The Ronette's "Be My Baby", The Marvelettes' "Please Mr Postman", The Chips' "Rubber Biscuit" and The Miracles' "Mickey's Monkey" are at once masterful and exhilarating.
Scorsese was not the only director in the 1970s shooting in the streets, or telling nihilistic stories, or making films about crime. Sidney Lumet's Serpico (1973) and Dog Day Afternoon (1975), William Friedkin's The French Connection, (1971), Coppola's The Godfather (1972) and The Godfather Part II (1974) variously tick these boxes. The difference is in the intense subjectivity that Scorsese brings to his work: while we can watch any of these other films from a safe distance, with Mean Streets we're yanked by our collars right into Scorsese's world, because it really is his world. The film was, and remains the most extraordinarily vivid, lived experience. As one of Scorsese's heroes, Michael Powell, said of the film: "With Mean Streets he is in direct contact with his audience, from the beginning to the end."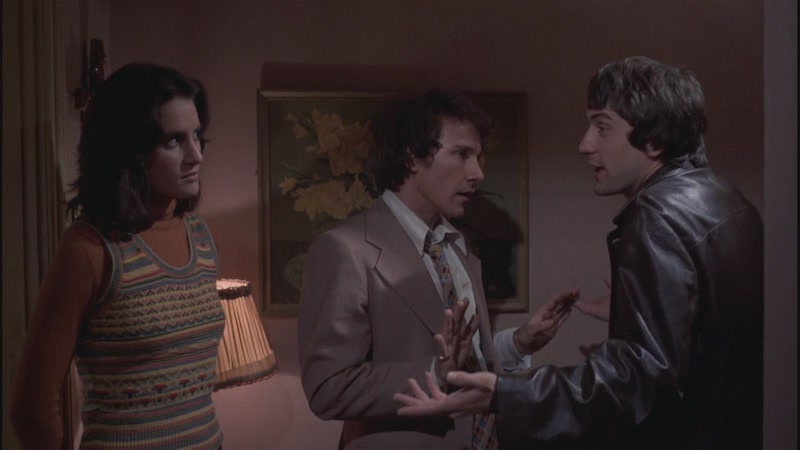 It's worth mentioning Scorsese's previous two features, because each led in its way towards Mean Streets. The student film Who's That Knocking at My Door (1967) was his first, promising but slightly awkward attempt to depict his life in Little Italy, with Keitel in his first role as a younger version of Charlie. The second was a world apart, the exploitation film Boxcar Bertha (1972) for Roger Corman, a breezy adventure involving a union organiser and his lover who embark on a life of crime in California, fitting the usual exploitation template of violence, nudity and sex. But it offered invaluable experience for Scorsese – filming with a professional crew, to a tight budget and shooting schedule. And he did manage to work in a crucifixion, of sorts.
Mean Streets, then, was a return to the ambition to tell a personal story, but with greater experience and confidence. That said, the budget was still so small that the only way to make it work was to shoot most of it in Los Angeles, where filming was cheaper, and Scorsese could use his Corman crew from Boxcar. So, one of the quintessential New York films is bi-coastal: a 27-day shoot, with the first six days and nights shooting exteriors in New York, the rest doing mostly interiors in LA – one notable exception being the downtown New York tenements, for which Scorsese felt there was no equivalent, and which are integral to Mean Streets' escalating tension.
The result involved what he has called "sleights of hand": De Niro fires a gun at the Empire State Building, but the window that is hit is in LA; a bloody encounter starts inside a real bar in LA and spills out into the streets in New York. Scorsese also had to use film students for the New York production, sometimes with calamitous results – one whole reel of De Niro close-ups being lost on the way to the developers, being the most frequently cited. Overall, Scorsese says: "Economics dictated the style, and the style just happened to work."
If Corman was the pragmatic mentor behind the making of Mean Streets, John Cassavetes was the spiritual. It was Cassavetes' 1959 film Shadows that made the young Scorsese and many others believe that they, too, could make personal films. His later Faces and Husbands involve the sort of relentless, uncompromising, often ugly portrayals of damaged people that we have come to associate with Scorsese himself and is very much a component of Mean Streets. While these characters appear reprehensible, particularly viewed through the prism of today's morality, there is a staunch integrity in their depiction. Scorsese once commented on an article that asked, "Who the hell cares for these people?" His reply: "Well, I do."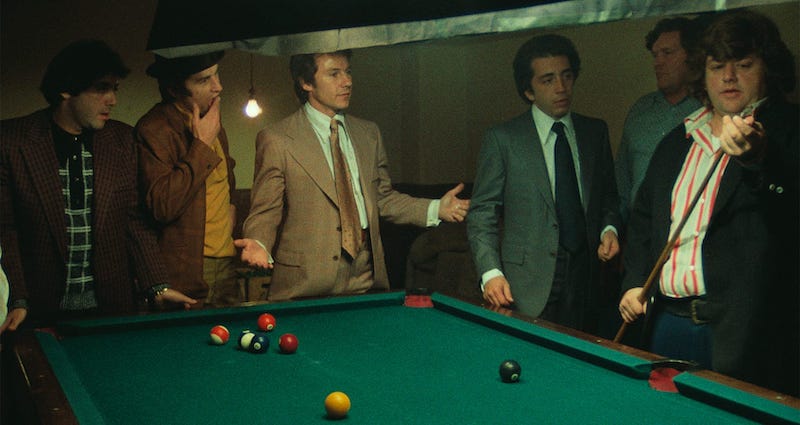 On release, the film wasn't a hit; in fact, it bombed outside New York. Warner Brothers, which owned the distribution rights, had all its focus turned to The Exorcist, plus didn't really know what to do with this low-budget, unusual, hard-to-categorise film, set in a community that had never, really, been seen on screen before, and by an unknown director to boot.
But as well as the critics, fellow filmmakers did take note. De Niro's performance was the final factor in Coppola's decision to cast him as the young Vito Corleone in Godfather Part II, for which he won his first Oscar; and it was on the back of Mean Streets that Scorsese was hired to direct Taxi Driver, with De Niro in the lead, the pair being seen as a package for that challenging film.
So, as well as propelling their individual careers, Mean Streets launched one of the greatest and most enduring of screen collaborations between an actor and director – with films including Raging Bull (1980), King of Comedy (1982) and Goodfellas (1990), all the way through to The Irishman (2019) and, now, Killers of the Flower Moon.
To what extent Mean Streets is a gangster film is often debated. Scorsese himself has frequently referenced the genre while discussing the film, and his characters and milieu make the allusion unavoidable. However, with its freeform structure, a willingness to eschew plot for character, and an underlying fusion of personal investment with documentary zeal, Mean Streets ultimately transcends genre.
And while it launched an entire sub-genre of crime movies centred on the foot soldiers of the Mob world, for me Scorsese's great influence with this film, carrying the torch for Cassavetes, has been on subsequent generations of maverick filmmakers – Richard Linklater, Quentin Tarantino, Spike Lee, Paul Thomas Anderson, David O'Russell, the Safdie Brothers, among them – with their own distinctive voices, often charting their own neighbourhoods and milieu, sometimes, like Scorsese, connecting a decidedly independent sensibility with the mainstream. For me, then, Mean Streets isn't just Scorsese's breakthrough film, but one of his greatest.
The film was, and remains the most extraordinarily vivid, lived experience
rating
Explore topics
Share this article