Meek's Cutoff |

reviews, news & interviews
Meek's Cutoff
Meek's Cutoff
Kelly Reichardt's latest is a pared down yet still utterly engrossing western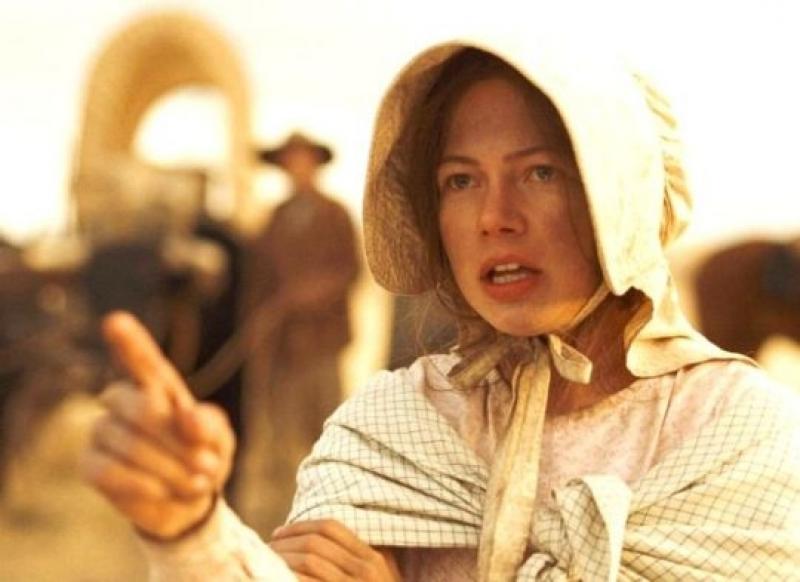 'And another thing': Michelle Williams in 'Meek's Cutoff'
Kelly Reichardt's quietly radical vision of the Wild West is a slender, provocatively ambiguous work and the antithesis to the genre's muscular action-packed epics. It's a western which aligns us with those who don bonnets rather than Stetsons, and which favours quiet pluck over showy heroics. With a narrative shorn almost entirely of incident, its existential, quasi-religious minimalism recalls Waiting for Godot.
Set during the earliest days of the Oregon Trail in 1845 and based on real events, Meek's Cutoff is the story of three families who, in their pursuit of a better life, hire a guide, Stephen Meek (Bruce Greenwood), to steer them over the Cascade Mountains. As the film opens we are greeted by the rejuvenating sight and heightened sound of running water, while the party cross a river, quench their thirst, stockpile and perform cleaning tasks. The memory of this aqueous opening will weigh heavily throughout the unfolding narrative, as the emigrants fall upon hard times and water becomes scarce.
From the moment we join them we can see the party are already in dire straits, flailing hopelessly off-course. One of the group, Thomas Gately (Paul Dano, pictured below), can even be seen scratching "LOST" onto a fallen tree trunk. Led in circles by their charlatan guide, the collective (one of whom is pregnant, another a young child) tread the dry, cracked land growing increasingly weary and perilously parched. They are a rolling community, each with their own wagon, supplies and, at night, each tends to their own fire.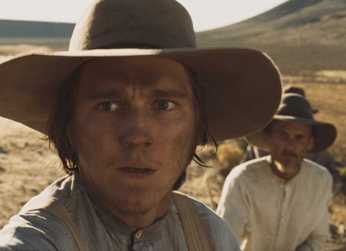 When all seems futile, to the initial horror and surprise of Emily Tetherow (Michelle Williams, main picture), a Native American (Rod Rondeaux) crosses their path. After capturing the perceived trespasser - and despite their undisguised contempt and suspicion of him - his inarguable mastery of the terrain means he is recognised as a potential saviour by Emily's husband Soloman (Will Patton), a level-headed man who has become the de facto decision-maker.
And so the group exploit the Indian: tying him up by night like an animal and setting him loose by day, expecting him to guide them. In this stark, simmering environment emotions and reactions are heightened; day is blinding and night enveloping. The fear that the Indian will lead them into a trap grows like a cancer amongst certain members of the party. The families are not only exposed to the elements but also, they come to realise, potentially to attack. They are slaves - first to the incompetent navigation of the ridiculous Meek, and then to the whims of a man they consider an enemy.
The arrival of the Indian is particularly bad news for Meek, who has taken the families' money in exchange for his expertise which has proved so dreadfully wanting. Casting himself as the man of the land, he rattles off tall tale after tall tale detailing his exploits. The cowboy in Reichardt's take on a cowboys-and-Indians tale is portrayed as nowt but a fool.
The film illustrates how the women are kept at a distance when there are decisions to be made – and Reichardt shows her allegiance when she holds us back with them – but it also presents us with a gutsy heroine in Emily. Where necessary she boldly takes matters into her own hands and is simultaneously intrigued, scared and disgusted by the prisoner. Though Emily maintains that survival instincts dictate her actions, through Michelle Williams's characteristically sensitive and subtle performance we see that compassion and curiosity play their part too. She enjoys a rather modern marriage of relative equals.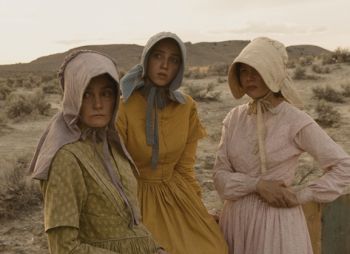 Meek's Cutoff contains many biblical allusions, not least that the travellers' cyclical and therefore seemingly eternal quest traps them in a kind of purgatory. In addition, the choice to back a familiar, demonstrably incompetent white man or be led by a "man of colour" has an obvious and stirring political resonance for the American public.
Deeply profound, resonant and allegorical, Meek's Cutoff is a formidable achievement. Without alluding to the precise nature of the ending, the rebellious Reichardt cuts things short when the narrative could have easily been sustained over a much longer period. It ends on an ambiguous, strongly symbolic, even meta note which will inspire many a post-film debate. In Meek's Cutoff Reichardt and regular screenwriter Jonathan Raymond have created a defiant yet timeless tale in which lives and tempers hang by a thread.
Meek's Cutoff opens on Friday
Watch the trailer for Meek's Cutoff
Deeply profound, resonant and allegorical, Meek's Cutoff is a formidable achievement
Share this article