Mouthpiece review - double entendre in Toronto |

reviews, news & interviews
Mouthpiece review - double entendre in Toronto
Mouthpiece review - double entendre in Toronto
Two women play one conflicted character in Patricia Rozema's adaptation of stage play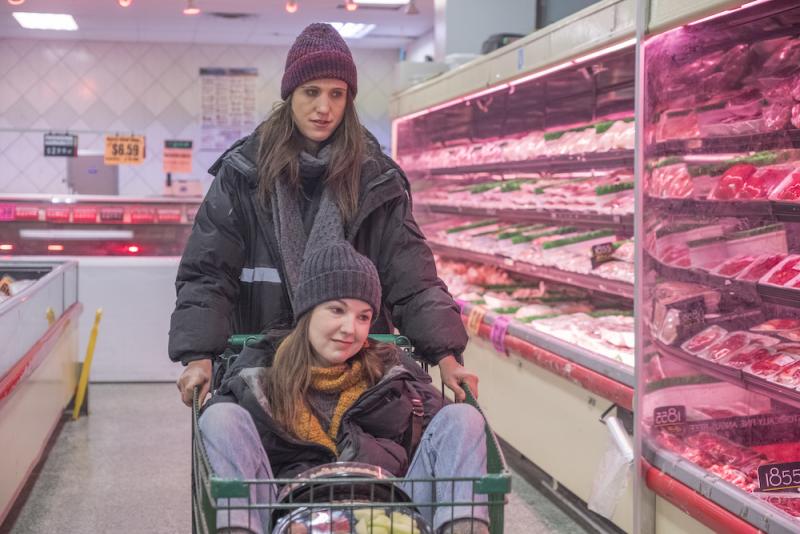 Two heads are better than one: Amy Nostbakken (standing) and Norah Sadava as Cassandra
Cassandra and her sister – or perhaps they're friends or lovers – seem extraordinarily in tune. Like choreographed dancers, they move precisely in unison, down to tripping over their scarves at the same moment or flopping drunkenly into bed together while a cell phone buzzes beside them unanswered, on and on into the night.
Slowly, however, it becomes apparent that actually there's only one Cass and, flipping the idea of actors playing their own twins on its head, she's played by two women: Amy Nostbakken and Norah Sadava, who co-wrote and co-starred in their acclaimed original two-hander play which premiered in Toronto in 2015 and was brought to LA by an enthusiastic Jodie Foster, who'd seen it while on holiday.
Director Patricia Rozema (Mansfield Park, Into the Forest, Anne with an E, Mozart in the Jungle) was introduced to the play by her daughter and although the idea of duality made flesh is an interesting concept, brilliantly realised in some ways, what works in the theatre can be plain confusing in the film. This is partly because other characters – brother, aunt, boyfriend, father – are involved and until you know that the two Cassandras are actually one, it can be hard to decipher what's going on. And there are fatal elements of surreal millennial whimsy, fuzzy feminist issues and sentimental childhood flashbacks.
Cass's mother Elaine (Maev Beaty), a frustrated writer and editor whose career has stalled since motherhood, has died suddenly of a stroke – the reason behind those endless phone calls – and Cass, also a writer, has two days to prepare a eulogy, buy the flowers, arrange the snacks. Her brother and his wife have just had a baby so they're exhausted, though everyone would prefer him to do the eulogy because Cass got drunk at the family Christmas party a few days previously and yelled at her mother for wasting her life and "taking those happy pills" for far too long. "I think it'll be too much for you," says her aunt Jane (Paula Boudreau), closing her eyes in horror at the thought of Cass disgracing herself again.
The next few days show the Casses in crisis, desperate to write a speech that will sum up their mother honestly (what a hope!). It's fascinating to see them operating in tandem – on their bicycle, weaving perilously through Toronto streets, with one wearing a helmet, the other a woolly hat – and responding differently to various stimuli. "Looking good from up here," shouts a construction worker. "Go fuck yourself," says one Cass, while, "Thanks," says the taller one (Nostbakken), smiling happily.
There's no rule about which is the more anarchic or demure. They beat each other up, they bitch at each other, constantly swapping sides while spectating. "Your sex face might be confused with your where's-my-other-sock face," remarks one while watching the other in bed with a boyfriend.
When she's agonising over what to wear for the funeral, one Cass is looking forward to wearing her Doc Martens and a see-through blouse even though her mother would hate it; the other Cass (Sadava) is determined to buy nylons, because that's what her mother would have wanted. This strikes an odd note. Nylons? What era are we in here? And surely this Joni-Mitchell-loving, Alice-Munro-reading, guitar-playing mother of children in their early thirties would never have worn a corset, as the two Cassandras maintain, sifting through big knickers in a slapstick scene in a department store.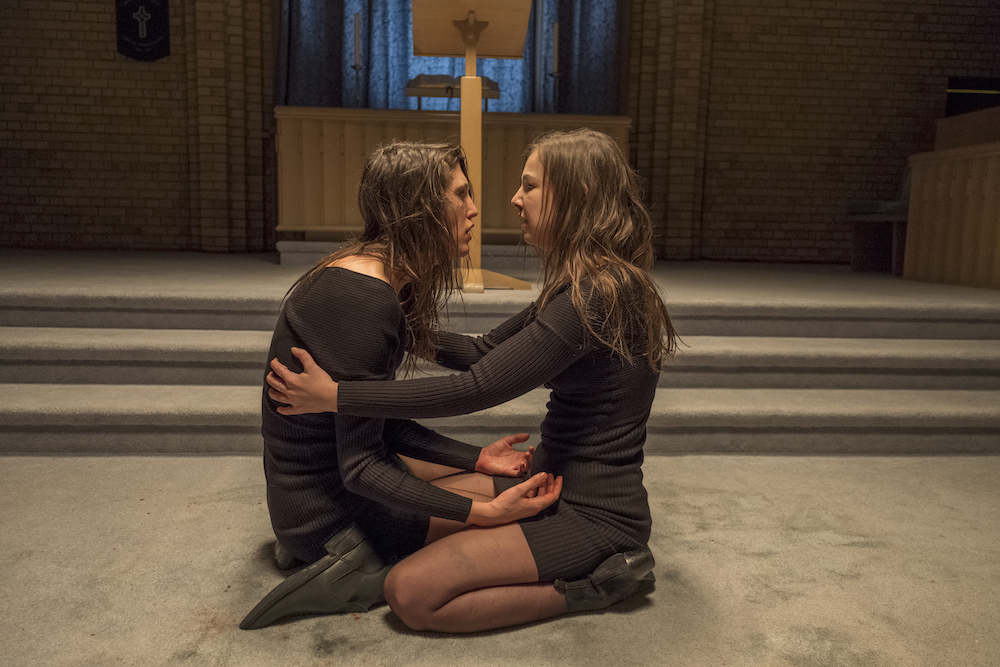 We see Cass as an adoring child watching her mother getting ready for a book launch. She's hoping to impress her colleagues and find some work to go back to, then weeps when she's back home, slumped on the sofa, realising motherhood has kept her out of the loop. Her absent husband – he's in a hotel and puts his wedding-ring back on for the phone call – offers ineffectual advice. She dumps her writer's notebook in the chowder she's made for her picky-eater kids. But we also see her in a rosy glow of domesticity, watering plants and reading Beauty and the Beast to her little daughter.
Surreal musical interludes are slick: there's one full-on song and dance number in the grocery store, a high-concept eulogy in action. "She was a hard-ass, she was a doormat, she could have been so much more, she sacrificed her life for ours," sing the girls, and a depressingly retro feel pervades as Cass tries to come to terms with her mother's self, as fractured as her own, though often it seems she's skating over the surface. She grapples with the French fry test: her mother never ate them because she was always on a diet; Cass, with the skewed logic of fourth-wave feminism, hates them (is that possible?) but orders them anyway so men don't think she's the kind of woman who fears getting fat.
You're left feeling that the real issues in Mouthpiece – grief, motherhood, sexism, career paths – remain elusive and that there's not quite enough at stake here. However, Leah Fay's choreography and the haunting, humming music composed by Nostbakken carry the film along to its surreal and poignant resolution.
Mouthpiece is available on Curzon Home Cinema and on demand from 12 March
Cass yelled at her mother for wasting her life and 'taking those happy pills' for far too long
rating
Explore topics
Share this article