Mrs Harris Goes to Paris review - Lesley Manville as a Fifties charlady with a heart of gold |

reviews, news & interviews
Mrs Harris Goes to Paris review - Lesley Manville as a Fifties charlady with a heart of gold
Mrs Harris Goes to Paris review - Lesley Manville as a Fifties charlady with a heart of gold
Director Anthony Fabian embraces escapism in his adaptation of Paul Gallico's novel
Saturday, 01 October 2022
Haute couture, ain't it: Lesley Manville in Dior
Mrs Harris Goes to Paris, based on Paul Gallico's 1958 novel, is preposterous. But it's as pretty as a pink cloud. The director, Anthony Fabian, knows that in these grim times, escapism is good box office.
But still, would it hurt to get some things right? Why have a British charlady in 1957 saying, "You go, girl"? Never mind. It's a mix of Mary Poppins and Emily in Paris (one of its stars, Lucas Bravo, plays a bespectacled, quasi-intellectual accountant here). You almost expect Dick Van Dyke to appear, bicycling through the smog. It's sanitised and sweet, an Instagram dream, without a centimetre of depth. This can be irritating.
Still, the action is pacy enough and fine-featured Lesley Manville is a wonderful Ada Harris, the Battersea cleaning lady with a heart of gold who falls in love with a Dior dress owned by one of her employers, the horrid Lady Dant (Anna Chancellor), who never has any cash on hand. The frock is a vision of extravagant beauty, the antithesis of wartime rationing, and she simply has to have one of her own, crazy as it seems. But when would she wear it?
Ada is determined. She takes on invisible mending (light years away from Phantom Thread), does the pools with her best friend and neighbour Vi (Ellen Thomas) and wins £100. Then she loses it on the dogs, putting her bet on a clapped-out greyhound called, naturally, Haute Couture.
But her jolly friend Archie (Jason Isaacs) saves the day, so, combined with a few coincidental windfalls that include her late husband's back-dated pension (she gets the news, very late in the day, that he was killed in action, perhaps prompting her to honour his memory by pursuing a dream), she finds herself with enough dosh for a plane ride to Paris and a visit to Dior at Avenue Montaigne to get her hands on one of those frocks. She walks from Le Bourget, spends the night on a station bench in the company of some awfully nice homeless men, and is firmly on the side of the workers' strike – the city of light is paved with rubbish because the bin men aren't collecting. A little touch of realism there.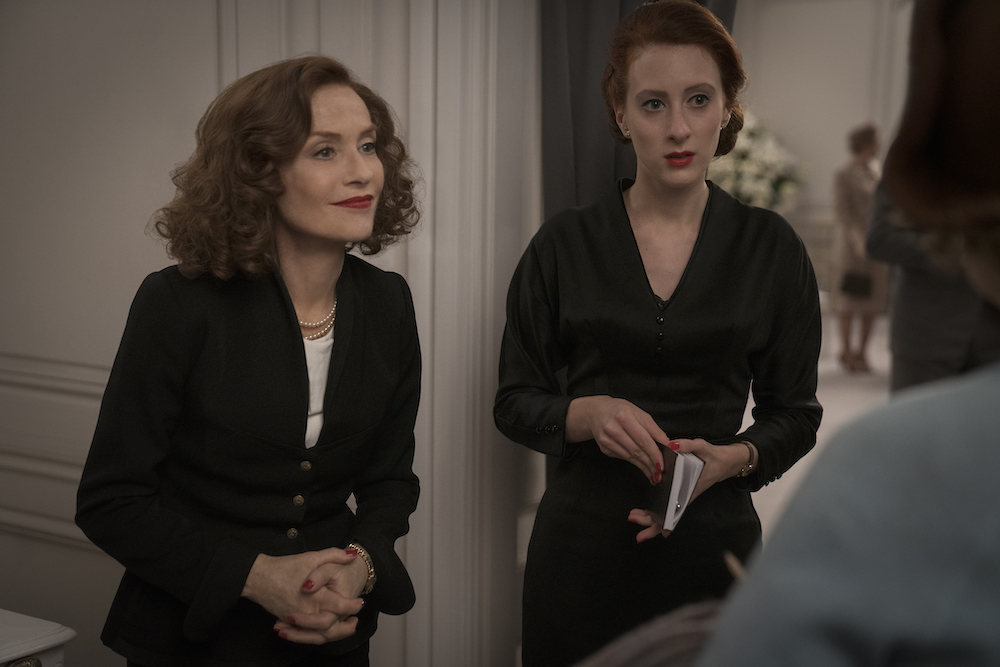 And the dresses do look fabulous, with three-times-Oscar-winning costume designer Jenny Beavan at the helm, working closely with the House of Dior. Mrs Harris somehow bulldozes her way in to the venerable institution and, to the horror of the formidably snooty directrice Claudine Colbert (Isabelle Huppert, pictured above left), she's accompanied into the salon to view the collection – the movie's high point – by an aristocratic gent (Lambert Wilson) who likes the look of this unusual client. She recognises the type of rose in his button-hole because her late hubby worked at Covent Garden market.
The collection includes the famous Tailleur Bar (its first appearance was actually in 1947), an ivory silk jacket and a pleated skirt that used four metres of black wool, seen in some quarters at the time as a scandalous waste of material after wartime austerity. And there are more New Look delights, almost all based on actual Dior designs.
Ada's heart is set on an emerald green number called Venus. She brings out her money, rolled up in rubber bands, and discovers that, in these straitened times, cash is king. Suddenly Colbert and André, the Dior accountant (Lucas Bravo, pictured below) aren't quite so quick to dismiss this bolshy femme de ménage. But when they inform her that she can't just take the dress and go, she has to have fittings, and it'll take a week, she's horrified – "You don't go through this hoo-ha when you buy a frock at Woolworths" – and is about to give up on her plan and go home.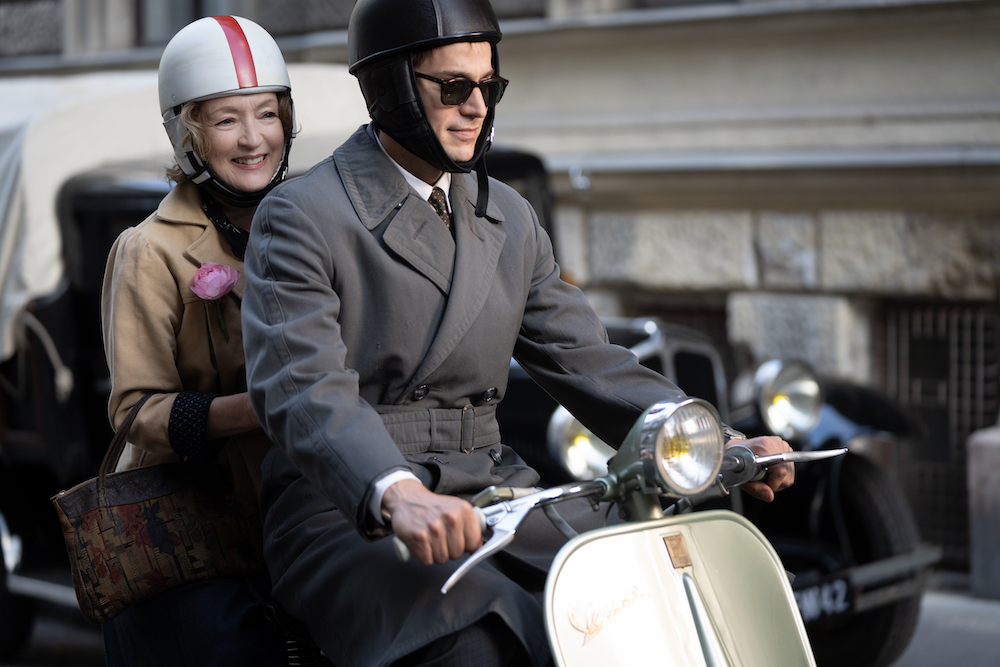 André comes to the rescue with the unlikely offer of a spare room. Though it's no more unlikely than anything else. She's soon borrowing his sister's chic clothes, which fit her perfectly, and rolling up her sleeves in André's messy bachelor kitchen, making toad in the hole for him and beautiful Dior model and would-be philosophy student Natasha (Alba Baptista), who's reading Sartre's Being and Nothingness in her spare time. "Existentialists," shrug the homeless men when the couple run into them later at the station, in one of the film's funniest lines.
Ada facilitates André and Natasha's romance, as well as getting the seamstresses out on strike and inspiring Christian Dior (Philippe Bertin) – "He looks like my milkman" – to start a more democratic ready-to-wear line for the modern woman. She even does a stint sewing on buttons in the atelier and you half-hope that she might up sticks and embark on a new Parisian career. But no. Nevertheless, back in London, she hands in her notice to Lady Dant and tells her that she will no longer be treated like scum and that the age of deference is over. You go, girl.