Greta review – Isabelle Huppert goes full psycho in eccentric stalker thriller |

reviews, news & interviews
Greta review – Isabelle Huppert goes full psycho in eccentric stalker thriller
Greta review – Isabelle Huppert goes full psycho in eccentric stalker thriller
Neil Jordan directs the great French actress, as a widow obsessed with Chloë Grace Moretz's lonely New Yorker
Trust me, cherie, I wouldn't poison French food: Chloë Grace Moretz and Isabelle Huppert in Greta
Isabelle Huppert is famed for the chilly intensity of many of her performances, and a willingness to mine all manner of darkness and perversity – her recent, award-laden turn in Elle being a good example. So it's surprising how rarely she's played unequivocal villains.
But now, 24 years after her shotgun-wielding psycho postmistress in
La Cérémonie
, the French legend is again letting her hair down.
Greta teams her with Neil Jordan, the Irish writer-director whose career has been defined by outstanding Troubles dramas (The Crying Game) and fantasy horror (Interview with a Vampire), as well as that landmark British crime drama Mona Lisa. Jordan is a supreme stylist who, like his star, is always happy to go out on a limb. And together they've produced something really quite eccentric – misfiring and far from either's best work, yet an enjoyably bonkers psychological thriller that offers an atypical spin on the woman scorned.
Co-scripted by Jordan, the film's premise is founded on a familiar experience: loneliness in the big city. Frances (Chloë Grace Moretz) is newly arrived in New York, where she's working as a waitress in an upmarket restaurant while staying with her best friend Erica (Maika Monroe) in the latter's swanky loft. She's clearly treading water, grieving over the death of her mother and estranged from her father, who's swiftly remarried.
One night Frances spies an expensive handbag on a subway seat and takes it home. "This is New York. You find a bag, you call the bomb squad," admonishes Erica. But the good-hearted Frances intends to return the bag to its owner, whose card is conveniently placed inside.
Living in a quaint, redbrick house, Greta Hildig (Huppert) seems to be a refined, attentive Frenchwoman, a walking advertisement for charming gallic quirkiness, whose novel way of drowning out the neighbour's noise is to play her late husband's favourite Liszt on the piano. Grateful, offering tea, she confides that she misses her husband, her dead dog and her daughter, who she says is studying in Paris.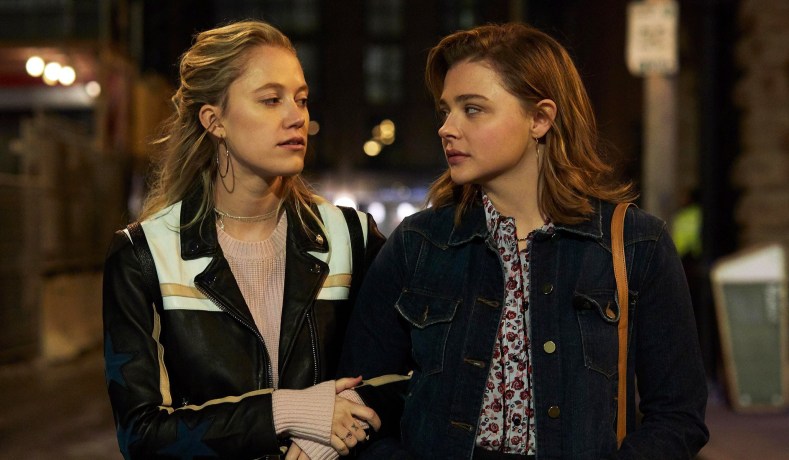 Greta's loneliness chimes with Frances's own. And so the pair become friends, much to Erica's horror, the party-loving flatmate urging Frances to socialize with people her own age, rather than a surrogate mum (Maika Monroe, pictured above left, with Moretz).
We know there's going to be a catch, not least because that banging actually seemed to be coming from inside the house, and because when Frances tells Greta that she need not feel lonely, the widow replies: "Oh my dear, even you'll be gone soon."
However, the first sign that Jordan's going to be under par here is just how quickly he pulls the rug from beneath his heroine's feet. Frances's realisation that Greta is not all she seems involves a fantastic reveal, but it's way too soon. Hereon, the descent into full-on stalker territory is too fast and over-the-top. And the director is unusually slapdash with his horror tropes, particularly the introduction of an obviously dispensable private eye, a shameful waste of that great Jordan regular Stephen Rea.
Nevertheless, the film does have its scary moments, notably an edge-of-seat stalking sequence through the nighttime city and a sneaky, suspenseful dream within a dream. Jordan and his cinematographer Seamus McGarvey also conjure some gorgeous shots, including one in which Frances and Erica are at the movies, a tear falling from behind Frances's 3D specs.
Huppert brings both nastiness and comedy to her deliciously discomforting monster. Her Greta evokes Kathy Bates's "number one fan" Annie Wilkes from Misery, never more so than when the older woman forces Frances to learn piano – rapping her hard over the fingers as she barks, "C. Pinky on the C."