My Afternoons with Margueritte |

reviews, news & interviews
My Afternoons with Margueritte
My Afternoons with Margueritte
Barely literate bumpkin meets intellectual old lady in provincial love story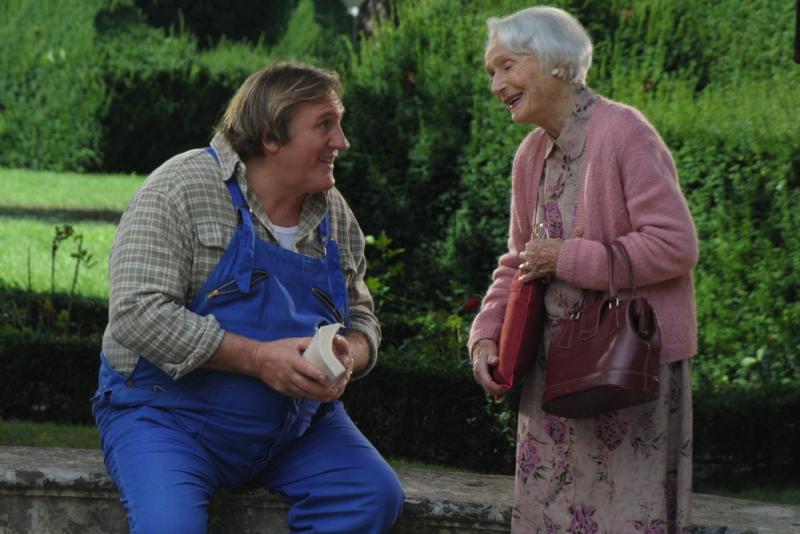 Man-mountain in dungarees meets little old lady with great taste in handbags
These days Gérard Depardieu looks as though he wouldn't need much padding to play Obélix again. Though he continues to work with some of the biggest names in French cinema, it has been a while since he really surprised us, maybe because he's now such a familiar presence; in 2010 alone, he took on no less than five leading roles and a couple of walk-ons.
Like Jean Gabin before him, he has come to symbolise an earthy sort of Frenchness, a hard-working man of the people (even if he does support Sarkozy) and, in the UK at least, a reliable signifier of the sort of quality cinema so beloved by Francophiles who daydream about setting up house in leafy rural France with its bustling vegetable markets and local bistrots full of colourful characters. Just like the rural France depicted in
My Afternoons with Margueritte
, in fact.
The French title of Jean Becker's film is La tête en friche, which roughly means (agricultural metaphor alert) a fallow head, ripe for planting. The head in question belongs to Depardieu as Germain, an unmarried bumpkin in dungarees who is teased by his acquaintances for his lack of schooling, though - typically French - he's not such a loser that he doesn't have lovely young bus-driver Sophie Guillemin for a girlfriend.
The film is essentially a love story, but it's not so much about that particular relationship, nor about the one between the man-mountain and his brassy chain-smoking mother, whose careless, sometimes cruel approach to child-rearing is shown in flashback. It's more about the affection which springs up between him and Margueritte, a sharp-witted and extremely well-read nonagenarian he meets and gets to know in the park.
Margueritte is played by Gisèle Casadesus, a spry and still beautiful 96-year-old veteran who made her film debut in 1934 in Marcel L'Herbier's L'aventurier, and one of the pleasures of Becker's film is being able to feast your eyes on a face like hers, which has an entire lifetime etched into its lines. Like all such movie bonding between ostensibly mismatched characters, their relationship is a two-way street - she encourages him to work on his shaky reading skills by getting him interested in Albert Camus and Romain Gary, while he...
But that would be giving too much away. Suffice to say, while this tugs shamelessly at the heartstrings and occasionally indulges in a sort of wishful thinking which strains credibility, it never descends into Driving Miss Daisy-style pathos. The love story is not just about the close friendship between Germain and Margueritte, but about the love of reading and literature in general. Which is nice, because it's not often that one comes across films extolling the joys of literacy.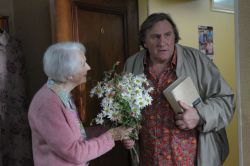 Director and co-screenwriter Becker is the son of film-making legend Jacques Becker, one of only a very few members of the French "old guard" whose films were accorded a measure of respect by proponents of the New Wave, who in the late 1950s derisively dismissed all the rest as, "le cinéma de papa".
Becker fils has sporadically nudged the outside of the envelope of respectability with slightly outré fare such as One Deadly Summer (Isabelle Adjani in full-on slutty avenger mode), Élisa (inspired by a Serge Gainsbourg song, and again starring Depardieu) and the spiky Deux jours à tuer (which never came out in the UK, though the French DVD has English subtitles if anyone's interested). But more recently, in Les enfants du marais, Conversations with My Gardener, and now My Afternoons with Margueritte, he also seems to have been perfecting a latterday variation on "cinéma de papa", celebrating traditional France, its unspoiled countryside, old-fashioned film-making values and status quo. Cultivons notre jardin, indeed.
Watch the trailer to My Afternoons with Margueritte

Jean Becker seems to be cultivating a new strain of cinéma de papa celebrating traditional France and its unspoiled countryside
Explore topics
Share this article