Potiche |

reviews, news & interviews
Potiche
Potiche
In Ozon's exuberant farce, Deneuve casts off her trophy wife label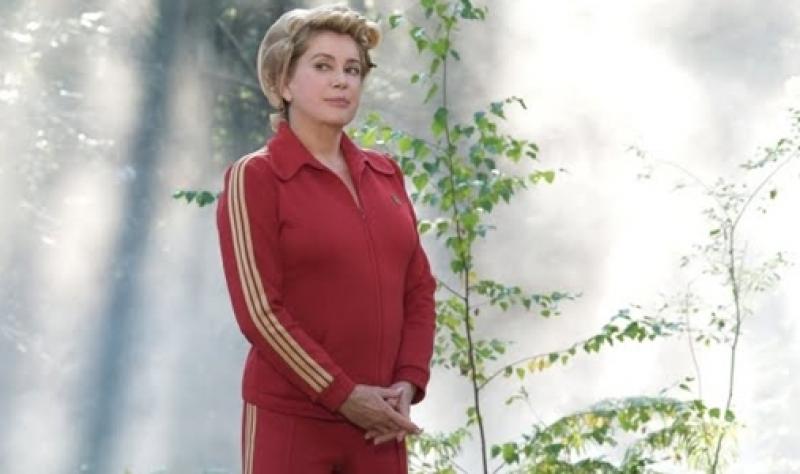 'The epitome of a bourgeois lady of leisure': Catherine Deneuve, trophy wife in 'Potiche'
A potiche is a decorative vase but in this demeaning context it refers to a "trophy wife". In this winsome French farce, from the reliably dynamic François Ozon, the "trophy" in question is the spousal equivalent of the World Cup: Catherine Deneuve.
Potiche
is jubilantly daft and its sugar-coated female emancipation is loaded with bells and whistles; there's song, dance and generous portions of bawdy humour, all wrapped up in a gorgeously realised retro aesthetic.
Potiche is based on the play of the same name by Pierre Barillet and Jean-Pierre Grédy. It's broadly similar in tone to Ozon's high-camp murder-mystery musical 8 Women (2002), though those who know him for the raw confrontational emotion of 5X2 (2004), or the simmering sensuality of Swimming Pool (2003), may well be surprised. Despite his somewhat unpredictable directorial style, Ozon is consistently playful – even the aching and unflinching 5X2 is told backwards (perversely but brilliantly), from divorce to attraction, and Swimming Pool, too, is pleasingly twisting and teasing.
Set in the town of Sainte-Gudule in 1977, Potiche begins with a still-luminous Deneuve taking a gentle jog through chocolate-box countryside. Attired in a striking red tracksuit, with her hair set in rollers and covered over with a scarf, she's the epitome of a bourgeois lady of leisure - carefree and preoccupied with her appearance. As she jogs she has time to bask in the simple beauty of the natural world, in a sequence straight out of a Disney film - until, that is, she spies a couple of enthusiastically amorous rabbits, and the film announces itself as something much cheekier. From here on in, the bar for humour is unashamedly skirting the floor.
Deneuve plays Suzanne Pujol, the middle-aged wife of manufacturing magnate Robert (Fabrice Luchini). He's an adulterous weasel of a man, who is carrying on with his assistant Nadège (Karin Viard), amongst many others. He's also a tyrannical, much-despised employer who is being driven to distraction by the vocal dissatisfaction of his umbrella factory employees. After the revolting workers take him hostage, Robert falls ill and is subsequently packed off for a recuperative cruise. During his convalescence, Suzanne takes charge of the company (which was originally her upstanding father's pride and joy) and, as a consequence, finally seizes control of her own destiny. She does so with the encouragement of her ex-lover and man-of-the-people politico Maurice Babin (Gérard Depardieu) and the support of her adult son and daughter, Joëlle (Judith Godrèche, pictured above with Deneuve) and Laurent (Jérémie Renier).
Suzanne is a role which plays heavily on Deneuve's previous iconic screen incarnations, in particular Geneviève Emery, the umbrella shop heiress in The Umbrellas of Cherbourg (1964), and the promiscuous bourgeoisie Séverine Serizy in Belle de Jour (1967), themselves trophy wives. Is Ozon, who is (cinematically at least) an inveterate cynic when it comes to marriage, imagining how The Umbrellas of Cherbourg's radiant ingénue Geneviève's life might have turned out? She does, after all, marry for security rather than love. Would it too have descended into an unhappy farce?
As the unlikely trailblazer Suzanne, Deneuve is on fine form, visibly relishing the character's reinvention. From her fuller figure and stilted dancing to her delicate jogging she's not quite as spookily preserved as some of her peers, and looks all the better for it. It's liberating in itself to see a once so icily remote actress joyously let rip in her autumn years, something Deneuve seems to be making a habit out of.
Unfortunately, the legend that is Gérard Depardieu is confined to the sidelines and, though he's appropriately cast as a romantic agitator, Maurice is desperately underwritten and seems to exist purely to provide Deneuve with a frisson-generating foil. Though the pair don't quite sizzle on screen, there is a certain amount of charm to their dynamic. It's always a pleasure to see these two collaborate and terrific seeing them perform a choreographed dance routine. (A more emotionally interesting recent collaboration between the two was 2004's worthy, yet little seen, Changing Times.)
Potiche can be a little squirm-inducing; many will find themselves chortling, or even baulking, at the pure outlandishness of it all and, despite its empowering egalitarian political message, it feels surprisingly low-brow. Still, the story rattles along well and the unabashed prurience, terrifically camp visuals and its exuberant sense of fun means that, whilst Potiche might be a touch idiotic, it is, like Deneuve, still irresistible.
Watch the trailer for Potiche
It's liberating to see a once so icily remote actress joyously let rip in her autumn years
Explore topics
Share this article