No One Knows About Persian Cats
No One Knows About Persian Cats
Being in an indie band never seemed so dangerous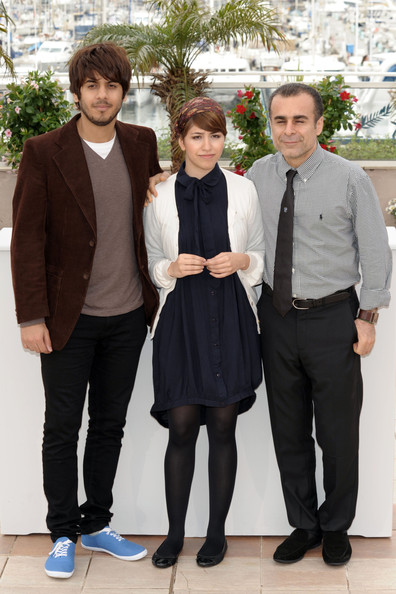 No One Knows About Persian Cats
is a timely reminder of the existence of this young, modern Iran. As much documentary as drama, the film features young Tehran indie-rock musicians essentially playing themselves. The bulk of the narrative plays out as a sequence of vignettes as the duo of Negar and Ashkan (real-life partners Negar Shagahi and Ashkan Kooshanejad,
pictured right
at Cannes with director Bahman Ghobadi) and their bumptious manager Nader meet other musicians, officials and underworld figures in an effort to find a backing band and get the necessary permits to take it on tour outside Iran.
Music that we might take for granted is given a huge charge by the fact that all involved are risking whipping or imprisonment if at any point they are judged by the arbitrary whims of the religious petty bureaucrats to have transgressed the Byzantine official moral codes. The Joy Division, Nirvana and Arctic Monkeys posters in the protagonists' bedrooms become symbols of hope, and a tattered copy of the
NME
is handed around like a sacred document.
Heavy metal, rap, folk and indie musicians alike have a steely determination born seemingly not of desire to rebel but of real passion for what they are playing - passion for which they are calmly willing to take huge risks. But this is not Soviet Russia, behind an iron curtain; it is in many ways a modern, thriving country, with the music scene of Europe and America tantalisingly close, almost close enough for the young musicians to touch.
The movie is put together by the Kurdish-Iranian director with a superb lightness of touch, with Negar's deadpan wit, Ashkan's natural cool and Nader's classic band-manager's mix of cultural evangelism and high-grade bullshit holding it together and providing plenty of easy laughs. And as it progresses, what had seemed like barely-linked showcases for different musicians are revealed to have been both a moving portrait of a city's life and carefully-paced steps in the development of the plot, which snaps shockingly to life in the final stages.
Watch director Bahman Ghobadi discuss No One Knows About Persian Cats:
There are undoubtedly those misguided souls who will suggest that the adoption of indie-rock and other western forms as vehicles for cultural rebellion in Iran are a form of Anglo-American cultural imperialism – the proverbial "Coca-Colanisation" - but this film strongly suggests otherwise. Both the defiant sense of Iranian identity that the characters in this film retain - whatever their chosen musical medium - and their insistence on allowing their youthful energies to burn brightly even in the faces of the grim banalities of totalitarianism are presented with fierce pride beneath the subtle styling. It is to be hoped that
No One Knows About Persian Cats
, a film that shows how very close and yet how terrifyingly far these characters' lives are from our ordinary existence, inspires many here in the privileged West to appreciate that.
Special screenings with the lead actors plus a live PA with their band Take It Easy Hospital followed by a DJ set from DJ Shahram will take place on the following dates: next Tuesday, 23 March, Ritzy Brixton Cinema 7.30pm; 31 March, Ciné Lumière, Paris  8.00pm
The film is also showing at the ICA next Wednesday, 24 March, then around the country.
Watch the trailer
: