Norte, the End of History |

reviews, news & interviews
Norte, the End of History
Norte, the End of History
Lav Diaz's four-hour masterpiece transposes 'Crime and Punishment' to the Philippines
The future is bleak for a Filipino mother (Angela Bayani, second from right) whose husband has been wrongly imprisoned
In the opening scene of Lav Diaz's Norte, the End of History, the cash-strapped Fabian (Sid Lucero), a law school's star student until he dropped out, sits in a trendy café pontificating to his friends about the absence of truth and meaning in the Philippines of the 21st century. A nascent absolutist vigilante who extols such 1890s liberationist revolutionaries as José Rizal and Andrés Bonifacio – "they did what they needed to do, and then they died" – Fabian also regrets that Ferdinand Marcos's dictatorship of 1965-1986 failed because he softened, culminating in today's corrupt democracy.
Unconsciously motivated by self-loathing, the result of having been neglected by his parents in childhood, Fabian has himself developed a fascist philosophy that sanctions the killing of the bad elements in society. Initially, his intellectual argument seems to be the hot air of a malcontent, a trivial man who hurls his cell phone into a river and sleeps with his best friend's girlfriend. Then, one night, incensed by the spiteful treatment of a fellow client by his odious moneylender, Magda, he stabs her and her innocent teenaged daughter to death. Having made his existential choice, he buries the loot and leaves town. (Sid Lucero as Fabian, pictured below, in a prison of his own making.)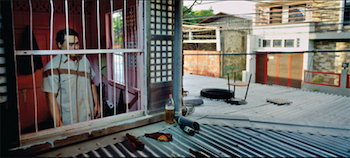 Diaz also introduces the bootleg DVD peddler Joaquin (Archie Alemain) and his wife Eliza (Angeli Bayani), whose hopes of raising enough money to open a diner have been crushed by Joaquin's temporary crippling in an accident. Just prior to the murders, Joaquin superficially attacks Magda for refusing to relinquish an heirloom ring Eliza pawned to her. He is wrongly arrested for the homicides and sentenced to life imprisonment without parole. Eventually, he is transferred to a penitentiary too far away for Eliza to visit him. Their faith in his being pardoned is ill founded.
The Philippine New Wave's poetic minimalist master, Diaz unfolded his 2004 Evolution of a Filipino Family over nearly 11 hours in one cut. The more accessible Norte clocks in at four hours 10 minutes. Filmed in colour by a director who traditionally favours black-and-white, it is built on long, languorous, often wordless takes featuring delicate camera movements or static setups. Undisturbed by music, it is a semi-"slow cinema" opus that enables the analysis of the characters' emotions within the frame and over the long haul.
Joaquin inherits Raskolnikov's toothacheJoaquin (Archie Alemain, pictured below) tends to a vulnerable cell mate after he is beaten by a sadistic inmate, and also the thug when he falls ill. He emerges as a secular martyr, suffering on behalf of the Filipino peasant class subjected to the political evil that is allegorically embodied in the bourgeois Fabian. Failing to assuage his guilt within a Catholic cult, Fabian declines spiritually and mentally. He rapes his loving sister, a wealthy and religiously devout farmer, and then commits another atrocity, but, like Marcos, he doesn't pay materially for his crimes. The saintly Eliza's protracted sufferings – she slaves as a vegetable vendor to provide for her two children and her sister – align her with the bleeding woman Fabian dispassionately observes dying in the street after the first scene. This symbolic anonymous victim prophesizes the tragedy that befalls one of the main characters at the end.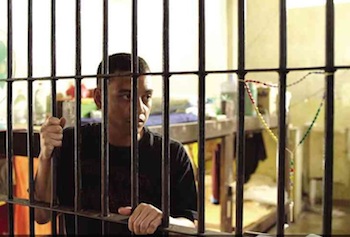 Diaz punctuates the narrative with bucolic images of plantations and subjective Helicam shots of the country's squalid beach shanties. These are comparable to the tracking shot of underwater detritus in Stalker (1978), directed by Andrei Tarkovsky, the Russian master who most influenced Diaz.
The son of a movie-addict father, Diaz was born on 30 December, 1958 – the 62nd anniversary of the day Rizal was shot by a Spanish Army firing squad – and dubiously named for Lavrentiy Beria, Stalin's monstrous NKVD chief and Gulag administrator. A greater legacy of his father's Russophilia is Diaz's passion for Fyodor Dostoevesky, whose philosophical investigations of evil and redemption inform the director's films. Versions of Crime and Punishment's Raskolnikov appeared in The Criminal of Barrio Concepcion, Diaz's 1998 feature debut, and in his 2002 Jesus Revolutionary; characters from The Idiot and The Brothers Karamazov have also wandered into his pictures.
A former student who considers himself above morality and thus licensed to kill, Fabian is another Raskolnikov, while Magda and her daughter stand in for Raskolnikov's victims, the usurer Alyonya Ivanovna and her half sister, Lizaveta. Diaz, however, transposed both Raskolnikov's need to confess (to Sonia) and the house painter Nikolai Dementiev's self-sacrificial admission of guilt to Joaquin, who passively takes the rap for Fabian. Joaquin also inherits Raskolnikov's toothache and is nicknamed "Rotten Tooth" in prison. Since there is something perpetually rotten in the Philippines, Joaquin, unlike Raskolinikov in Siberia, experiences no "gradual regeneration" but, rather, floats off into the ether, beyond time, history, and existence. As for the unredeemed Fabian, he floats off somewhere else.
Overleaf, watch the trailer for Norte, the End of History