Oscars 2013: Day-Lewis 3, Skyfall 1½, MacFarlane 0 |

reviews, news & interviews
Oscars 2013: Day-Lewis 3, Skyfall 1½, MacFarlane 0
Oscars 2013: Day-Lewis 3, Skyfall 1½, MacFarlane 0
Not enough Amour, too much blather at long and lumbering Oscars as the statuettes are shared out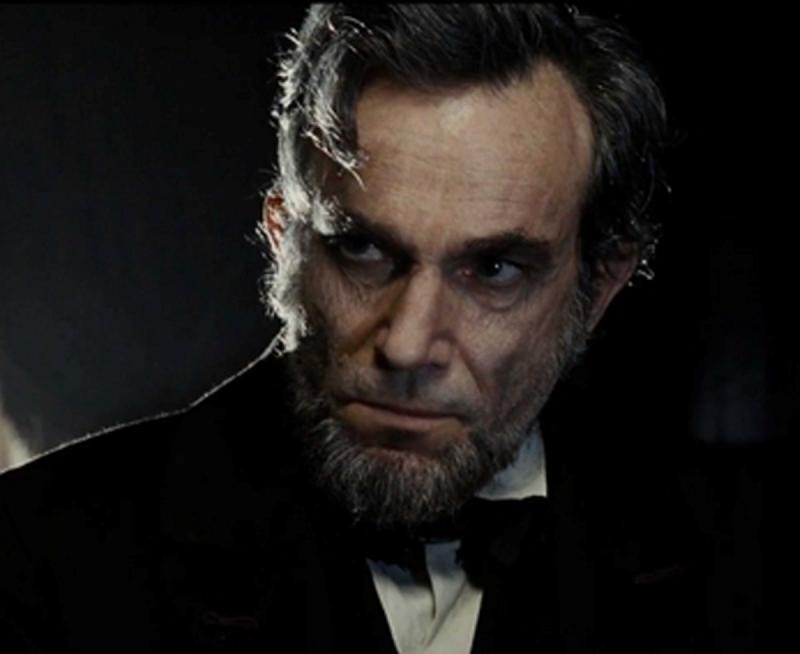 Daniel Day-Lewis's performance in Lincoln earned him his third Best Actor Oscar
Emmanuelle Riva travelled all the way to Los Angeles for that? I doubt I'm the only one whose heart went out to the radiant French actress, newly turned 86, as the 85th annual Academy Awards drew to a long and lumbering close well into its fourth hour.
Sure,
Lincoln
star Daniel Day-Lewis made history, becoming the first actor to win three leading Oscar trophies, and Austria could celebrate both
Django Unchained
co-star Christoph Waltz's second supporting actor Oscar in four years and the Foreign Film trophy for Austrian director Mikael Haneke and his French-language
Amour
.
Michelle Obama even made an appearance via satellite to open the envelope for Best Picture, in an alliance between Hollywood and the White House that is sure to enrage that portion of the American populace who see the two as joined at the leftist-conspiracy hip.
But in the end one couldn't help lamenting not just that the radiant leading lady of Amour didn't prevail in her rearguard bid to wrest Best Actress away from long-held frontrunner, Jennifer Lawrence (Silver Linings Playbook), who is all of 22. More dispiriting was that an octogenarian first-timer to Hollywood's biggest night had to cross the Atlantic for easily the most witless and blather-filled Oscar ceremony in recent memory.
His jokes for the most part landing with a clangorous thud
Indeed, among the few genuine laughs earned by a host, Family Guy creator Seth MacFarlane, who for most of the night looked entirely out of his league, was not his remark late on that Quvenzhane Wallis (Beasts of the Southern Wild) was, age nine, the youngest-ever leading actor nominee but that Riva "was nine when the show started". Touché to that.
In terms of the winners, this was an unusually even-handed Oscars, distributing the trophies across a range of films, ranging from Life of Pi, which led the field with four awards, to Argo, which took three – an astonishingly slim showing by a film voted the year's best. (Slumdog Millionaire, for instance, won eight trophies in 2009.)
The James Bond franchise – absent from the Oscars since 1966 – received two mentions for Skyfall, including an expected Best Song trophy for a teary and ever-adorable Adele, and a sound editing prize that resulted in a tie vote with Zero Dark Thirty: a sufficient rarity that some at first assumed that presenter Mark Wahlberg was having the audience on.
There was an agreeable thread to the show prompted by the trifecta of powerhouse female performers, among whom Adele appeared in-between a fierce-voiced Dame Shirley Bassey, heard tearing into "Goldfinger", and a rather cautious-sounding Barbra Streisand. Herself a beneficiary of one of the few Oscar tie votes in years past, Streisand followed the annual In Memoriam segment to sing "The Way We Were" in honour of her friend and colleague, the late composer Marvin Hamlisch.
But oh dear, what can one say about the rest? Living down to expectations prompted by his disconcertingly arch handling of this year's nominees, MacFarlane in his debut Oscar gig early on hit a mean-spirited streak that struck a palpably uncomfortable note within the auditorium, his jokes for the most part landing with a clangorous thud that wasn't helped by the self-consciousness with which the sometime crooner seemed to comment on the success or (more often) failure of every barb. (Sample targets: Chris Brown and Rihanna. I mean, next?)
MacFarlane used his musical skills to join in now and again in one or another of the musical segments that were there to lend a theme of sorts to the night's proceedings. But even that rubric seemed to pad out the evening unduly, an utterly superfluous tribute to recent movie musicals Chicago and Dreamgirls making one wonder, perversely, whether Day-Lewis would rise from his seat and lead a medley from his flop film musical, Nine.
One also had to ask whether anyone was taking note when Original Screenplay winner Quentin Tarantino (Django Unchained) took note of what he called a "writers' year" – a fact evidently not passed on to those who actually penned the 2013 Oscar show itself. It's been many years since so many sets of presenters fell so alarmingly flat, a low point set early on by Paul Rudd and Melissa McCarthy as they preceded a sound award by emitting some strange noises of their own.
How the banter about Jewishness between Wahlberg, a self-described Catholic, and the movie world's ursine Ted made it past the rehearsal stage is anybody's guess. As for the quintet of Avengers stars, one was left pondering the reconvening of this quintet when the gathering one was truly anticipating – a convocation of James Bonds past and present – was not to be.
Elsewhere, there was a preponderance of men not just with beards (that much was to be expected from the Affleck/Clooney gang) but with singularly long hair, and Sandra Bullock and Renee Zellweger were among the presenters who kept twitter feeds busy with various physical or behavioural peculiarities. Zellweger, for her part, seemed unable to read, handing a victor's name back to co-presenter Richard Gere presumably once she realised she couldn't make out what was written on the card.
It was as if MacFarlane was sealing his own doom with the mock-headlines near the start in which he envisaged the variably damning reviews that his hosting was sure to receive. (This was before he was met by a time-travelling William Shatner – no, I'm not kidding – who appeared on video in order to set MacFarlane straight.)
Will MacFarlane be asked back, or will he enter the annals of one-off Oscar hosts that (so far, anyway) includes David Letterman or James Franco (the latter sharing responsibilities with the newly Oscar-ed Anne Hathaway)? I'd be surprised if the Academy makes the same mistake twice. As to whether Mlle Riva will have a second chance? Hard to imagine, but I'm sure I join many others this morning in sending this Gallic titan of the cinema my amour.
More about the Academy Awards on theartsdesk
Full results overleaf
Best picture: Argo
Best director: Ang Lee, Life of Pi
Best actor: Daniel Day-Lewis, Lincoln
Best actress: Jennifer Lawrence, Silver Linings Playbook
Best supporting actor: Christoph Waltz, Django Unchained
Best supporting actress: Anne Hathaway, Les Miserables
Best adapted screenplay: Chris Terrio, Argo
Best original screenplay: Quentin Tarantino, Django Unchained
Best foreign film: Amour (Austria)
Best documentary: Searching for Sugar Man
Best documentary short: Inocente
Best animation: Brave (Mark Andrews, Brenda Chapman)
Best short film (animated): Paperman
Best short: Curfew
Best original score: Mychael Danna, Life of Pi
Best original song: "Skyfall" from SkyfallBest cinematography: Life of Pi (Claudio Miranda)
Best visual effects: Life of Pi (Bill Westenhofer, Guillaume Rocheron, Erik-Jan De Boer)
Best costume design: Anna Karenina (Jacqueline Durran)
Best make up and hair: Les Miserables (Lisa Westcott)
Best sound mixing: Les Miserables (Andy Nelson, Mark Paterson and Simon Hayes)
Best sound editing: Zero Dark Thirty and Skyfall
Best editing: Argo (William Goldenberg)
Best production design: Lincoln (Rick Carter, Jim Erickson)
Tarantino took note of what he called a writers' year – a fact not passed on to those who penned the 2013 Oscar show itself
Explore topics
Share this article