Paths of Glory |

reviews, news & interviews
Paths of Glory
Paths of Glory
Kubrick's intellectual anti-war film is too beautiful for its own good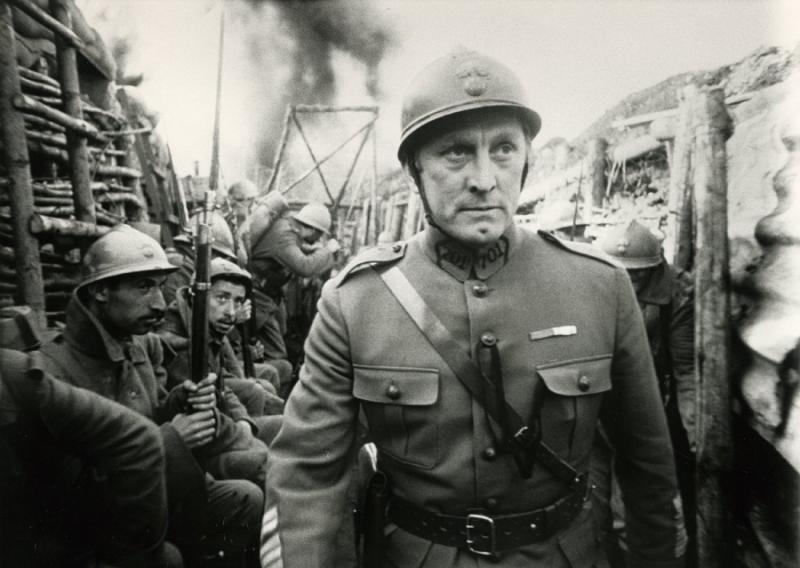 'Patriotism is the last refuge of the scoundrel': Kirk Douglas in 'Paths of Glory'
Paths of Glory (1957) stars Kirk Douglas as a First World War colonel who's as fearless leading his poilus on a suicide mission as he is arguing for mercy for three of the survivors. A lawyer in peacetime, he defends them when they are tried as cowards before a panel of French officers who have no intention of exonerating them.
Stanley Kubrick's fourth feature was adapted from Humphrey Cobb's 1935 novel, which was inspired by the French execution of soldiers chosen arbitrarily to pay for the disciplinary failure of their unit during an attack in the Marne. In February 1915, at Souain-Perthes-lès-Hurlus, General Géraud Réveilhac became frustrated by his 60th Infantry's repulses from a German position. He demanded that his divisional artillery fire on a French trench to force the soldiers there to attack, but the artillery commander refused to comply without a written order. Réveilhac subsequently had 30 men tried as mutineers. Four were executed. A year later, Réveilhac was relieved of his command and given a reserve unit.
Paths of Glory begins at an opulent chateau where, in 1916, the urbane, devious General Broulard (Adolphe Menjou, pictured right) and his ambitious subordinate, General Mireau (George Macready), are secluded from the squalor of the trenches. The scar on Mireau's right cheek indicates he is not a coward personally, but – claiming concern for his 8,000 men – he is reluctant to follow Broulard's order to direct his division against a formidable German position called the Anthill. He changes his mind immediately when Broulard says he will be rewarded with promotion if the attack is successful.
On his rounds, during which he strikes a shell-shocked soldier, Mireau clashes with Colonel Dax (Kirk Douglas), commander of the 701st, who makes the mistake of quoting Dr Johnson at him: "Patriotism is the last refuge of the scoundrel." A nocturnal foray by Lieutenant Roget (Wayne Morris), Corporal Paris (Ralph Meeker), and a private (Kem Dibbs) ends with the latter being killed by a grenade thrown by the panicking Roget. Paris threatens to report him, starting a sequence of events that will factor into the trial for cowardice of Paris and two other innocent soldiers (Timothy Carey, Joe Turkel). This subplot underscores Dax's struggle against Mireau for justice.
During the disastrous French advance, Mireau realises that Roget's men have remained in their trench and apoplectically orders that they be shelled into action. Like Réveilhac, he is thwarted by a conscientious artillery officer. Following the rout, he demands that 10 men from each company be tried for cowardice under penalty of death, but grudgingly relinquishes this Roman Republican Army practice of "decimation", which was in use by 471 BC, according to Livy. Mireau trades down to three defendants. Dax does his best for them in a kangaroo court (Timothy Carey, pictured below). He subsequently learns of Mireau's irrational order.
Kubrick's part-epic anti-war drama is one of those feted films that warrant adjectives like "important", "impressive", and "admirable". That's another way of saying, of course, that it is relentlessly cerebral, as are most of Kubrick's movies, including those – Lolita (1962), Barry Lyndon (1975), Eyes Wide Shut (1999) – that deal with sex and love.
The lionised director may have been sincere in denouncing the militarism and top brass malfeasance that reaped mass slaughter on the Western Front 100 years ago, but his self-consciously arty detachment and studied solemnity undercut his moral outrage. It would be the same with his bifurcated Vietnam War film Full Metal Jacket (1987), although neither movie lacks power in demonstrating the dehumanising effects of war.
Full Metal Jacket is sustained by its modernist strangeness, bordering on the hallucinatory, and the way it conveys the loss of reason at the Parris Island boot camp and in the rubble of Huế (reminiscent of Ypres or Arras) during the Tet Offensive. In the more conventional Paths of Glory, the depiction of the French infantry's insane advance across no man's land under German bombardment is a testament to the lunacy of attritional warfare. Douglas's turn as the courageous, compassionate, and principled Dax was relatively naturalistic compared with the faintly caricatured performances of his co-stars, which augured not only the satire of Kubrick's Dr Strangelove (1964) but also the music-hall pastiche of Richard Attenborough's Oh! What a Lovely War (1969).
The overarching problem with Paths of Glory is its inappropriate beauty. Georg Krause's spectacular black and white cinematography shows slanted rays of light pouring through the chateau's windows and illuminating even the trenches as Dax strides along them readying his troops. Deep-focus shots penetrate rooms beyond rooms in the cathedral-like chateau (pictured below). The sacred atmosphere was possibly intended as an ironic backdrop for the spiritually empty prayers offered to the condemned men by the unfeeling priest (Emile Meyer) who visits them in their cell. But perhaps Kubrick simplify couldn't resist the urge to douse the tragedy in atmosphere. The unrelenting dankness and darkness of Joseph Losey's King & Country (1964) is more eloquent than Paths of Glory's stylisation.
If Paths of Glory is ultimately about the perfidiousness and self-seeking of generals that turns men into cannon fodder, it concludes with a glimmer of hope. After the trial and its aftermath, Dax is alerted to a commotion in a café and, remaining outside, listens to common soldiers of all ages baying at a captured German girl, who is forced to sing for them.
However, the tremulousness of her voice and the homey sentiments of "The Faithful Hussar" elicits their empathy. They stop barracking her and begin to hum along. (The scene was echoed in the 1916 Ireland episode of Ken Loach 1975 drama serial Days of Hope, written by Jim Allen.) The soldiers' volte face reminds Dax that humanity is not built on greed and contempt – only that part of it which, in his experience, wears the gold-braided képis.
Overleaf: watch the trailer to Paths of Glory
The depiction of the French advance across no man's land under bombardment is a testament to the lunacy of attritional warfare
rating
Explore topics
Share this article