Plan 75 review - dystopian vision of euthanasia in Japan |

reviews, news & interviews
Plan 75 review - dystopian vision of euthanasia in Japan
Plan 75 review - dystopian vision of euthanasia in Japan
Nothing certain in this world but death and taxes...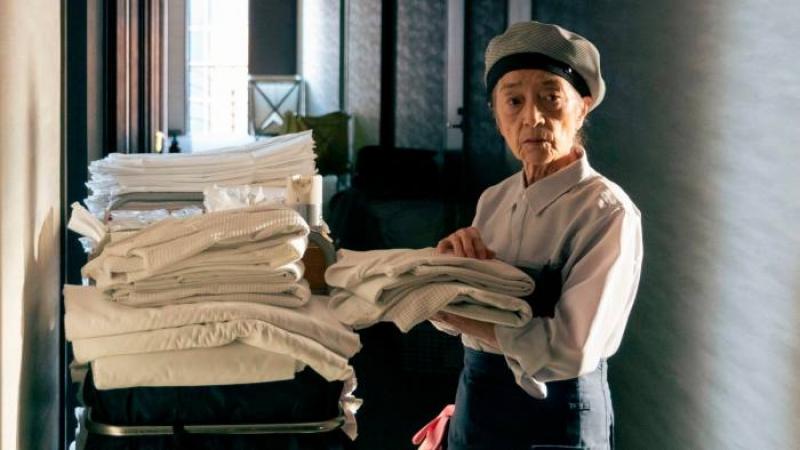 Michi (Chieko Baisho) facing an impoverished future as her hotel job ends
It's not a great moment for older audiences contemplating an outing to the cinema. They could have their intelligence insulted with the feeble, sugary comedy, Book Club: The Next Chapter or they could choose Plan 75 and find themselves looking nervously over their shoulder. This debut feature by Chie Hayakawa is a sombre drama set not too far in the future.
The
Japanese
government has come up with a tempting solution to the problem of the country having the highest proportion of elderly people in the world.
There are simply too many senior citizens who are dragging down the economy. An enticing offer, the eponymous Plan 75, includes a dedicated phone line, a generous cash gift, funeral expenses and a painless execution for anyone over 75. There's no need for a health check or approval from family members or a doctor, just sign the paperwork.
A Mozart piano sonata is playing on the soundtrack as Plan 75 opens. We are in a dark interior and glimpse a silhouetted man, with blood on his arms and a small camera attached to his forehead. He walks slowly down a staircase, shotgun at the ready. An empty, overturned wheelchair lies on a floor by a window, its wheels spinning.
Cut to another dark interior, lit by the glow of lights from a bank of tech. We hear a young man's recorded voice, wavering slightly, as he justifies performing this unseen massacre: "the Japanese have a long, proud history of sacrificing themselves to benefit the country". He turns the gun on himself. It's a chillingly oblique opening and must resonate strongly with Japanese audiences who have followed news stories about mass poisonings and stabbings in care homes for the elderly and intellectually disabled in recent years.
Hayakawa's style is low-key and oblique. She doesn't harangue the audience with outrage or overt tugs at the heartstrings. We get to know Michi (Chieko Baisho), whose hotel employers have decided she is too old for her job in housekeeping anymore. Without a family and too proud to accept benefits, she's going to lose her home. Michi and her friends rather like the look of Plan 75 which offers spa treatments, a professional make-up session before a "farewell photo" and a delicious final supper.
Michi builds up a warm relationship over the course of her regular chats to Yoko (Kawai Yuumi below) at the euthanasia call centre. We also get to know another salesman, Hiromu (Hayato Isomura) a young man whose tolerance of terminating seniors, is shaken when one of them turns out to be his own uncle.
We meet Maria (Stefanie Arianne), who has come from the Philippines hoping to earn enough money to pay for her young daughter's medical treatment. Her job is to strip the dead in preparation for cremation, the kind of job that is on offer to migrant workers in Japan. In one scene, Maria is encouraged to pocket a gold watch in the process; it's not as grim as the implication that Plan 75 is dumping human remains at a commercial waste disposal site.
Plan 75 is impressive in its subtle humanism and to be commended for not relying on horror for its impact but it is perhaps a little too sombre to be effective. Hayakawa first tackled elder abuse and euthanasia in a short film made in 2018 and despite bringing in another writer/producer, Jason Grey, her feature feels a little underdeveloped and lacks a powerful third act.
The relationships in the film are nearly all between the young and the very old. The argument here seems to be that Japanese society needs to find a better way to manage the cost of caring for its ageing population and improve work conditions for the young so they don't resent their elders. No-one here is choosing death because of unbearable physical suffering, instead they are pressured by the sense of being a redundant burden to those around them. For more complex representations of the moral and ethical dilemmas of voluntary euthanasia, an audience would need to turn to European films like Francois Ozon's Everything Went Fine or Michael Haneke's Amour.