Amour |

reviews, news & interviews
Amour
Amour
Michael Haneke's latest is emotionally wounding and predictably brilliant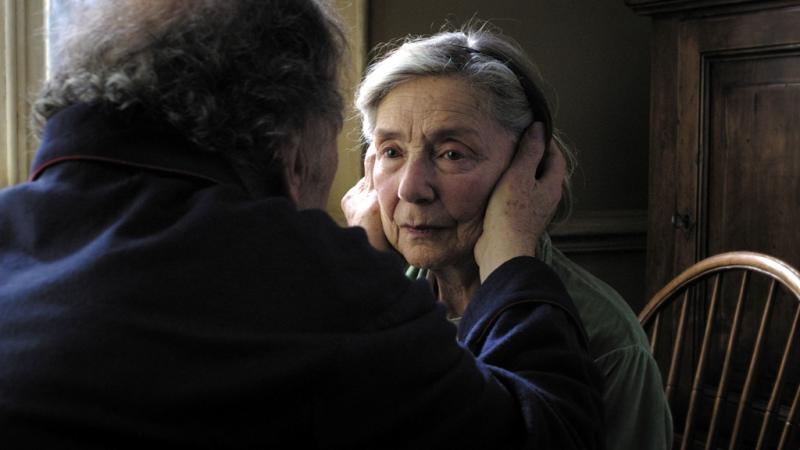 Love Hurts: Emmanuelle Riva is a real heartbreaker in 'Amour'
In the 1960s the Kiwi cartoonist Kim Casali started the comic strip Love is… which mawkishly defined love in a series of statements like, "Love is…being able to say you are sorry" - messages still printed on Valentine's cards to this day. In Austrian auteur Michael Haneke's Palme d'Or winning latest, however, love is measured and told in pain: amour means longevity, dedication and the willingness to make difficult decisions.
Try putting that on a greetings card.
Haneke's twelfth cinematic feature is a triumph of both simplicity and daring. Amour tells the poignant story of Georges (Jean-Louis Trintignant, pictured below right with Emmanuelle Riva) and Anne (Emmanuelle Riva), an octogenarian couple, both retired music teachers. The discovery at the outset of Anne's corpse - laid out on a bed, decked in flowers - casts a morbid shadow over the movie, and how she got there is shown as a prolonged flashback. We witness the stroke that marks the beginning of the end and see how Georges becomes his wife's carer. In their suffering they are visited by their musician daughter Eva (Isabelle Huppert, pictured below left) and, at one point, a former student of Anne's - Alexandre (real-life professional pianist Alexandre Tharaud).
Amour foregrounds two legends of French cinema, still burning brightly in their twilight years, flanked by modern era luminary Huppert. As Anne, Riva is nothing short of remarkable. Best known for her fragile beauty in 1959's Hiroshima Mon Amour (a seminal performance in a seminal film), she's still lovely, still a courageous actress, convincingly and unselfconsciously disappearing before our eyes. As Georges, Trintignant (And God Created Woman, The Conformist) is watchful, stoic yet haunted; this is after all his waking nightmare. Combined with Huppert, what a trio they make!
After the monochromatic magnificence and ambitious historical allegory of The White Ribbon (also a Palme d'Or winner – how does he do it?), Haneke strips things back. Although almost the entire film takes place in the couple's plush Parisian flat Amour does not lack stylistic flourishes. In fact, Haneke begins strikingly by almost booting in the screen: this marks the arrival of the fire service who burst through the double-doors of the apartment and take us dynamically into the film. It serves the story to focus on performance, thus Haneke uses filmic tricks sparingly but strikingly (a dream sequence stands out here) and diegetic music only; the film is predominantly comprised of static shots which hold us in the couple's agony.
As Oscar Wilde once said, "music is the art which is most nigh to tears and memory" and to these two it represents even more. To Anne it's something she can no longer do, a method of self-expression now off limits. It grieves her to hear it - perhaps its absence might stave off their heartbreak? Haneke also realises that onscreen pain is all the more powerful when it's barely contained and the couple spend most of the duration in just such pain. That does not mean that Amour is torturous to watch; it is after all a film about love, albeit love in the foreshadow of death. Haneke is so often accused of coldness but there's tenderness in his work too and there's plenty of that in evidence here.
In one pre-stroke sequence Georges recounts seeing a schmaltzy love story at the pictures as a child and it leaving him embarrassingly moved, yet he can't recall the name of it. This utterly unique love story will not be so easily forgotten and it may well leave you embarrassingly moved. Amour is one of the films of the year, a work of spellbinding sincerity from a director of unerring courage and reliable brilliance.
Amour is in cinemas from Friday
Amour foregrounds two legends of French cinema, still burning brightly in their twilight years
rating
Share this article