Premium Rush |

reviews, news & interviews
Premium Rush
Premium Rush
A chase adventure that isn't afraid to be stupidly exciting
Friday, 14 September 2012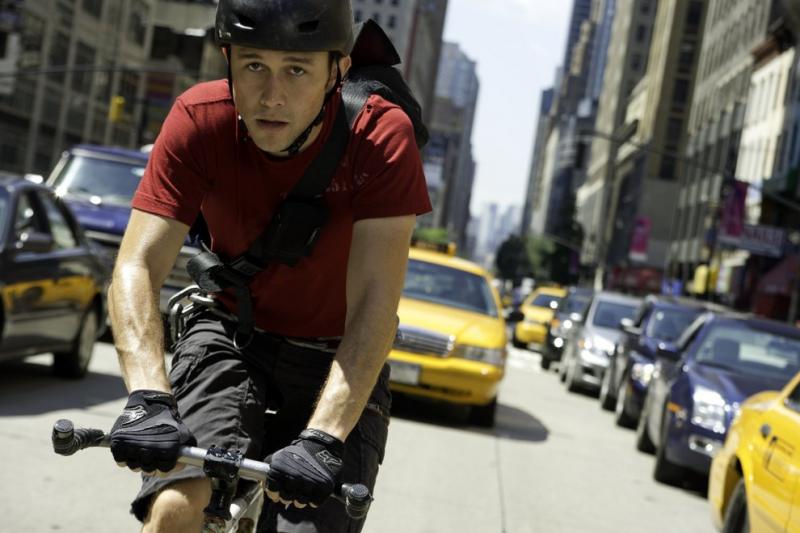 Hey, that's your bike: Joseph Gordon-Levitt in 'Premium Rush'
It's not like we don't already love him, but Joseph Gordon-Levitt couldn't possibly get more adorable than he is as the fearsomely skilled bike-riding good guy in Premium Rush - a film that may remind older moviegoers of a 1986 bike messenger film Quicksilver.
Anyone who remembers that film can now forget it because
Premium Rush
is so much more exciting and almost completely more plausible than its predecessor that it upends the whole bike messenger film genre, much in the way
The Imposter
upped the ante for documentaries. Yes, you could say
Premium Rush
was a gamechanger, but, of course, as no one uses that phrase anymore, it's just
fresh
.
Gordon-Levitt is bike messenger Wilee (yes, like the cartoon) who, heroic marvel that he is, agrees to get an urgent delivery (a "premium rush" job) through the crazy traffic of Manhattan. Little does he know that the craggy, disturbed cop (Michael Shannon, pictured below with Gordon-Leavitt in a particularly tetchy scene) who keeps bumping into him is actually stalking him to get the contents of that delivery. Backstory: cop has gambling debts, paper is a credit slip, QED.
With New York playing a cleaned-up version of itself, it is to director David Koepp's great credit that Premium Rush looks and feels as real as it does. In other hands, the simple storyline's weaknesses would have shown. As it stands, Koepp's decision to shoot on film and to use an army of fantastic stunt bikers and CG experts adds much-needed depth. In a nod to one of cinema's greatest ever chase sequences, Koepp's recreates a homage to the legendary chase in The French Connection, only with bikes. (You can be the judge of how successful it is for you: I chewed off all my cuticles.) The physical thrills embedded in Premium Rush don't look like breaches in the laws of physics: here, bike messengers are real superheroes who do things of which mere mortals can only dream.
There are many touches that make all this bright, cheery excitement believable, among them a bike patrol officer who's good but who can't catch Wilee. Sidestepping some clichés is Shannon's dirty cop who is not your typical New York boy in blue. What really sticks in the mind are its rather nifty animated maps and arrows illustrating terrifying path-decision scenarios – which way should our hero take his bike to avoid hitting cars/pedestrians and dying? Oh yeah, that way! These clever set pieces are utter eye candy. Even the most fidgety viewer won't text or tweet during them, not even once.
As one of Manhattan's most dangerous and annoying inhabitants, Wilee is such a good rider that his bike doesn't have brakes or gears. (Imagine his legs! Imagine his fitness levels! Imagine his mum doesn't know!) This clever subtraction adds a frisson of danger while making his bicycle visually more appealing. Really good riders don't need to mess with all those nasty safety precautions. In fact, safety just gets in the way here and that's the point with Premium Rush. Gordon-Levitt found this out himself when he was injured during filming. (The footage is in the end credits.) You know, sometimes even a star can't worry about careering into a New York cab and requiring 31 New York stitches.
How the stunts were filmed in Premium Rush
After the superb action sequences, its Wilee and Bobby Monday's interchanges that make the movie. Shannon plays the snarling psychocop with so much nervy oddball humour you'll almost hate yourself for laughing. Gordon-Levitt uses his super-power – the ability to look like he's having fun all the time – to irritating perfection. His Wilee is airy, upbeat and arrogant, a guy who knows he can outride anyone in town, but it's no big deal (although it sort of is). Other characters fair less well: sassy, aware Vanessa (Dania Ramirez, pictured above left) and attractive, aggressive Manny (Wole Parks) are girlfriend and rival cyphers respectively. But Premium Rush isn't a film that needs deep characters, a perfect plot or deeper meanings. It's a tight 90 minutes of truly fun, exciting cinema that taps straight into your reptile brain while it puts the rest of your mind on hold.
Watch the trailer to Premium Rush