The Puppet Asylum & Otto Baxter: Not a F***ing Horror Show review - director extraordinaire exorcises his demons |

reviews, news & interviews
The Puppet Asylum & Otto Baxter: Not a F***ing Horror Show review - director extraordinaire exorcises his demons
The Puppet Asylum & Otto Baxter: Not a F***ing Horror Show review - director extraordinaire exorcises his demons
Impressive horror debut by actor-director-writer with Down's Syndrome
Saturday, 02 September 2023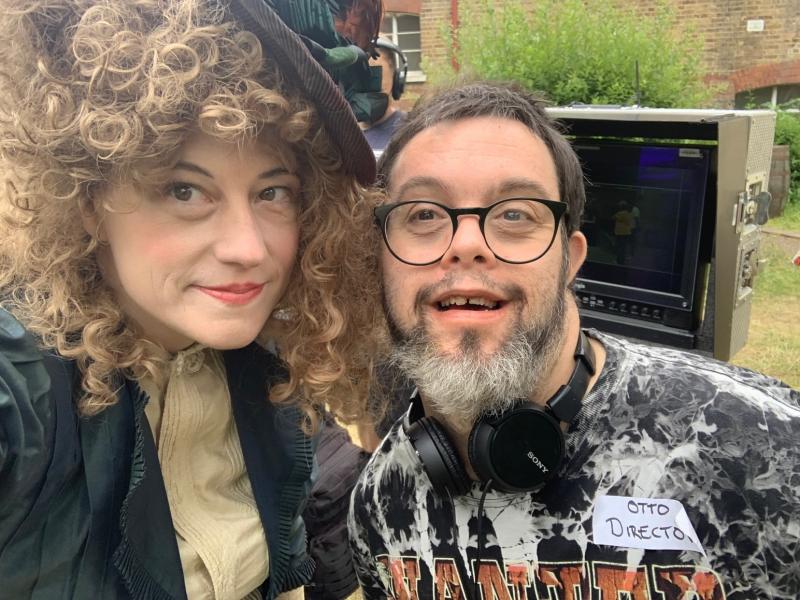 Otto Baxter directing his drama, The Puppet Asylum
Otto Baxter is no stranger to the camera, ever since he was a small boy he's been featured on television with his adoptive mother Lucy Baxter, an impressive campaigner for better understanding of people with Down's Syndrome. Archive footage shows him to be a cheeky, outgoing child with a keen sense of fun.
Brought up with three other boys with Down's Syndrome, all adopted, his on-screen confidence shines through. Baxter has worked as an actor both on stage and in acclaimed short films and has been the subject of documentaries, including Otto: Love, Lust and Las Vegas following his quest in 2009 to lose his virginity. But as he observes: "all those documentaries have tried to understand me but they haven't really."
A fan of horror movies, Baxter decided that he wanted to write and direct his own film and the result is The Puppet Asylum, a steam-punk gothic musical set in Victorian London. When a monstrous baby is born, complete with horns sprouting from his forehead, his mother rejects the child and gives him to the evil Master (Paul Kaye) who wants him to appear in his freakshow. Otto is rescued by a kind young woman, Lucy (Rebecca Callard), but the Master wants him back and a battle must be fought.
The shades of Tim Burton, David Lynch and Jan Svankmajer permeate Baxter's directorial debut, which as well as the animatronic baby, features a grotesque ventriloquist's dummy (Kiran Shah above) as the hero's foul-mouthed companion. The Puppet Asylum is only 30 minutes long but it makes a striking impression with its gallery of outsiders and its musical interludes that evoke Sweeney Todd in style. Baxter's fascination with Jack the Ripper and the dark side of Victorian horror has paid off in this impressive debut.
Accompanying the drama is an excellent documentary, Otto Baxter: Not a F***ing Horror Story which follows the six years it took to make The Puppet Asylum. Baxter was beset by funding problems (costume dramas with convincing special effects don't come cheap). Shooting and editing was also delayed by covid but Baxter's creative process was tracked throughout by film-makers Peter Beard and Bruce Fletcher. They made Otto: Love, Lust and Las Vegas and have remained friends and supporters ever since. Beard and Fletcher describe how the project originated from the fact that Otto didn't like talking about difficult subjects, like his birth parents. Usually when the three of them got together, they talked about music, movies and girls. Writing and directing the drama was one way for Otto to exorcise some very bad memories.
Beard and Fletcher weave in some moving and often distressing archival material. Alongside a patronising educational short about the limitations of people with Down's Syndrome, we see a clip from an interview with Baxter's birth mother. Married and with an older child, she explains why she gave Otto up for adoption: "A lot of nice elderly people still have their Downs and I couldn't do that….I don't think I've done anything wrong." We see home movie footage of a Christmas when Otto's adoptive brothers open presents and cards from their respective birth parents and he receives nothing from his. He observes, "They left me because they think I'm shit", and yet when he meets his birth mother, he hugs and her and tells her he loves her. It's a devastating moment and cements the impression of an extraordinary young man who has used The Puppet Asylum to work through some very dark feelings about his family.
It's wonderfully appropriate that the film's main location is a Victorian former hospital in Teddington, once known as the Normansfield Training Institution for Imbeciles. It was established by physician John Langdon Down in the 1860s as he maintained that intellectually disabled children and adults could learn skills. He commissioned not only classrooms and workshops on the site but also a magnificent theatre where patients and staff both performed. The hospital was closed down amid scandal in the 1970s but the theatre with its hand-painted flats and some of the other original Victorian buildings on the site remain and are brilliantly used in The Puppet Asylum.
It would be fascinating to know what John Langdon Down himself would have made of Otto Baxter and his film. By all accounts, Down was an enlightened thinker in his day, the first person to identify the distinct features that would come to be renamed as Down's Syndrome in the 1960s. By another coincidence, Lucy Baxter, Otto's remarkable adoptive parent, first came across people with the condition when she was an art student volunteering at another hospital associated with Down, the Royal Earlsfield and she never looked back. The love and respect she has for her sons with Down's shines through this documentary, alongside the resilience and charm of its subject, film-director extraordinaire, Otto Baxter.